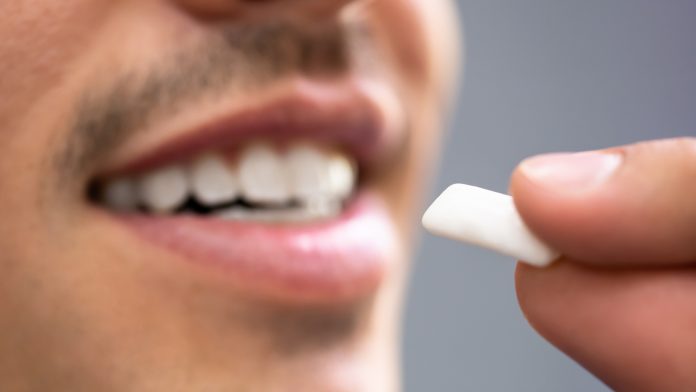 3a-diagnostics GmbH is developing a class of next-generation diagnostic tools using biosensors to optimise at-home-diagnosis as an early, self-check of diseases including COVID-19, periodontitis, and scarlet fever.
3a-diagnostics' breakthrough technology uses a diagnostic oral dissolvable film or chewing gum to detect biomarkers of disease activity and is accessible to "anyone, anywhere, anytime", without complicated logistics, a need for prior medical knowledge or training, analytical equipment, or even a power supply.
Improving on decades-old testing methods, 3a-diagnostics has developed a pipeline of peptide-based biosensor screening tests for bacterial and viral infectious diseases with a radically new approach to diagnostic testing.
Taste your health
The 3a-diagnostics technology utilises one of the body's first lines of defense – the mouth – to detect an early presence of pathogens. The technology can distinguish viral from bacterial causes of infection and allows acute inflammatory processes to be clearly differentiated from inactive pathogens. Positive detection of the causative pathogen results in enzymatic release of a bitter compound within two to five minutes.
Range of applications
3a, acquired by XPhyto Therapeutics in 2021, has a strong development pipeline with numerous infectious disease and oral health applications and their pipeline continues to grow as the most advanced biosensors are approaching product launch in European markets. Conceptually, the 3a-diagnostics technology can be developed for the detection of other diseases in which the mouth is a molecular mirror of the condition being diagnosed. For example, lung or gastric carcinoma.
The modular design of the 3a-diagnostics technology makes it possible to find application areas for new indications simply by replacing the molecular sensor structure. Other applications under development include testing for influenza viruses in acute throat conditions and Staphylococcus aureus for diagnosis of scarlet fever prior to hospital admissions. Sensor development projects have already been initiated for these applications.
The possibility of developing an oral dissolvable film or chewing gum as a companion diagnostic in the pharmaceutical industry is also being currently evaluated. For example, the efficacy of the neuraminidase inhibitor oseltamivir (Tamiflu) could be significantly improved if the influenza treatment were administered at a very early stage before symptoms were pronounced. This stage is characterised by high neuraminidase activity. An oral biosensor that detects neuraminidase activity would thus be suitable for optimising the use of Tamiflu and therefore an interesting variant of a new type of life cycle management.
Greater convenience
The diagnostic chewing gum functions as a quick home test for detection of certain bacteria and viruses to check whether further tests are necessary. Competitor products usually require more time for diagnosis and must be performed by medically-trained personnel, in addition to a higher price point.
The benefits of the 3a-diagnostics chewing gum include:
Speed – the gum responds after only two to five minutes.
Easy detection and handling – many currently available tests require specialised equipment but the chewing gum needs no equipment at all.
Simple use – patients can carry out a disease detection measure independently and present results to the doctor for confirmation.
Accessibility – the chewing gum can be used anywhere, anytime.
Uncomplicated logistics – while most test kits are sensitive to temperature and storage issues, the chewing gum is completely stable and can be used in all climates.
The disadvantages of conventional systems compared to the 3a-diagnostics chewing gum are also clear:
Required lab analysis – this is eliminated with the chewing gum as the patient is able to perform the diagnosis himself, thus eliminating any costs for further examinations.
Costly – in practical terms, the diagnostic chewing gum considerably reduces the so-called "hands-on time" of the specialist staff thus freeing up resources of the medical staff to be used elsewhere.
Necessary equipment – some of the currently available tests require an investment in readout equipment and are therefore only suitable for medical practices with a high sample throughput, and not for use at home.
Relevant technologies for the diagnosis of Streptococcus pyogenes are limited. Most are point-of-care immunological tests with rapid readouts but require patient swabbing. This is not necessary with a chewing gum.
Market demand
The concept behind the technology is clear: if you feel sick but not enough to see the doctor or have a condition that requires regular disease monitoring, 3a-diagnostics' chewing gum is the right solution. The technology addresses a gap in the market by allowing a reliable, quick diagnosis that is later confirmed professionally.
Consider peri-implantitis, for example, where early diagnosis with the diagnostic chewing gum can help to optimally preserve the dental implant and reduce the need for further surgical intervention.
Peri-implant inflammation typically occurs after the implant has healed and is fully loadable. It is difficult to estimate, but normally about two years after surgery, the risk of infection increases progressively. As the technology provides for early detection, a targeted and more specific antibiotic therapy can be started more quickly than before. This provides greater and faster relief from painful Streptococcus pyogenes infections and reduces the duration of infection. As conventional tests usually take two to three days to diagnose, it can be assumed that the 3a-diagnostics chewing gum represents a significant addition to the market.
The tongue as a sensor
The innovative 3a-diagnostics approach using the tongue as a sensor provides a unique selling proposition that clearly sets it apart from established competitors. This technology makes the product exceptionally well-suited for home use. In perspective, the platform is not only suitable for further diagnostic issues, but also for use in the Third World. In these regions particularly, there is a high demand for point-of-care rapid tests, as in developing and emerging countries, even to a higher degree than in developed countries, a simple, clear detection of pathogenic agents without the need for specialised staff and equipment is a priority.
Point-of-care diagnostics could soon reduce the need for centralised laboratory testing overall. Taken in this light, it is evident that solutions for diagnosis that do not need to be performed with a costly analyzer, and are thus closer to the patient and physician, are beneficial for both the patient, the physician, and the healthcare system. This area of test systems is to be expanded by the concept of using the human tongue as a sensor, so that relevant market shares can be developed in a short time.
Development milestones
3a-diagnostics focuses primarily on the core competencies of research and development, IP, and quality management. By outsourcing production to qualified suppliers and organising sales through selected, established sales organisations, the aim is to keep the company's cost structure as lean as possible.
3a-diagnostics will drive the approval process itself for indications including peri-implant inflammation and periodontitis, where the sensors are already available or will be rapidly accessible and will then market these products through distribution partners.
In cooperation with contract manufacturers and pharmaceutical companies, special applications are to be developed and established; one already described is, for example, the chewing gum for the determination of Streptococcus pyogenes.
Path to commercialisation
According to the new Medical Device Regulation in Europe, the diagnostic chewing gum qualifies for classification as a "class I non-active" device. After the preparation of the technical documentation, which provides the complete overview of the product, the approval procedure is initiated with a notified body. This classification enables a speedy approval process in any case to minimise time-to-market.
Poised for success
With a focus on the burgeoning multi-billion-dollar disease-detection market, 3a-diagnostics has developed deep expertise in developing point-of-care screening systems over the past decade and is well positioned for success. The company's technology represents a technological breakthrough as a low-cost alternative to conventional antigen screening and expensive RNA testing. While biosensors may not be a familiar term to many, it will not remain that way, much as the term coronavirus has become commonplace.
Investor Enquiries:                                               
Mr. Knox Henderson
T: +1 604-551-2360
E: info@xphyto.com
Media Enquiries:   
MC Services AG
Julia Hofmann, Andreas Jungfer
T: +49 89 210 228 0
E: xphyto@mc-services.eu
Special Report Contact Details