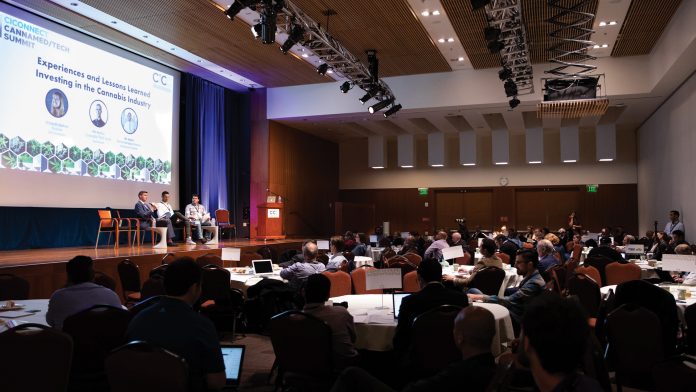 CEO Nic Easley and his team are helping to bring quality standards to the global cannabis industry one state and country at a time with 3C, the premier cannabis consulting firm.
Cannabis businesses worldwide are struggling to navigate the capricious nature of the industry. New legislation seems to be emerging each minute, drastically changing the face of medical cannabis regulations across the EU and globally. It's a full-time job keeping up with legal cannabis, which is one of the many reasons why CEO & Managing Director, Nic Easley founded 3C Consulting, LLC™ (3C) and Multiverse Capital™ (Multiverse).
He recognised a need for businesses to receive quality industry guidance both in local and international regulation, all the way down to cultivation of the plant itself. Today, 3C provides strategic and tactical cannabis consulting services to cultivation, extraction, manufacturing, retail, delivery, and distribution companies as well as to ancillary service providers and product manufacturers. Their team is comprised of professionals with diverse experience both within and outside of the cannabis space, providing best practices in product development, business structuring, community & environmental stewardship, compliance, and profitability to the industry.
In many ways, the unique impact that 3C has had on the industry derives as much from Easley's professional accomplishments as it does his personal experiences. His journey to establishing the leading strategic consulting firm in the global cannabis industry started in Colorado in 2006, when he started working with medical cannabis providers in the state. He had just returned from serving in the US Air Force and was suffering from an injury. He turned to medical cannabis for treatment and was astounded by the results.
As a farm kid who grew up in rural Wisconsin working with a variety of fruit, vegetable, and medicinal herb operations, and who went on to earn a degree in environmental studies and biology, Easley was naturally curious about the cultivation and production of the medicine he was taking. He quickly realised that there were little to no enforced standards to ensure the safety of medical cannabis in Colorado and other early medical cannabis markets. Initial lab tests revealed mould and pesticide residues were contaminating the medicine, proving to be toxic for the very patients it was produced to help.
Although cannabinoid research has increased since the global adoption of medical legalisation, regulation of the plant remains erratic, producing inconsistent products or resulting in hampered patient access. Much like in the United States, individual countries in the European Union are developing their own regulations for the plant, however, unlike the US, many EU countries are utilising global good practice standards for the cultivation, manufacturing, and distribution of cannabis and are following United Nations guidelines as set out in the 1961 convention.
The real challenge for the EU seems to be implementing systems for patients to access and administer the drug. Many EU countries are looking to pharmaceutical models for cannabis standardisation and distribution, however, in light of pricing disagreements, supply chain inconsistencies, and a lack of education for doctors, a regulated pharmacy model continues to struggle to take root.1 Even in the pioneering German medicinal market, the country's regulating body, the Federal Institute for Drugs and Medical Devices (BfArM), is grappling with balancing the production of compliant and efficacious medicine with supply and sales.2 Despite the EU's slow cannabis market growth, the rest of the world stands to learn a lot from its regulatory structures. 3C provides critical advice to both business owners and regulators to help create a solid foundation for the industry throughout Europe.
3C is committed to importing demonstrated best practices from other industries, especially agriculture, as a first step towards standardising both medical and adult-use cannabis. Operators and investors need to remember that even though this industry is new, much of the necessary technologies and business practices are not. Drawing from the experiences, failures, and successes of kindred industries is fundamental to establishing a more robust cannabis industry.
To accomplish this Easley serves as a board or committee member for several organisations, offering 3C's expert guidance to: Americans for Safe Access (ASA), a patient-focused organisation that advances standards for medical cannabis, the Colorado Department of Agriculture's Cannabis Pesticide Work Group, The Cannabis Quality Summit Committee, and the Cannabis Business Executive Steering Committee. He also recently spoke to delegates at the UN Intergovernmental Expert Group Meeting on International Challenges Posed by the Non-Medical use of Synthetic Opioids, educating them on medical cannabis.
Easley's scientific background and extensive 15 years of experience in agriculture presents the industry with new possibilities for productivity, profitability, and professionalism. His experience and diverse industry involvement are cornerstones to our consulting approach which encourages genuine business development, community involvement, a birds-eye international perspective and using the wisdom of outside industries and organisations.
Easley and the 3C team have travelled to over 30 countries and 30 US States and Territories while helping over 300 clients design, start-up, build and scale their cannabis companies. 3C assists with business development, strategy, planning, licensing, budgeting, financial models, and developing standard operating procedures (SOPs). 3C also provides due diligence services to cannabis investors and has successfully assisted their clients in securing numerous licences worldwide. 3C provides industry expertise and point-by-point guidance to compliant cannabis businesses that share the mission to establish a safe and regulated future for the industry where profitability, community prosperity, and environmental sustainability converge.
Multiverse Capital
After having worked directly with hundreds of cannabis companies, 3C understands the unique challenges related to securing adequate funding. Due to the patchwork of legalisation around the world and discrepancies between state and federal governments, access to banking and typical business financing are essentially non-existent. In 2018 Easley and Skip Sanzeri, 3C's Head of Corporate Strategy, launched Multiverse Capital™ a global cannabis venture firm, to provide qualified investors access to proprietary cannabis deal flow, and funding to deeply vetted businesses that stand up to the rigours of 3C's standards for the cannabis industry.3 Multiverse manages investor capital with a mission to secure long-term, scalable, and profitable investments for its limited partners while minimising risk.
After scalability, traction, and profitability, they prioritise operations that are patient-focused, as well as socially and environmentally responsible. Multiverse invests in early-stage companies that have strong exit potential and/or provide cash flow. Their strategy is to allow investors to manage risk by choosing to invest in ancillary or plant-touching (medicinal, recreational) funds depending upon preference.
The Multiverse management team and advisors have worked with over 300 private and public cannabis companies and have a combined 30 years of commercial cannabis and hemp experience. Additionally, the Multiverse team has over 90 years of combined financial management expertise, including venture capital and private equity. Sanzeri as Managing Director, has played a crucial role in developing both 3C and Multiverse. He has utilised his experience as a Silicon Valley entrepreneur to help grow genuine cannabis businesses, raised capital for cannabis companies and including spearheading the effort to take a company public.
3C provides unique deal flow and knowledge to Multiverse, acting as an in-house advisory group with an unparalleled network of contacts. To adequately serve global medicinal, recreational, and ancillary markets for long-term success, the Multiverse team understands the need for differentiating disingenuous companies anticipating quick exits from purpose-driven businesses aiming for longevity and impact.
Securing licensure and ensuring compliance
3C has seen time and again, how a company's mission and purpose informs its success in the industry, but it is all too easy for even the most well-intentioned business to accidentally break local laws, fall short of their financial projections, or submit an inadequate business licence application because they weren't looking far enough ahead. For this reason, one of the biggest challenges that cannabis businesses face is anticipating regulatory changes in the industry and mapping those changes onto their specific operation and market. Not only is this crucial for the success of their business licence application and proving to regulators that they can remain competitive amidst a turbulent industry, but it is also important for maintaining compliance throughout the life-cycle of their business.
The application process itself, both in the United States and internationally, has proven to be another one of the primary challenges that cannabis businesses face. There are many steps involved, a lot of competition, and it can take months or even years to acquire. Add strict deadlines and limitations placed on licences to the mix and the process can seem impossible. These are the challenges that 3C has become expert at navigating. But these challenges are actually the industry's greatest opportunities. With the gradual emergence of a legal market, business owners have the first opportunity to be the models that influence the ethics and culture behind an entire industry.
International law violations to disrupt cannabis markets
Though 3C got its start by guiding US-based cannabis operations, they have turned much of their attention to international markets in the past few years. As it stands, the global cannabis market is projected to grow to $31.4 bn (~€27.5 bn) by 2021­­­­, and the medical cannabis sector has been witnessing profound growth with more countries adopting medical cannabis legislation.4 Although most view Canadian cannabis companies as the leaders in international cannabis operations, recent criticism from the International Narcotics Control Board (INCB) has cast doubt among stakeholders as to whether or not Canada will remain at the top of the playing field.5 This criticism was primarily due to the mixing of Canadian recreational and medical programs. 3C has worked alongside clients in Europe, Africa, South America, Australia, and Asia to help influence and impact positive cannabis legislation and formulate strategies in relation to the export and distribution of medical cannabis to avoid such pitfalls. This dedication has resulted in a number of their clients, partners, and investors, obtaining coveted licences in the competitive European market, as well as the creation of private companies that rival large Canadian public companies.
Medical focus
As pressure continues to build from international regulators on countries that have adopted recreational programs (e.g., Canada, Uruguay), it is imperative that federal governments maintain a strict focus on medical cannabis until international treaties are revised. Countries like Israel, The Netherlands, and The Czech Republic are currently leading the medical cannabis research efforts in Europe for the entire global industry, focusing on the development of effective and safe medicine.
As the results of global medical cannabis research surface and federal legalisation of medical use in the United States gets closer, pharmaceutical companies are already gearing up to become major producers in the medical industry.
3C sees this as a productive step towards applying pharmaceutical-level standards to the industry. As such, they continue to assist in the planning of clinical trials in phases one, two and three of the drug development processes, actively seeking delivery methods that efficiently and consistently subdue the pain of medical patients.
Good practice standards
Adhering to international standards and utilising systems that help establish and maintain a compliant business is not only imperative for the development of safe and quality medicine for cannabis patients, but also for the security of workers and investors in the industry. Cannabis businesses looking to contribute to the longevity and advancement of the industry need to consider international laws and standards to have the biggest impact.
This means structuring their businesses to be compliant with Good Agricultural Practices (GAP), Good Agricultural and Collection Practices (GACP), Good Laboratory Practices (GLP), Good Distribution Practices (GDP), Good Manufacturing Practices (GMP), and the Global Risk Assessment Platform (GRASP). GMP is of particular importance in regards to worker health and safety, and product quality control.
According to the World Health Organization (WHO), Good Manufacturing Practice, "defines quality measures for both production and quality control and defines general measures to ensure that processes necessary for production and testing are clearly defined, validated, reviewed, and documented, and that the personnel, premises, and materials are suitable for the production of pharmaceuticals and biologicals including vaccines." While the majority of legal cannabis states and countries have yet to require GMP for cannabis, it's not a matter of if but when certification will be required, and businesses will need to be prepared. 3C utilises these practices as their benchmark for a businesses' ability to establish and maintain compliance, produce or supply cannabis products, and distinguish themselves in their market. They take the top down and bottom up approach to assessing risk and compliance, acknowledging that, while each country has different regulations these standards are the foundation of what is required for import in countries across the EU.
For investors, these standards translate into a form of risk reduction. Businesses that follow these standards are less likely to break international and local laws or pass on toxic assets through a merger or acquisition. Multiverse thoroughly vets portfolio opportunities by assessing each and every company not only for their team, product and market risk, but regulatory risks as well. Investors in the space really need to understand the current local and national regulatory environment, but also forward compliance (how those regulations will change).
As an example, Germany awarded licences via a 1-year process only to cancel them for a new application process once the country realised that the current plan wasn't going to be successful. Investors and companies that had already spent hundreds of millions of dollars working through the original process were met with frustration when they had to go through the process all over again. The lesson here is that investors and companies alike can save a substantial amount of time and money by doing the proper, and often extensive, research that is necessary to avoid such pitfalls. Adhering to these guidelines and best practices increases the opportunities for export around the world as well, opening doors to import into even the most strictly regulated countries.
Our approach
From this industry's inception, Easley saw the potential for its pitfalls. With so much opportunity for financial gain, the cannabis industry is attracting some eager yet unethical players with their eye on quick exits and high-revenue operations that do not serve the greater good of the industry and are in violation of international law.
3C believes that taking a medical first approach to legalising cannabis not only benefits the patients currently suffering but also prevents corruption in the industry as a whole. They work to eliminate all toxic inputs from the cultivation and manufacturing processes to ensure that patients are protected, which is why standard practices, such as GMP certification, are one of their central focuses.
One of 3C's most trusted and utilised resources for keeping up to date on the needs of patients and medical cannabis policy is the above-mentioned American's for Safe Access (ASA), founded by Steph Sherer the recently appointed President of the International Cannabis and Cannabinoids Institute (ICCI). Easley is honored to be a board member for ASA, understanding that organisations like this are the foundation for 3C's mission in the industry, though what ASA has accomplished and what it continues to provide is truly unique. Their Patient Focused Certification (PFC) is a pioneering example of what ASA has contributed to the industry since its establishment in 2002. PFC offers the most comprehensive and relevant professional training program for businesses, healthcare providers, and regulators working with medical cannabis, and is the nation's only certification program using the American Herbal Products Association (AHPA) and the American Herbal Pharmacopoeia (AHP) Standards.
Medical patients are a particularly vulnerable group to disingenuous investors and operators, but so is our planet. Many cultivation operations are not using standard operating procedures nor are they compliant, leading to toxic cannabis products and medicine. Also, many are not utilising eco-friendly practices that would reduce their cost of production and increase the quality of their products.
Due to his extensive experience in agriculture, this was one of Easley's most startling discoveries about how the crop is being managed. Utilising organic agricultural practices is key to producing quality products, and this method doesn't have to be expensive. Indoor cannabis production is one of the most energy intensive operations per square foot of just about any industry, and it makes more sense for a businesses' profit margins and the environment to utilise the advances in greenhouse technology and natural sun rays to produce cannabis flower.
In 3C's experience, when cultivators decide to use an indoor facility, it limits their ability to expand their operation in the future and it is not uncommon for a given country, state or city to eventually allow for extended canopy. Hybrid greenhouse designs provide more flexibility to expand canopy ensuring that businesses remain competitive in their market when local regulations change. Additionally, by maximising greenhouse space and evenly distributing labour needs, commercial producers can actually increase cannabis supply and improve profit margins.
Easley and 3C are interested in working to lower the energy footprint of cannabis cultivation facilities drawing on inspiration from Vandana Shiva's identified "triple convergence of crises; climate, energy, and food." Shiva developed this framework for identifying the central problems plaguing our planet and 3C uses this as inspiration for their client's cannabis cultivation methods. By promoting greenhouse and outdoor cultivation projects in areas which take advantage of sunlight instead of high-cost, energy draining artificial light, this industry can clean up its environmental footprint.
From this framework, 3C writes environmentally responsible business plans for its clients that include a reduced carbon footprint from four-season hybrid greenhouses, using low-volatile organic compound (VOC) emitting building materials, Leadership in Energy and Environmental Design (LEED) green building criteria, and encouraging involvement in local environmental programs and initiatives.
3C understands that as leaders and stewards of this industry, they have a social responsibility to the communities that they help furnish with cannabis. Creating local jobs by writing employment opportunities into their clients' business plans is one of 3C's central strategies to aid local economies. 3C encourages its clients to cultivate inclusion practices by fostering a diverse workforce, acknowledging and embracing race, gender, age, sexual orientation, and gender identity, as well as religious, ethnic and physical ability differences. They also advise their clients to adopt policies that allow for employee input, prevent conflicts of interest and have clear ethical standards in place. Easley and the 3C team believe that they can create an ethically and socially responsible industry, one business at a time. Ultimately, when 3C clients walk away with a business plan, they leave more educated on the importance of local policy along with 3C's shared mission.
3C's contributions to the cannabis space have been and will continue to be, a direct reflection of the singular passion and commitment that the team has for the plant and what they know it can do for the world. 3C ultimately wants to create a world where the legal cannabis and hemp industries also yield high-quality organic products, prioritising socially and environmentally responsible practices for medical patients. They have assisted their clients, partners, and investors by providing crucial knowledge for navigating the pitfalls of this industry.
3C has also learned much from these experiences. Without 3C's hands-on successes and failures, they would not have a track record for building strong cannabis businesses, and guiding entrepreneurs and investors towards their own victories. As the industry grows, 3C's hope is that standardisation and regulation grow with it. Easley's work with 3C and Multiverse will continue to operate in tandem, producing innovative solutions and strategies for emerging cannabis markets worldwide.
All of their efforts are central to protecting sick and suffering patients, raising standards for adult use consumers, keeping workers in the sector safe, and advancing the industry with ethically conscious companies and investors.
References
Okoye, Ijeoma (2019). Europe is on the verge of a cannabis boom. Europedecides.eu
Pascual, Alfredo (2019). Germany's medical cannabis market prioritizes efficacy over unfettered access. MJBiz Daily
This Presentation is not intended to constitute an offer to purchase the Company's securities or a general solicitation to sell the Company's securities. Any securities to be offered by the Company will be offered only to prospective investors which are "Accredited Investors" as that term is defined in SEC Rule 501(a), and each investor shall make such representations in the investment documents accompanying that sale of securities. Not FDIC Insured. May Lose Value. No Bank Guarantee.
Zhang, M. (2017). The Global Marijuana Market Will Soon Hit $31.4 Billion But Investors Should Be Cautious. Forbes.
Pascual, Alfredo (2019). INCB Report: Certain medical cannabis programs violate international drug control treaties. MJBiz Daily
3C Consulting LLC
+1 303 542 7199
info@3ccannabis.com
Tweet @3ccannabis
https://www.3ccannabis.com/
Please note, this article will appear in issue 10 of Health Europa Quarterly, which is available to read now.