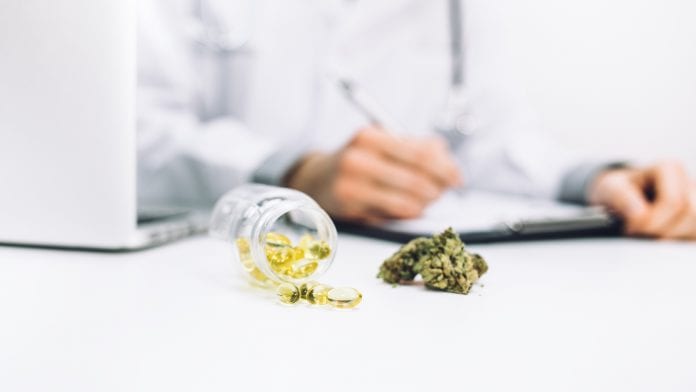 Clinical Director Dr Chloe Sakal and Project Director Amelia Middlemiss give an update on the progress of Drug Science's groundbreakingly ambitious Project Twenty21 programme.
On 1 November 2018, cannabis was rescheduled, enabling doctors to prescribe cannabis-based medicines in the UK. Yet we are now in 2020 and medical cannabis patients and campaigners continue to face a tough battle to access the medication they and their loved ones need. This raises the question: if cannabis is now recognised as a medication, and doctors are legally able to prescribe it, why are so few able to access this medicine? Drug Science put together a medical cannabis working group to answer this question; and so, Project Twenty21, Europe's largest medical cannabis registry, was born.
Barriers to access
Before discussing Project Twenty21 in depth, it is important to outline the existing barriers which patients face in accessing medical cannabis.
Firstly, this is a drug that has been demonised for decades. Cannabis is a medicine that will no doubt stir up internal conflict for many doctors. A shift in thinking is required within the medical profession; and this is best achieved through increased access to education.
Cost has been another barrier to accessibility. With private prescriptions for medical cannabis costing in the thousands for a month's supply, there has been no shortage of tragic stories describing bankrupt families struggling to fund their child's medicine. This is more of an issue than was initially observed: the conditions expected to benefit from medical cannabis are traditionally ones which disproportionately affect the lower income population in the UK. It is no surprise that chronic illness interferes with everyday functioning and, by extension, people's ability to work. This causes a Catch-22 situation: a patient needs the medication to work, but needs to work to afford the medication.
So why are patients unable to access medical cannabis through the NHS?
At present, medical cannabis is only licensed in the UK for a few conditions which can be prescribed and funded by the NHS. Even if a patient has one of these specific conditions, they will still need to find a doctor who has been trained to prescribe medical cannabis.
Another barrier is the lack of data or evidence. Until recently, unless a company was granted a special licence by the government, it was not allowed to research cannabis. For the NHS to allow usage of this medication, however, there must be strong scientific evidence showing it works and is cost effective. Since November 2018, the Department of Health and Social Care has requested more research into medical cannabis, so it can be assessed and approved for use in the NHS. This is why Project Twenty21 was created.
Project Twenty21
In November 2019, Project Twenty21 was announced to the public – this was the point that Drug Science could start the preparation of the project. Project Twenty21 is a registry and database developed to address the challenge of controlling the cost of medication, supporting doctors, and building evidence of health benefits for patients who are prescribed medical cannabis.
The registry system has been developed by scientific experts, ensuring that appropriate data is collected during doctor consultations to finally answer the main questions about medical cannabis, namely: where it is beneficial; and where it might cause harm. The project will produce scientific information for use by doctors, patients and decision-making NHS and government groups. Setting up the project has had its challenges; private clinician time is limited and expensive, so the balance of how long data collection must take has required significant consideration.
The issue of access
Access to medical cannabis in the NHS is currently limited to a few areas: severe treatment resistant epilepsy, MS-related spasticity; and chemotherapy-induced nausea and vomiting. Project Twenty21 understands that cannabis is used for a much larger range of health issues, and so must focus on the private sector, where medical cannabis can be prescribed off-licence under specialist clinician supervision. Up until now, for many, the cost of private medication has been a massive barrier. Project Twenty 21 has partnered with five licensed producers to provide a varied formulary of cannabis-based medicines at a significantly reduced monthly cost of £150 per product prescribed. With hundreds of pounds taken off the market price, the project can now support more patients in need. Project Twenty21 is also linking with private clinics and independent specialists to develop clinical services capable of prescribing cannabis-based medical products (CBMPs) around the country, removing another barrier to patients by improving access to those specialists that are able to prescribe CBMPs.
Prior to March 2020, THC products could not be stored in the UK in any significant quantities, which substantially slowed the process of accessing CBMPs for those patients who have a prescription. Importation can take up to six weeks, which means that patients often find their prescription is no longer valid by the time they receive approval and the whole process must start again. Since the launch of the project, regulations have changed to allow importation of up to three months' supply of CBMPs. In part, this change will help patients receive continued prescriptions once they have got through the first prescription authorisation from the Home Office which can still take six weeks. This is still an issue that needs to be solved.
Project Twenty21 currently has patients who were involved in beta testing of the project back in early May who still have not received their THC medication. These patients are now being forced to access illicit products or revert to using traditional medications like opioids, which have their own dangerous side effects, as rescue therapy.
The number of UK doctors with medical cannabis expertise is continuing to grow. Project Twenty21 is supporting an increasing number of doctors to be able to prescribe medical cannabis by collaborating with the Medical Cannabis Clinicians Society to provide quality education.
An unexpected factor
During March 2020, Covid-19 hit the UK. Although this caused major disruption to the overall development of the project, it also supported one of the aims of Twenty21, by opening up the ability for clinicians to conduct virtual clinics online, which meant that it reduced the cost of private consultations and eliminated the issue of patients' ability to physically attend the limited number of clinics available in the UK. The Project Twenty21 team completed the first test phase of the registry at the end of May 2020. Now the focus of the project is to increase the number of doctors who can prescribe medical cannabis, aiming for an official launch to patients in summer 2020.
In conclusion, Project Twenty21 will gather the evidence which is required by the NHS and Government, to support our ultimate goal of enabling more patients who are in need to have access to this treatment via the NHS. We also hope to be instrumental in the development of national cannabis policy and influential in the International debate. Not only could medical cannabis be a life changing treatment for patients, but it could also support economic and employment growth within the UK; providing a sustainable approach to the treatment of patients that need medical cannabis, without any stigma.
Dr Chloe Sakal
Clinical Director
Amelia Middlemiss
Project Director
Drug Science Project Twenty21
https://drugscience.org.uk/project-twenty21/
This article is for issue 3 of Medical Cannabis Network. Click here to get your free subscription today.