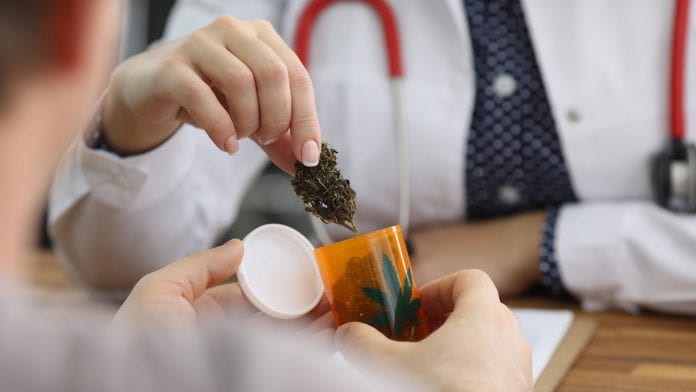 Cannabis is disrupting the way we look at medicines – but more people need to be educated about cannabis before it becomes commonly accepted as a medicine.
Patient access to medical cannabis prescriptions in the UK is not easy to obtain. Only a handful of patients are currently receiving cannabis through private prescriptions, and very few clinicians are actually able to contextualise the use of medical cannabis or CBD for their patients.
One of the obstacles patients are facing is clinicians' lack of education and comfort in prescribing. They are hesitant to suggest medical cannabis to their patients.
Medical Cannabis Network spoke to Private GP, Dr Julia Piper, about the mission of her practice www.privateGP.com to increase awareness of CBD and medical cannabis in order to improve education across the board.
Dr Piper is passionate about her subject and was delighted to speak to us as part of her 25 year anniversary for PrivateGP, their leading work in functional medicine, and more recently with medical cannabis education, for both clinicians and patients.
Educating clinicians and the public about cannabis
Dr Piper is both the founder and CEO of PrivateGP and is aiming to educate clinicians, the public, and patients alike about medical cannabis. Currently CBD is legalised in the UK, and is providing new ways of looking at medicine.
Dr Piper said: "Functional medicine is a best kept secret in terms of its delivery of medicine in getting to the root cause of illness. It revolves around systems biology and when one begins to understand this, it is easier to see and understand how the homeostatic and other effects of cannabis may work."
Dr Piper continued: "It's about a different way of thinking. The healthcare system is not getting it right. Healthcare practitioners are not alleviating peoples suffering or pain, we are numbing them with opiates, and patients are getting a lot of side effects. Opiates are not doing the job we need them to.
"The system education needs to go beyond cannabis to a broader remit – and thus providing a much needed new way of thinking about medicine.
"We need to remove the stigma of using cannabis that for 1000's of years has been used extensively for its medical benefits. The outlawing of cannabis has stemmed from American prohibition in the early 1930's, and today, G8 countries such as Canada have formally legalised both medical and recreational use by announcing to the world it no longer recognises American prohibition.
"This has allowed us to start thinking more laterally, and to understand that evidence-based medicine is very good for that linear model, but is very restrictive. We need to actually look at our medical evidence in a different way – with different measurements such as quality of life criteria, measurement of pain.
"For example, we know that cannabis helps the pain of MS. These pain scores are often equivocal, but the patients are actually sleeping better and coping with higher pain scores because of the fact that they can now sleep. So, how we measure the benefits of medications needs to be via broader mechanism as maybe medications are achieving effects via other pathways metabolically."
UK medical cannabis regulation and the black market
Dr Piper emphasised that the UK has a lot of catching up to do, and that mindsets need to change before the right legislation can be implemented.
"In some ways we need to engage with more pharmaceutical companies that are now beginning to understand and research cannabis. To change mind sets can take up to ten years. It is a big uphill journey and we have to influence people on all levels," she said.
"It is not only important for patients to ask for medical cannabis from their doctors, but also for doctors to understand that they can refer patients to specialists for a prescription. Thankfully, in the UK we are way ahead regarding CBD oil, because we can now purchase this over the counter.
"I have heard some miraculous cannabis survival stories that are never told because it is all hidden due to people obtaining the medicine from the black market – it is a shame that these stories have to be hidden away. Unfortunately, until we are all open about the topic, and the threat of legal repercussions are reduced, people won't talk about their cannabis use openly.
"The issue of openness and transparency needs to be addressed. It is such a shame that we have people going to Holland and paying huge amounts of money and struggling financially because of it."
Standardisation of medical cannabis
Standardisation is a vital component of achieving high quality medical cannabis products and correct dosage for patients.
Dr Piper said: "Standardisation of dose is important so that we can ensure that what is in the cannabis medicine is exactly what it says on the tin. All cannabis medication needs to be fully authenticated and provide a COA (Certificate of Analysis) showing its been tested for quality, cannabinoid content and heavy metal toxicology.
"As we understand more about cannabis genetics we will be begin to provide predictable dosing and understand the recommended ratios and dosages of the various cannabinoid constituents that work for different symptoms and conditions."
Improving patient access
Less than 200 patients have received a prescription for medical cannabis in the UK, which is only available through private prescription. The prescriptions can only be ordered in from abroad, sometimes taking up to three months to arrive – and can cost up to £600 a month.
Dr Piper said: "The law is beginning to change. Initially we were so excited that some of the patients would be able to get what they needed and finally find some relief. However, because of the way medical cannabis had been set up, we had to ship the prescriptions in from abroad and this was just not sustainable.
"The previous wait time was about three months but this has improved with change of legislation, so that the current wait time and price of the medicine has reduced somewhat, but there is a long way to go yet."
Knowledge sharing
Education and research is vital to help advance medical cannabis prescriptions and access for UK patients and PrivateGP is working with Professor Saoirse O'Sullivan, and with other clinicians and researchers to help inform people about the benefits of CBD and medical cannabis.
Dr Piper said: "We will be sharing research from across the board ably co-ordinated by Professor O'Sullivan. Trying to get more research on cannabis done is paramount if we want to increase patient access and make cannabis more affordable for patients.
"We also need a national database for knowledge sharing. If we had this database – which we will be pushing for – we much more likely to gain knowledge as medical practitioners and help patients much better.
"Medical cannabis needs to be on all medical school curriculums – alongside aspects of functional medicine – thereby hopefully moving the education of health, medicine, ecology and environmental impacts into the 21st Century.
"At PrivateGP we want medical professionals to come and talk us about how they prescribe, and share their very valuable information."
Dr Julia Piper
CEO
Privategp.com Ltd