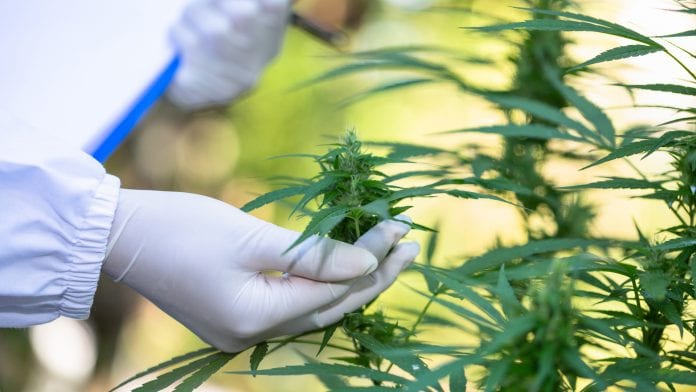 Resource Innovation Institute Executive Director Derek Smith highlights the importance of tracking resource consumption in cannabis production.
As the global COVID-19 pandemic provides a window into cannabis's increasing revenue potential, the industry's Achilles heel on production scalability is being laid bare. Global brands with cultivation assets in various parts of the world are generally incapable of achieving consistent quality from site to site – and their stock prices reflect it.
Saddled with high operating expenses resulting from hasty decisions on geographies, building types, lighting solutions and heating, ventilation and air conditioning (HVAC) systems, executives are forced to identify cuts, yet have very limited ways to assess the operating capabilities of their master growers. With energy and water costs comprising up to 50% of total operating expenses, resource efficiency is paramount.
At the same time, savvy investors with experience in more mature sectors are beginning to concern themselves with Environment, Social and Governance (ESG) performance; and, of course, consumer interest in corporate action on climate change and other pressing social and environmental matters is on the rise.
What gets measured gets done
All of this points to the urgent need for producers to become more operationally efficient. In order to begin a journey down the efficiency path, a producer must first know how efficient their operation already is. From this, they can establish a baseline from which to measure and report performance.
The value of resource benchmarking
Just as financial benchmarking enables a comparative assessment of a firm's performance, so does resource benchmarking. Energy and water efficiency are critical key performance indicators (KPIs) of both financial competitiveness and brand risk.
Resource benchmarking is the process of tracking and reviewing a property's annual energy and water use over time in relation to itself and/or other buildings. Like stepping on a scale, energy benchmarking is the first step in the energy management process.
Effective benchmarking requires a standardised, vetted tool. In commercial buildings, the US Department of Energy's Energy Star Portfolio Manager is often used to measure Energy Use Intensity (EUI), a standard measure of energy use per square foot. However, industrial processes are more challenging to assess strictly on a square footage basis. Production-oriented metrics are essential for comparing performance from firm to firm.
Introducing the Cannabis PowerScore benchmarking platform
In 2017, the US-based non-governmental organisation Resource Innovation Institute (RII) brought together its initial Technical Advisory Council of cultivators, design and construction partners, and resource efficiency engineers to determine how to quantify the energy performance of cannabis cultivation operations.
The group advised the development of the Cannabis PowerScore benchmarking platform and established cannabis-centric KPIs on EUI (for example, kBtu consumed per square foot of canopy) as well as energy productivity metric (grams produced per kBtu consumed). PowerScore is essentially a survey that calculates comparative efficiency performance metrics as it receives submitted data about a facility's energy usage, production, size, installed technologies and more.
PowerScore provides a comprehensive score that incorporates energy, water, waste and, soon, carbon emissions. The overall PowerScore ranking is a proxy for resource efficiency performance, and provides an apples-to-apples comparison of cultivation facility competitiveness.
RII has built trust as an objective source of information about resource efficiency in cultivation operations; and PowerScore data is kept confidential at the farm-identification level. PowerScore is now in use by hundreds of facilities throughout North America: its architecture is globally relevant, with options for reporting production weight in the metric or American systems.
While individual facility information is kept confidential, aggregate data is used to inform governments, utilities and industry leaders who share an interest in producer efficiency. Ultimately, aggregate data will help establish industry standards and a leadership recognition system.
Establishing industry benchmarks on energy and water efficiency
The 2018 Cannabis Energy Report, published by New Frontier Data in partnership with RII, found a large continuum of electricity usage among US producers in early regulated states. In 2020, a follow-up study conducted by RII concluded that industry benchmarks had improved significantly.
kBtu/sq ft flowering canopy
grams/kBtu
2018
2020
2018
2020
Indoor
894
709
0.79
1.9
Greenhouse
456
314
1.07
7.1
Outdoor
8
18
14.37
63.2
Table caption: Cannabis cultivation electricity use. For context, most homes and office buildings consume roughly 40-50 kBtu per square foot. Source: New Frontier Data, Resource Innovation Institute.
Since mid-2018, in addition to the general market efficiencies shown above, we are seeing trends in the PowerScore dataset that seem to validate certain techniques and technologies driving efficiency. As one leading-edge example, an Oregon facility underwent a retrofit from HPS to LED lighting, which resulted in a 68% improvement in grams/kWh. The overall data suggests that most facilities, regardless of legacy equipment installed, have the opportunity to save at least 30% of energy expenses through efficiency measures.
Later this year, New Frontier and RII will again team up, this time with the Berkeley Cannabis Research Center, to publish The Cannabis Water Report. RII's Water Working Group members, which include category leaders such as Grodan, Priva and Argus, are encouraging their cultivation customers to take the PowerScore survey so governments and media can be better informed about cannabis water usage.
The critical role of best practices
PowerScore data are revealing the promise of efficiency investments. For example, cultivation operations with LED lighting systems in flowering stages generally show meaningfully improved electricity performance when compared to sites that flower under high pressure sodium (HPS) lights. However, some operations with LED lighting solutions perform better than others with LEDs. This performance variability is likely explained by the quality of the lighting system, the limitations of the site or the actions of the cultivator.
Most long-term cannabis cultivators need to learn how to effectively operate the state-of-the-art LED lighting solutions available on the market today. Others are bound by the building's ability to condition the internal space, despite fluctuating temperatures throughout the year. Yet others are still becoming aware of third party organisations who validate manufacturer efficiency claims like DesignLights Consortium.
Establishment and adoption of best practices are key to continuing progress. This is why RII recently teamed with its Technical Advisory Council to publish the industry's first peer-reviewed Best Practices Guides on HVAC and LED Lighting for Cannabis Cultivation. Governments and utility suppliers such as the Massachusetts Department of Energy Resources and Michigan-based Consumers Energy sponsor cultivation workshops like Efficient Yields, with the aim of connecting cultivators with experts who contributed to the guides.
Standards, leadership recognition, and ESG reporting
As with most issues pertaining to cannabis, more data is needed. Statistically significant datasets representing a variety of climate zones, facility designs and cultivation methods will continue to shed light on efficiency drivers. Likewise, widespread adoption of best practices will lead to the development of standards, which will ultimately enable leadership recognition, proper ESG reporting and improved brand valuation.
As the industry matures further, standards can reinforce United Nations Sustainable Development Goals. Restorative justice can be advanced through deliberate delivery of efficiency support services for cultivators of colour. Climate progress can be achieved.
Clearly, while we are making progress, the industry still has a way to go on these issues. The question is, will the industry take the opportunity to collaborate on establishing voluntary standards, or will action be forced upon it?
Governments are setting standards yet the industry still has the opportunity to chart its course
Governments are crafting policies and regulations aimed at curbing the industry's resource impacts, often in the absence of hard data. The more data producers provide, the better the policy will be. The more the industry engages in establishing its own standards, the less governments will feel a need to do so – and so we circle back to benchmarking. Get started on your efficiency journey at CannabisPowerScore.org.
Derek Smith
Executive Director
Resource Innovation Institute
https://resourceinnovation.org/
This article is for issue 4 of Medical Cannabis Network. Click here to get your free subscription today.