LumniCleanse provides mobile and practical sterilisation systems, designed to kill 99.9999% of bacteria and viruses.
The market for UV products is rapidly expanding; and UVC disinfection is increasingly seen as the key to making premises COVID-secure. LumniCleanse provides affordable, safe and suitable solutions to sanitising environments and keeping people safe, offering faster and more effective disinfection solutions than traditional methods.
Our organisation provides solutions to accommodate offices and workspaces; manufacturing environments; clinical theatres; and the retail and hospitality sectors. We also provide sanitisation solutions to sports grounds, stadiums and changing facilities.
The science has been proven in the field. Our systems are currently being used by the hospitality sector across Europe to ensure a sterile environment free of COVID-19; and this technology has now been made available in the UK.
Autonomy and safety
The LumniCleanse UVC Mobile Robot moves independently, emitting UVC rays which kill viruses and bacteria. UVC radiation neutralises SARS CoV-2 in just a few seconds, changing the structure of its RNA; and within a few minutes the virus is completely eradicated. The mobile robot disinfects without the need for human intervention: there is no need to enter the contaminated zone or be exposed to radiation and the area can be used immediately after sterilisation. The majority of positive feedback received to date has specifically highlighted how fast, effective, safe, precise and modern the UVC Mobile Robot is in the field.
We believe that the effective disinfection in medical and cosmetic clinics should not be difficult; and time is of the essence. LumniCleanse robots offer an innovative, rapid, fully autonomous sterilisation process, whose efficacy at destroying viruses and bacteria has been validated through laboratory and microbiological testing.
Room sterilisation
A recognised problem in the field of infection prevention and control is room sterilisation, which has been particularly difficult due to the ongoing need for personnel to enter 'dirty' or contaminated zones to operate stationary devices. The necessity for strict compliance with health and safety regulations further complicated this process. Our robots can provide the optimum solution to these complications.
The process of disinfecting is as simple as this:
Activate the robot
Open the door to the desired work area
Close the door behind the robot and activate the lamp remotely
The robot will let you know when sterilisation is complete and will turn off its lamps
Let the robot out of the room and switch off system lights
Our LumniCleanse UVC Robot keeps schools, sports centres, and stadium suites clean and sanitised, ensuring its users can keep teaching, training, and entertaining through the pandemic. It is easily able to navigate narrow corridors and provides a key service in sanitising equipment and surfaces within rooms: regular use of the UVC Robot helps to keep infection rate and risk down.
As a company LumniCleanse does not just provide a robot, but also a bespoke service to suit your requirements. We are proud to offer a product to suit your needs and with bespoke benefits. Cutting-edge software makes it possible to personalise the robot and adapt its operation to your individual needs and special tasks. Our specialists will take care of the programming for you, with full personalisation available upon request.
LumniCleanse UVC Cabin
The LumniCleanse UVC Cabin is an installation suitable for any premises or event, which allows organisations and facilities to ensure that their premises are kept germ-free and protected against the spread of viruses. LumniCleanse can customise the cabin to your needs, with additional functions such as a population-counting feature which allows you to monitor the number of people entering your premises.
Adaptable
As standard, the unit is built with an aluminium outer case, however, the exterior of the unit can be customised and covered with different materials to suit the finish of your interiors.
Customisable
The cabin can be installed as a permanent fixture at the entrance to a site or used as a temporary solution for events. These cabins can be customised according to your brand and requirements. Once installed, Lumnicleanse UVC cabins can help reduce the spread of viruses within hospitals, as well as at the point of entry. All different departments can be separated but kept free of viral and bacterial contamination at the same time: this will help divide the risk between the various departments.
The advantages of UVC
In a statement released in October 2020, Warsaw's Office for Registration of Medicinal Products, Medical Devices and Biocidal Products said: "According to the recommendations of the World Health Organization (WHO), spraying disinfectants on people or clothing while use, in the so-called disinfection tunnel is not at all recommended due to exposure to biocidal products and their possible negative effects." By comparison, UVC radiation is significantly safer and more reliable.
The most important advantages of UVC lamps include:
Effective air and room cleaning
Already in widespread use in operating theatres
Safe for children and teenagers
Does not cause allergic reactions
Disinfection efficiency up to 95%
No need to use liquids or other disinfectants that may have harmful impact on eyes and upper respiratory tract
As standard, the cabin comes equipped with traffic measurement, non-contact temperature measurement, and a digital display to carry messages and advertisements. Optional equipment may include:
Non-contact hand disinfection capability
Breathalyser
The option to display a logo and other advertisements on the cabin itself
A choice of the colour and finishing material
Size customisation
Flexible
The cabin can disinfect a single person in 12 seconds and is equipped with a temperature checking facility, meaning that the flow of people into a premises can be kept steady, regulated and can be monitored. Having entered the cabin and closed the door, the photocell identifies their presence and activates a system of carefully calibrated nozzles which, together with the UVC lamp, perform the disinfection.
Welfare of returning staff
Once it has been deemed safe, there will be an influx of returning staff to office blocks nationwide. This means that there will be a heightened risk of transmission of viruses on clothes and belongings. LumniCleanse offer a fast and safe sterilisation process with this unit, which is entirely safe for people to be around and in.
The LumniCleanse UVC Box
We carry around a lot of items which can harbour germs. The UVC Box is an efficient way in which to disinfect and sterilise everyday objects such as masks, documents, hand-held devices, parcels and mobile phones.
The LumniCleanse Box is ideal for use in schools, offices and other locations with high levels of traffic, as well as for the sterilisation of clinical equipment and instruments. The cabinet's standard dimensions are 400mm x 260mm x 1320mm, although bespoke dimensions are available on request.
Key benefits
Compact, easy to move and use
Customisable interiors – hooks, shelves, and changeable configurations
Quick and efficient at sterilising contents
With simple open and close operation, the LumniCleanse Box requires minimal control and can be placed almost anywhere with access to a power supply. Currently used by the Polish government to sterilise important documents, the box is perfect for disinfecting a wide variety of items.
Proteger Box Classic
The Proteger Box Classic is a standing 260mm x 400mm x 1320mm cabinet with modern design intended for disinfection of 50 masks, perfect for use in an office, restaurant, hotel, school or hospital. It is easy to use with no service required; and boasts a disinfection time of 20 minutes, an electromagnetic lock for security, and hangers with assigned numbers. The interior lamp lasts up to 8,000 hours.
Proteger Box Mini
This is a smaller cabinet (500mm x 200mm x 400mm) designed to disinfect utility goods like phones, correspondence, face shields, or up to 20 masks, perfect for use in a small shop, office, restaurant, hotel or hospital. It has a 20-minute disinfection time and electromagnetic lock; and can be fixed to a wall.
Proteger Box Medical
The 800mm x 570mm x 2000mm Box Medical is a wardrobe designed to disinfect clothes and shoes of employees in the medical and industrial sectors, as well as other large objects. It guarantees effective and safe disinfection without liquids within 60 minutes; and features electromagnetic locking and hangers with assigned numbers.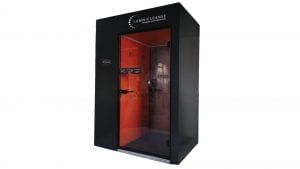 Proteger Box Office
The Proteger Box Office is designed to disinfect documents and correspondence within 60 minutes, equipping users with the potential to shorten the documentation workflow without wasting paper; and is intended primarily for use in offices or courts. The Box Office, which includes hangers with assigned numbers and an electromagnetic lock, can hold up to 12 volumes of files or several hundred pages of documents at one time.
We believe LumniCleanse can offer you the solutions you need to ensure a safe future ahead. At LumniCleanse we are always striving to continue to develop and remain ahead of the game in fighting bacteria and viruses.
Our UVC products are either provided with physically integrated equipment or time safeguards (such as presence or motion detection sensors or timers), or they can be installed alongside the requisite containment safeguards in order to ensure that our UVC products can be operated in line with the relevant safety standards.
Any UVC disinfection equipment that we provide without integrated equipment or time safeguards is meant to be used only as components in comprehensive disinfection systems which contain the adequate safety safeguards such as, but not limited to, those indicated in the mounting instructions and/or user manuals of this equipment.
Direct exposure to UVC is dangerous.
LumniCleanse UVC disinfection products must only be sold through qualified partners and installed by professionals according to our stringent safety and legal requirement. All LumniCleanse products have an EU Declaration of Conformity and are marked. We offer products that are adapted to the requirements of the current market and will also be able to compete with technologies in the future.
For sales enquiries or for more information on our services, please contact us or visit our website.
This article is from issue 16 of Health Europa. Click here to get your free subscription today.