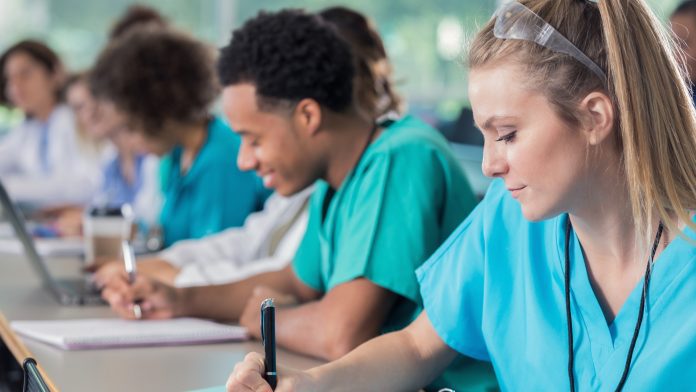 Ber Oomen, executive director of the European Specialist Nurses Organisation spoke to Health Europa about the organisation's AMR, vaccination and infection prevention focus group and why greater policy support for the nursing workforce is needed.
Earlier this year, the International Nurses Day highlighted the urgent need to invest in the nursing workforce, advocating 'Nurses: a voice to lead – invest in nursing and respect rights to secure global health' as its chosen theme. Nurses have faced unprecedented challenges in recent years, and while they have endeavoured to meet the ever-increasing demands of healthcare systems, staff shortages, overwhelming workloads, and a lack of protection for their wellbeing have threatened the resilience of the profession, putting both nurses and their patients at greater risk. Policy action is urgently needed to address the unmet needs, particularly in the face of future global health threats such as antimicrobial resistance (AMR).
Building resilient healthcare systems is of particular importance in the fight against antimicrobial resistance. Nurses are often working on the frontline, monitoring patients and endeavouring to treat – sometimes life-threatening – infections which means it is vital they are equipped with the right skills and knowledge, but also the resources to deliver the best possible care. With its aim of securing long-term strategies and policies to advance the professional development of nurses as well as health projects in Europe, the European Specialist Nurses Organisation (ESNO) created an AMR, vaccination and infection prevention focus group and launched a three-year programme to promote educational resources and develop a harmonised standard for antimicrobial resistance stewardship and infection prevention curricula. The group is due to meet in September this year in Brussels. To discuss the ESNO microbial focus group programme and its key objectives to future-proof nurses' competencies on AMR, Health Europa spoke to the ESNO's executive director, Ber Oomen.
How did the ESNO microbial focus group come to be formed and what are its key goals?
Firstly, the focus group has two key goals which are complementary to each other: quality assurance of health provision and care and securing the best professionals for the most relevant position. In 2017, a range of meetings took place in the European Parliament which called for greater focus on antimicrobial resistance, and concurrently, vaccination, infection prevention and sepsis. However, all of these topics were being addressed in silos with separately funded, long-term programmes. For each topic, the ESNO decided to initiate educational activities, but it soon became clear that these would not have the intended impact unless the material was integrated. Likewise, it was only when the COVID-19 pandemic struck that healthcare professionals began to take stock of the information we were providing and the importance of understanding the potential health threats associated with infections and antimicrobial resistance.
While creating the initial version of our educational guides on microbes and medication, vaccination, AMR, and infection prevention, we were contacted by some wonderful and dedicated healthcare professionals who we later met in Brussels. We subsequently created a committee under the ESNO, and this continues to grow. It is a collaborative approach whereby we bring key experts together to create educational material for the wider healthcare community.
Why is it important for the nursing workforce in particular to be fully trained in understanding optimal antibiotic use? What are the key barriers that can prevent nurses from engaging in stewardship programmes and promoting best practices for antibiotic use?
The complexity of systems requires resources, which we just do not have. Like many other healthcare professionals, nurses are working in high-pressured and often stressful environments, and need to be supported with continuous training and competence building. Continuous training and knowledge sharing are important when it comes to administering medication as well as monitoring patients' conditions, but also for the use of digital tools. The increasing use of Artificial Intelligence (AI), algorithms and personalised medication, as mentioned in the European Pharmaceutical Strategy means nurses will be required to understand and use these systems accordingly to monitor therapeutics, for example.
We are already seeing new devices being used in clinics and on wards to support antimicrobial resistance mitigation, such as Rapid Microbes Detection and Testing equipment to shorten testing times for infection samples from days to hours. Where in the past, samples had to go to laboratories to be tested, specialist nurses are now trained to manage these systems on the ward in order to improve prescribing processes and find alternative interventions when appropriate.
Robust educational pathways are crucial to optimising patient monitoring and enable nurses to build their skill set in AMR and stewardship while giving them a greater sense of responsibility and autonomy.
How is the global shortage of nurses and other healthcare professionals impacting the management and mitigation of AMR?
The nursing workforce shortage impacts the overall health system, and the amount of time healthcare professionals can spend with patients. Similarly, the lack of nurses being recruited to replace those that have left the profession, means the current workforce carries an even greater burden. This fragmented system is detrimental to the quality-of-care nurses endeavour to provide.
When it comes to patient care, simple interactions such as holding a hand, eye contact and listening can make the greatest difference to someone's experience in care, and their recovery. We should not underestimate the value of patient interaction, and the benefit it brings to those receiving care and the ones who are providing it.
Personal contact also creates an element of trust, which is important when providing medication and explaining any practicalities to the patient.
Today, medication systems are more innovative than ever but can also be more complex given the uptake in digital solutions. Similarly, the diversity of products– from injections and sprays to glass pill pots – only adds to this complexity.
What actions could national health regulatory bodies and policymakers take to better support the nursing workforce and their involvement in approaches to AMR?
Firstly, we need to encourage an open and transparent culture. With infections, the first and too often obvious instinct is medication – an infection killer and antimicrobial – and in some cases these are absolutely necessary such as in a case of acute blood sepsis. But overall, there are so many, and often under-explored interventions when dealing with infections, and equally not all infections are the same.
Robust evaluation methods, monitoring and selective interventions are needed, and all nurses should be equipped with the basic competencies to carry out these tasks effectively. Existing recommendations such as the '10 nurses' rights' on antibiotic administration and factors influencing their practices should be suitably acknowledged.
While we are encouraged to apply for European funding and use budgetary systems, it is incredibly difficult because of administrative quagmires and the time-consuming implications of programmes. We need flexibility and freedom in our activities; our long-term vision is that nurses are given more credibility than thus far experienced. Many members of the European Commission understand this and have shown interest in supporting our cause.
Today's key challenge for policymakers and regulatory authorities is to reach a comprehensive level of AMR awareness and understand how the nursing workforce can be supported to actively manage this. The COVID pandemic was a wake-up call to the potential danger of infections and the need for robust, and long-term strategies to mitigate future health threats.
Ber Oomen
Executive Director
European Specialist Nurses Organisation
www.esno.org
https://www.linkedin.com/company/esno/?trk=nav_account_sub_nav_company_admin
https://www.facebook.com/ESNO-European-Specialist-Nurses-Organisations-709738035717264/
https://twitter.com/esno_web
https://www.instagram.com/esno_web/
This article is from issue 22 of Health Europa Quarterly. Click here to get your free subscription today.
Recommended Related Articles