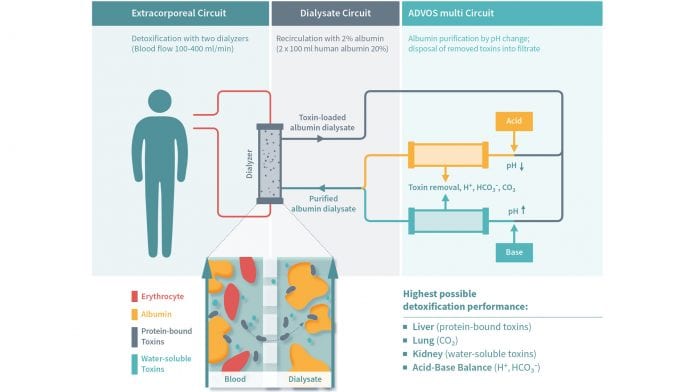 The ADVOS – ADVanced Organ Support – therapy is the world's first four-in-one treatment device providing multi-organ support for liver, kidney, lung and blood pH management and can help increase ICU patient survival from 10% to 50%.
Multi-organ failure (MOF) is one of the most difficult challenges faced in critically ill patients. Despite significant progress in the treatment of MOF, the mortality rate remains high. About 500,000 patients die every year in Western Europe and the USA in intensive care units (ICUs) as a result of multi-organ failure; due to the COVID-19 pandemic this number increased to over 750,000 deaths in 2020. In the event that two organs fail at the same time, the mortality risk increases to over 50%, and if the liver, lung, and kidney fail at the same time, the mortality rate is over 75%. (1) In these cases, the physicians at the ICU are confronted with the challenge of treating several failing organs with multiple independent organ support devices, as there is currently not an integrated therapy solution available. The simultaneous application of specific single therapy systems (for liver, lung, and kidney) is incredibly complex and is neither recommended nor feasible. The necessity of an integrated therapy for multiple organ support – which will both benefit patients and ease their management by the medical staff – is clear.
The ADVOS therapy: the first method worldwide for individualised multi-organ support
ADVOS is the only therapy available worldwide that offers four organ support therapies integrated in one single device. The ADVOS therapy improves survival of ICU patients by simultaneously supporting all three main detoxification organs (the liver, the lungs, and the kidneys) and offering blood pH management by acid-base-balance correction and CO2 removal in one single device. Observational studies (not involving COVID-19 patients) have demonstrated that this technology is drastically improving the expected survival rate of critically ill patients from 10%,to up to 50%.
The ADVOS multi represents an evolution from conventional dialysis machines as it uses protein-enriched instead of regular dialysis water and allows targeted setting of the dialysis fluid pH. Within the device, the dialysis fluid is permanently reprocessed and cleared of toxins in order to maintain consistently high detoxification performance.
The ADVOS procedure contains a blood circuit and a dialysate circuit. Albumin is added to the dialysate circuit to eliminate protein-bound substances. In the dialysate circuit, the toxin-loaded albumin passes through a switch; the dialysate is acidified in one section and alkalised in the other. Since most body processes are best performed in a neutral pH, and albumin loses its binding capacity in an acidic or alkaline environment, the toxins are released and removed with a conventional dialysis filter. The two sections then reunite, and the purified albumin can bind new toxins from the bloodstream in the dialyser (Fig. 1). By managing flow rates and mixing ratios, the acid-base balance can also be specifically modulated. This allows the user to set a dialysate pH of up to 9.5, and therefore to treat metabolic or respiratory acidosis and to eliminate CO2 independently from the patient's lung.
The first and only 4-in-1-device: simultaneous support for all detoxification organs
Liver support: removal of hepatic toxins;
Lung support: extracorporeal CO2 removal in low-invasive settings;
Kidney support: removal of water-soluble as well as protein-bound nephrotoxins; and
Blood pH management: stabilising acid-base balance by direct removal of acid resulting in acidosis correction.
Clinical results: improved organ function through effective detoxification & blood pH correction
The ADVOS therapy is a safe and effective method for the treatment of multi-organ failure based on the principles of haemodialysis. A recent paper published by Fuhrmann et al (2) shows  the first clinical data of 34 critically ill patients with multi-organ failure who received 102 ADVOS treatment sessions in the Department of Intensive Care Medicine of the University Medical Centre Hamburg-Eppendorf. The ADVOS therapy was able to remove water-soluble and albumin-bound substances, correct acid-base imbalances, remove CO2 and improve the haemodynamic status in patients with liver failure, septic shock, or acute respiratory distress syndrome (ARDS) in need of extracorporeal support. Furthermore, the authors conclude that the wide therapeutic range of the ADVOS therapy is convincing.
Similar results are shown in a case report from Huber et al (3), who treated a COVID-19 patient suffering from multi-organ failure with the ADVOS treatment. Patients with severe COVID-19 develop lung failure and require oxygenation, which is often performed in intensive care units. Other secondary diseases include acute respiratory distress syndrome (ARDS), haemodynamic disorders and shock. The subsequent multi-organ dysfunction and failure is the main cause of death in coronavirus infections.
In case of severe lung failure (severe COVID-19 infection), the ADVOS treatment is available in addition to mechanical ventilation and is designed to shorten the period of intubation or prevent the need for it altogether, reduce the length of stay in intensive care and reduce the side effects of ventilation. Further studies to test these functions are currently being planned.
The case report by Huber et al demonstrates that a combined and less invasive approach like the ADVOS therapy could be a good treatment option for predominantly elderly COVID-19 patients with multi-organ failure and contraindications to other therapies.
The development of ADVOS therapy
The Munich-based company ADVITOS was founded in 2005 by nephrologist Associate Professor Dr Bernhard Kreymann and Mechanical Engineer Catherine Schreiber. Dr Kreymann has been working in the field of liver and multi-organ support since 1994. In 1995, during his time at the Munich University Hospital Rechts der Isar, he invented the single-pass albumin dialysis, which is still used today to stabilise patients until liver transplantation. However, the method is not effective or inexpensive enough to be used more widely in everyday clinical practice. Due to the high financial requirements, further development of a single pass albumin dialysis could not be done at the university. As a result, he and Schreiber established ADVITOS, and together with the team, they developed the CE-marked and worldwide patented ADVOS technology.
The ADVOS therapy is currently used in intensive care units at 20 leading hospitals throughout Germany, and the company is on its way to expanding into the international market. ADVITOS is in discussion with hospitals and distributors to establish representation in Austria and Switzerland in 2021, with France, Italy, and Belgium to follow.
ADVITOS and its innovative ADVOS therapy has also been recognised by the European Union. It participates in two programmes and is funded under the EU's Horizon 2020 research and innovation programme.
Key facts
The only four-in-one device in the world to provide multi-organ support for liver, kidney, lung and blood pH management;
Clinical results: ADVOS treatment improves expected survival in multi-organ failure from 10% to 50%;
High performance and long-lasting efficacy of detoxification;
Low-invasive and safe method: no large-lumen catheter necessary, blood flow and volume comparable to regular haemodialysis;
Correction of acid-base imbalances by direct removal of acids; treatment of heavier metabolic and respiratory acidosis without bicarbonate; and
Reduced operator effort.
References
Vincent et al. (1998). Use of the SOFA score to assess the incidence of organ dysfunction/failure in intensive care units: results of a multicentre, prospective study.
This project has received funding from the European Union's Horizon 2020 research and innovations programme under grand agreement No. 880349.
Special Report Contact Details