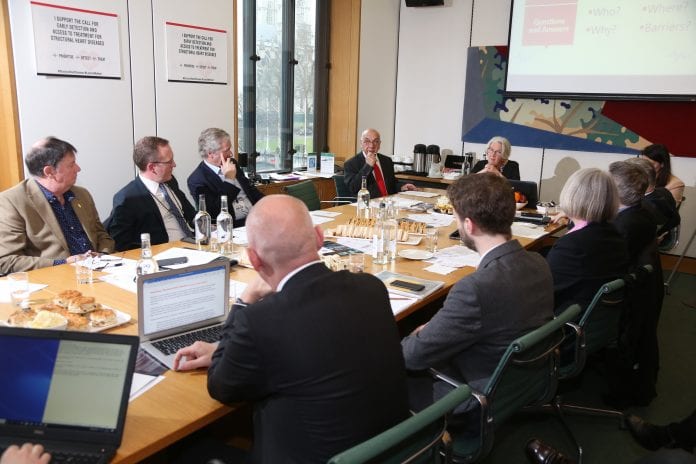 UK Liberal Democrat peer Baroness Jolly, who serves as Co-Chair of the All-Party Parliamentary Group on Ageing and Older People and is the party's former health spokesperson, explores the challenges and opportunities of the ageing population and the impact of disease on healthy life expectancy.
She speaks to HEQ on her reflections from a parliamentary discussion on healthy ageing and the impact of structural heart diseases (SHD), which was held in Westminster in early March.
How prepared is the UK for its ageing population?
The UK population over 65 will represent a significant part of society over the coming years. In 2017 the Office of National Statistics predicted that by 2030, the number of people aged 65 or over will increase by 50%; while the number of people aged 85 or older is expected to double in the same period. According to projections made by AGE UK, this will mean a 50% increase in people with arthritis, heart diseases or strokes; and an 80% rise in people with dementia to nearly two million. This new reality will place unprecedented pressure on the NHS, meaning the UK must develop transformational ideas to meet this challenge.
What about the 'right' to age healthily?
As people get older, they must be supported to age healthily, enabling them to make positive contributions to society. Healthy ageing is the process of optimising social and mental health outcomes to enable older people to take an active part in society and enjoy an independent and good quality of life. Active and healthy seniors can meaningfully contribute through volunteering, caring and much more. Healthy ageing can be achieved in several ways, from maintaining an active lifestyle, to better provision of care; and improving the treatment of diseases that impact lives.
What are the disease areas linked to the functional decline of older people?
Functional decline is linked to several diseases such as dementia or musculoskeletal diseases, but these conditions seem to be well addressed, whereas heart diseases are less so. I had the pleasure of moderating a parliamentary discussion on healthy ageing and the impact of structural heart diseases in Westminster in early March, during which I learnt more about barriers to healthy ageing in the UK. The roundtable was attended by healthcare experts such as Keith Pearce (British Society of Echocardiography), Professor Philip MacCarthy (Kings College Hospital) and Professor Huon Gray CBE (University Hospital Southampton). Together, with ageing charities and patient representatives, we discussed a call to action to better prioritise, detect and treat structural heart diseases for the benefit of patients, our health and social care system and UK society at large.
What is the impact of structural heart diseases on ageing?
The chances of developing structural heart diseases increase with age and, according to data from Heart Valve Voice, approximately one million people over the age of 65 across the UK are affected by heart valve disease, one of the most common forms of structural heart disease. It is well known that, if left untreated, such a disease is progressive and potentially life threatening once symptoms appear. The lack of awareness results in a lack of detection when a patient presents at primary care level, and too often the wrongful diagnosis of the condition due to its nonspecific symptoms.
What are the main challenges facing older people in gaining access to early interventions in the NHS?
Early detection of heart diseases is crucial given many patients display symptoms of heart valve disease that could have been detected at an earlier assessment. A stethoscope check by a GP is the first step to detecting heart diseases early, but a 2017 CensusWide study found that 78% of people in the UK over 60 years old reported their doctor rarely or never checked their heart with a stethoscope during health visits. The NHS health check seems to be a missed opportunity for the detection of structural heart diseases due its emphasis on cardiovascular disease risk factors and prevention. There is concern that due to the asymptomatic nature of structural heart diseases, the true figure of the undiagnosed patient population is much higher than recognised. Equally important is improved access to echocardiography in primary care which could enhance the investigation of patients with breathlessness and ensure the early detection of heart failure and heart valve disease.
Could you explain why you feel this issue is so important?
Put simply, unless we act now the prevalence of these conditions will continue to increase with an ageing population, placing pressure on the NHS and social care services. Concerted political action is therefore needed to improve the early detection and treatment of these diseases.
What is the UK government doing to find a solution to this challenge?
By 2035 the government aims to have added an average of five additional years onto our lives. This target was established through the government's 'Ageing Society Grand Challenge' mission, which was launched as part of its Industrial Strategy in 2019. This is good news. However, the number of years we spend in good health is improving more slowly than the total years we can expect to live. There needs to be a comprehensive shift in approach to better prioritise healthy ageing strategies focused on addressing major causes of ill health in the elderly population. For example, the NHS Long Term Plan shows that heart valve disease is mostly diagnosed in hospitals despite 40% of patients having symptoms which should have triggered an earlier assessment, demonstrating a lack of early diagnosis.
How can policymakers, healthcare professionals and patients collaborate more with each other on this issue?
 As stated by the host of the parliamentary roundtable, Virendra Sharma MP, by coming together there is an opportunity to identify solutions that ensure older people receive the health and social care they need – and as the UK leaves the European Union, we must ensure there is continued collaboration and sharing of best practice with our nearest neighbours. The UK must stay involved in European initiatives, such as the upcoming joint action on structural heart diseases, to ensure there is national level action to improve early detection and access to treatment.
Baroness Jolly
Co-Chair
All-Party Parliamentary Group on Ageing and Older People
This article is from issue 13 of Health Europa. Click here to get your free subscription today.
Recommended Related Articles