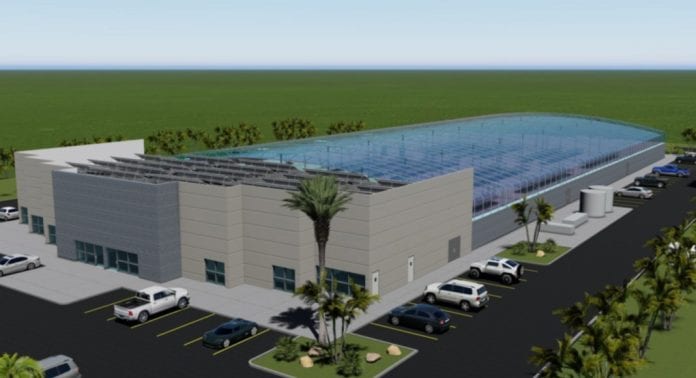 A new, eco-friendly greenhouse can help to transform the cannabis cultivation space.
Terry Van Gelder, of Ancon Development Corporation, has 20 years in the agriculture sector, 35 years in construction, and has been designing a number of facilities for private industry and the US military.
Did you know that Medical Cannabis Network is working with Ancon Development Corporation? Stay tuned for further developments from the company on Medical Cannabis Network.
He has now designed an eco-friendly commercially framed greenhouse for cannabis cultivation – AGT Hybrid Greenhouse – which was awarded the Edison Innovation Award in 2019 under Energy and Sustainability.
Terry said: "Exactly like greenhouses for medical cannabis, military facilities must comply with specific and precise regulations. When I started working in greenhouses, I noticed that most of them did not meet the criteria required for all aspects of growing – even though they were for pharmaceutical crops."
The AGT Hybrid Greenhouse has a patent-pending design which uses the cool air drawn from the earth to naturally cool and moderate the greenhouse temperature.
This can significantly reduce energy consumption and bills by up to 80%. For new greenhouse constructions, this means a vastly reduced carbon footprint for cities.
Preventing contamination
As well as its eco-friendly design, the greenhouse also helps to prevent contamination.
Traditional greenhouse construction consists of an outside wall and a roof – leaving the structure exposed. Mould and other contaminates can grow and collect on the open steel structure and fall into the grow area.
This is also true with fabric blackout systems. In California, last June, a random test was conducted on cannabis products on the shelf, with 23% of the products found to be contaminated. Mould was found to be the worst contaminant.
Due to this, the inventory was destroyed, which netted large losses to the growers.
Terry said: "Soon it can be expected that here in the USA, the FDA will be inspecting these facilities. I have been under FDA watch in an unrelated sanitary agriculture operation where no open structures are allowed. Full ceilings and inner walls were mandatory and required spray down sanitisers daily.
"I see the same scenario on the horizon for cannabis growers; full sanitisation of the growing room after each crop rotation."
Terry has seen many growers struggling with varying climate zones within their greenhouses. This is one of the main problems Terry addressed when designing the AGT Hybrid Greenhouse.
How does the system work?
The system has a sealed air chamber from the roof to the ceiling and continues down in between the inner and outer walls.
This creates a large air plenum at the roof and wall cavities which is a natural insulation barrier. The air plenum completely traps all the heat developed by the steel structure, which is the reason why traditional greenhouses have micro-climate zones; because of the open steel structure.
Terry said: "The open steel structure has to be cooled in hot climates and warmed in cold climates, a negative use of energy. With the heat contained in the air cavity you have a precise amount of cubic feet of air to manage just like in office space.
"You have a length, width and ceiling height with no major heat variables to affect the air management system. In hot climates the trapped roof heat can be exhausted or stored underground and reused in the growing rooms. Even in cold climates, the sealed roof cavity will produce heat which can be recycled back into the growing rooms."
Another use of the roof and wall air cavity is the air management systems. All return air flow is directed through the roof and wall cavity, so there is no need for ductwork. Heat naturally rises so there are return air vents in the ceiling, with each one of these vents utilising an oil laden filter capable of pressure washing.
This is designed to kill everything from fungi, pollen, insects, and cross contamination from room to room.
The AGT Hybrid Greenhouse
A core feature of the AGT Hybrid Greenhouse is that it completely encases the structure itself, so there is no exposed framing system. The system utilises a double wall and roof/ceiling system along with a glass/Lexan sunroof and an electro-chromatic glass ceiling.
Electro-chromic glass is a high-tech product which transitions from clear to complete blackout by low voltage current. This glass can be set at any light transmission desired by the grower.
A further benefit of this system is that it is also set up to operate in grids – if  a grower wants an 80' x 80' grid at 70% light it can be managed it with an iPhone from 1000 miles away. The blackout feature of this glass also eliminates the need for the cumbersome fabric blackout system.
The system is designed on a per job basis and the customer can select any type of glass, Lexan product or building size configuration.
A break from traditional greenhouse farming
Ancon Development Corporation do not use traditional greenhouse framing because of long delays in receiving the product, the excessive use of small parts and most of them are proprietary.
Terry said: "You have a hard time finding people to erect these structures, it's not a common framing system in the construction industry. That is why we use commercial steel frames, for immediate availability and constructability."
It's a framing system all commercial steel erectors know and build.
"With a commercial framing system you are not limited on weight support off the ceiling structure. These structures can support any type of roof mounted automation, water booms, lights, fire sprinkler systems, etc," said Terry.
"These structures are the same used when we build aircraft hangars for the military. Its routine to support five to 10 tonne bridge cranes directly off the ceiling structure, with no support columns. Whether you are building 50,000 or 500,000 square foot, our delivery remains at four months from production release date.
"AGT also offers an underground mechanical system because it is more efficient, especially in cold countries where dehumidifiers pull out much heat. That heat is thus put back into the heating chamber underneath the structure, or it can be exhausted if you are in a very warm environment.
"Large amounts of air can be managed in the mechanical basement in an insulated air management environment."
Also under development are AGT Climatech growing tables, CRAM onsite power generators and SEGS – an inverted lens solar system used for super heating of oils for heating or power production.
For further details of the AGT Hybrid Greenhouse check out the video below:
Terry Van Gelder
Ancon Development Corporation
terry@adctech.us
www.agtgreenhouse.com