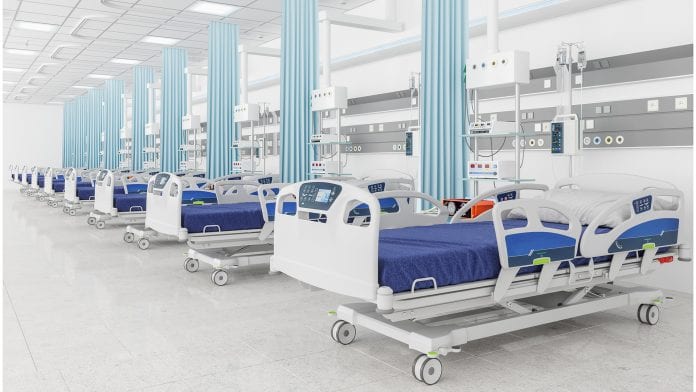 Dr Birgit Graf of Fraunhofer IPA tells HEQ about the Mobile Disinfection project, which aims to use robotics technologies to prevent the spread of infection in clinical settings.
Since October 2020, a multidisciplinary team of researchers at Fraunhofer-Gesellschaft, Europe's largest organisation for applied research and development services, has been working on a high-level project aimed at using robotics technologies to prevent the spread of infection in clinical settings. Members of 12 Fraunhofer institutions, led by the Fraunhofer Institute for Manufacturing Engineering and Automation (IPA), are working on the Mobile Disinfection (MobDi) project, launched as part of the overarching 'Fraunhofer vs Corona' campaign, developing specialised service robots capable of disinfecting potentially contaminated surfaces and automating the transport of essential items.
Dr Birgit Graf of Fraunhofer IPA tells HEQ about the progress of the MobDi project and the clinical implications of robotic disinfection.
What are the primary goals of the MobDi project?
The primary goal of the Mobile Disinfection research project is to minimise the spread of infection, whether this is the coronavirus or any other germs or bacteria that are harmful to humans. One way to do this is by regularly disinfecting surfaces that many people touch, such as light switches, elevator buttons or door handles. So far, this has mostly been done manually. In order to develop a robot that can take care of these disinfection tasks autonomously, 12 institutions of the Fraunhofer-Gesellschaft are pooling their expertise in the project. Two service robots will be developed that make it possible to disinfect potentially contaminated surfaces in buildings and means of transportation as needed. The partners will also look into developments which may help to automate the transport of materials in clinics and thus counteract the spread of germs by the staff.
What are the key benefits of deploying robotics technology in indoor space disinfection?
Compared with manual cleaning, the use of robots can reduce the risk of infection among cleaning staff while at the same time ensuring that cleaning is carried out reliably and traceably. Because robots are capable of performing continuous cleaning and disinfection operations, even during the night, cleaning can be carried out more frequently and consistently than with manual operation. Using robots also helps to address the increasing lack of staff which cleaning service providers currently have to face.
What methods of cleaning and disinfection are being tested in the MobDi trials?
The project partners are creating tools that disinfect by wiping, spraying, ultraviolet (UV) or plasma treatment. The robots can switch these automatically as required. For targeted and gentle cleaning, the researchers are conducting tests with the various cleaning and disinfection methods and tools on widely used surface types such as stainless steel and plastics. In addition to analysing the individual processes, the research team is also investigating possible combinations of different cleaning and disinfection methods. For example, the robots could first wipe a door handle and then use UV light to further neutralise germs in hard-to-reach places.
For the various processes, the researchers evaluate the disinfection success based on contamination with both bacterial and also viral samples. In addition, possible material damage and formation of harmful decomposition products will be investigated. Finally, a methodology will be developed to select the most appropriate procedures for each disinfection method depending on the material and degree of contamination.
How can Building Information Modelling (BIM) contribute to the use of robots to clean and disinfect buildings?
It is necessary to train a robot before its first usage in a new operation environment. This means that the user drives the robot around to enable it to automatically register a map of its future working space. The robot also recognises all the door handles, light switches and other high-touch surfaces which need to be cleaned, as well as the material they are made of. Based on this information, the robot can plan independently all the necessary cleaning sequences.
Thanks to BIM, which already exists for many buildings, this learning process does not have to be conducted manually anymore. The BIM contains a digital representation of key building components, which can automatically be transferred to the robot before starting its operation.
How could automating the transport of materials in clinical settings benefit staff and patients?
The MobDi project also deals with the development of a new transportation robot. It will be able to carry various hand carts, such as those typically used in clinics. In comparison with existing products, the new development is characterised by smaller dimensions and a particularly manoeuvrable undercarriage. It will help staff to reduce walking distances by providing all the materials required to treat the patients directly in front of their rooms. This not only helps to avoid spreading germs, but also increases the amount of time staff can spend with the patients and performing actual care tasks. All robots developed in MobDi are designed with the help of 'hygienic design' and with self-cleaning methods implemented into the design, thereby preventing the machines themselves from becoming a contamination risk.
Could wider rollout of robotics technologies in healthcare settings assist in the fight against COVID-19?
Robots can certainly be a useful support in the fight against COVID-19. As our project shows, we are seeing particular potential in the use of disinfection and transport robots. They can operate continuously and reduce staff contact with vulnerable people such as the sick or – if they were implemented in a care facility – the elderly. We see similar potential in robots for telehealth applications: they make it possible to maintain remote contact with family or even doctors without the risk of spreading infection.
Dr Birgit Graf
Fraunhofer Institute for Manufacturing Engineering and Automation
www.ipa.fraunhofer.de/en.html
This article is from issue 17 of Health Europa. Click here to get your free subscription today.