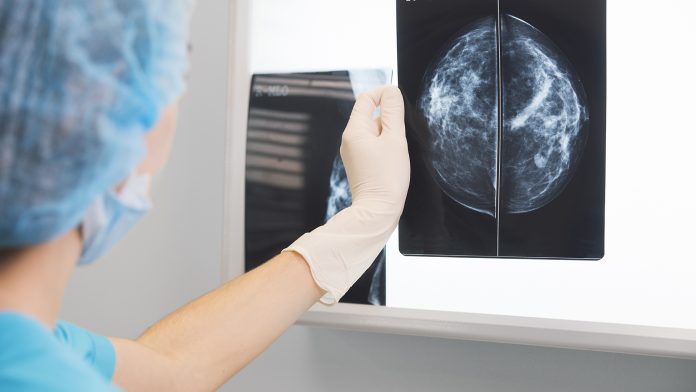 The world's first Artificial Intelligence (AI) software that can accurately perform breast cancer diagnosis has received approval for implementation in the UK and EU.
The breast cancer diagnosis technology – called PANProfiler – has been developed by Panakeia and can accurately predict biomarker status from digitally imaged routine pathology samples. The technology has received UKCA and CE certification for clinical use by health services in the UK and EU.
The state-of-the-art technology is the brainchild of Panakeia's co-founders Pahini Pandya, a former cancer researcher at the University of Cambridge, and AI researcher Pandu Raharja-Liu. The two pioneers discovered that slight differences in the appearance of cancer cells, which can only be detected by computer vision and AI analysis, can reveal crucial information about underlying biomarker status and optimal treatment strategies.
Although some AI tools can ascertain the presence of breast cancer in a digital pathology image, PANProfiler is the only technology that can predict biomarker status to inform clinical decision making, meaning that expensive and time-consuming lab testing is no longer required.
Transforming breast cancer diagnosis
PANProfiler works by analysing digital images of routinely collected haemotoxylin and eosin (H&E) stained breast tumour samples to determine PR, ER, and HER2 status, which aids in identifying the best form of treatment for the patient.
The PANProfiler breast cancer diagnosis tool provides a diagnostic readout from the initial H&E image in under 15 minutes, with accuracy that is comparable to lab testing methods. PANProfiler provides a faster and cheaper alternative to traditional testing that can take weeks to perform, thus could save healthcare systems considerable amounts of money annually.
In addition to saving time in the inpatient experience, the technology also helps relieve the considerable burden carried by laboratory services facing a backlog due to how the COVID-19 pandemic has impacted cancer diagnosis. PANProfiler is currently being trialled in UK hospitals, with plans to expand into Europe, North America, and Asia.
"This profiler has the potential to help the NHS improve efficiency in pathology laboratories, support efforts to ease pathology workloads, and facilitate COVID-19 recovery. It enables rapid cancer diagnosis, improving both patient experience and outcomes," said Professor David Harrison, Director of iCAIRD, one of five centres of excellence in the UK focused on AI applications in pathology and radiology.
Professor Sarah Pinder, Chair of Breast Pathology at King's College London, and lead breast pathologist at Guy's & St Thomas' Hospitals, commented: "This exciting technology has the potential to save laboratory resources and also to improve turnaround time for biomarker results for patients with invasive breast cancer."
Detecting other cancers
Panakeia is now aiming to expand its PANPRofiler technology to diagnose other forms of cancer and is also exploring partnership opportunities with biopharma companies to employ the system to support drug discovery and development.
Julia Hawkins, General Partner at LocalGlobe & Latitude, one of Panakeia's major investors, said: "New digital technologies are transforming healthcare, improving outcomes for patients, and reducing the burden on overstretched staff and systems. These technologies will play a vital role in healthcare providers' recovery from the COVID-19 pandemic, enabling them to quickly deal with the backlog of patients and diagnose and treat patients without delay. Panakeia's groundbreaking technology promises to transform cancer diagnosis and treatment decisions."
PANProfiler has already been validated on 650 cases with further studies scheduled. The mission of Panakeia is inspired by Pandya's personal experience of waiting for her blood cancer results, a disease that her childhood best friend lost her life to.
Pandya said: "I know first-hand the anxiety of waiting for your test results. Due to the pressure on labs, even in the best healthcare systems, diagnosis and treatment decisions can take weeks – an unacceptable and stressful delay when dealing with fast-growing cancer. We're excited to be rolling out PANProfiler to hospitals here in the UK and around the world to speed up access to treatment and help save lives."
"This is a golden opportunity to transform cancer diagnosis," added Raharja-Liu, who has lost family members to the disease. "We can now do something that nobody has achieved before – to look at the kinds of cancer samples that are prepared in hospitals all over the world and gather rich information about what these cells are like and how best to treat them."
Recommended Related Articles