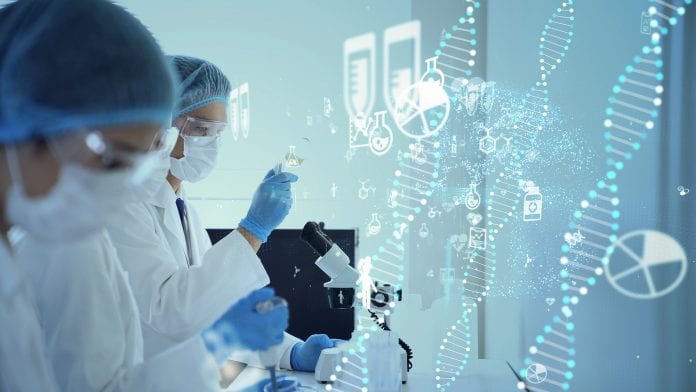 A £36m funding boost will support the development of Artificial Intelligence (AI) technologies designed to transform the quality of NHS care and speed up diagnosis for conditions such as lung cancer.
Announced at CogX Festival on 16 June, 38 projects backed by NHSX and Accelerated Access Collaborative (AAC) were crowned winners of the second wave of the NHS AI Lab's AI in Health and Care Award. The projects include an AI-guided tool to help doctors and nurses to diagnose heart attacks more accurately, an algorithm to fast-track the detection of lung cancer, an AI-powered mental health app to help tackle symptoms of anxiety and depression while also identifying people experiencing severe mental health difficulties, and technology to help spot undiagnosed spinal fractures.
Over 17,000 stroke patients and over 25,000 patients with diabetes or high blood pressure have benefited from the first round of the AI in Health and Care Award since September, where £50m was given to 42 AI technologies.
AI in healthcare
Health and Social Care Secretary Matt Hancock said: "AI has the potential to completely revolutionise every part of how we approach healthcare, from how we diagnose diseases and the speed at which our doctors and nurses deliver treatments to how we support people's mental health.
"The 38 projects we are backing reflect the UK's trailblazing approach to innovation in the healthcare sector and could help us take a leap forward in the quality of care and the speed of disease diagnoses and treatment in the NHS.
"Confronted with this global pandemic, our tech sector has risen to the challenge and upended how we do things through innovations to support people to test from home, complete remote consultations and diagnose issues safely."
Sir Simon Stevens, Chief Executive of NHS England, said: "Through our NHS AI Lab, we're now backing a new generation of groundbreaking but practical solutions to some of the biggest challenges in healthcare.
"Precision cancer diagnosis, accurate surgery, and new ways of offering mental health support are just a few of the promising real-world patient benefits. Because as the NHS comes through the pandemic, rather than a return to old ways, we're supercharging a more innovative future.
"So today our message to developers worldwide is clear – the NHS is ready to help you test your innovations and ensure our patients are among the first in the world to benefit from new AI technologies."
The AI award package also includes funding to support the research, development and testing of early phase, promising ideas which could be used in the NHS in future, including for:
Diagnosing heart attacks – an AI-guided tool that could diagnose heart attacks more accurately and quickly through better interpretation of blood analysis.
Monitoring cystic fibrosis – using AI with home monitoring equipment to predict sudden dips in the health of cystic fibrosis patients, aiming to prevent them occurring.
Monitoring brain tumours – developing AI to measure the volume of brain tumours from scans to assess which are at risk of growth to ensure those patients are monitored more frequently.
Improving kidney transplant outcomes – using data from 20 years of previous kidney transplants to improve the decision-making process for a patient to receive less-than-perfectly-matched donor kidneys or wait for the next available one.
Detecting bowel cancer – using AI to analyse video recordings of the gastrointestinal tract, taken from a swallowable camera, to target bowel cancer and other gastrointestinal diseases.
Recommended Related Articles