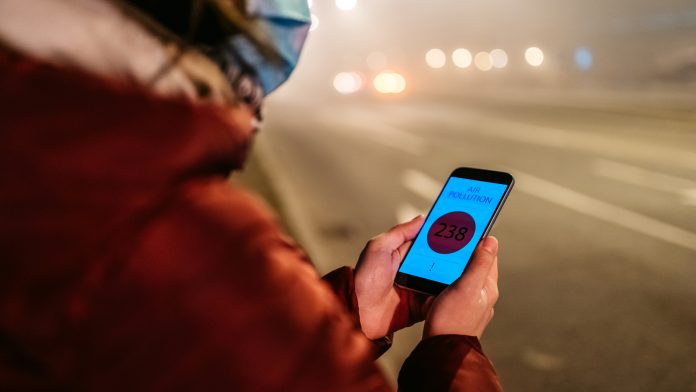 Severe patient outcomes from COVID-19 are significantly increased by exposure to air pollution, a new University of Southern California study suggests.
The novel research identified an association between high levels of fine particles (PM2.5) and nitrogen dioxide (NO2), two of the most prominent ingredients of ambient air pollution, and severe patient outcomes from SARS-CoV-2 infection. The results demonstrated that air pollution exposure elevates a patient's risk of hospitalisation, intensive care, and death.
The results are published in the American Journal of Respiratory and Critical Care Medicine.
Enhancing air pollution research
Air pollution, such as PM2.5 and NO2, is emitted by ground and air traffic, industrial burning, wildfires, construction, and agriculture, among others. In the early stages of the pandemic, various studies employed national data in ecological analyses to identify an association between long-term air pollution exposure and increased cases of COVID-19 and deaths from the disease. However, these results were highly contentious.
Zhanghua Chen, assistant professor of population and public health sciences at the Keck School of Medicine of USC and co-first author of the study, commented: "Ecological analyses are subject to a lot of biases, and it wasn't clear whether the findings could be applied beyond the community level.
"In our population cohort study, we were able to leverage the sophistication of electronic medical records to create a well-defined classification of the severity of COVID-19 outcomes tied to air pollution exposure at the individual level."
Frank Gilliland, MD, PhD, a Professor of Population and Public Health Sciences and co-author of the study, said: "Our study demonstrates that breathing clean air may reduce the severity of the infection. When someone is infected, reducing their exposure to air pollutants may be beneficial, as it may decrease the risk for poor outcomes and also has many other health benefits."
How air pollution exposure impacts COVID-19
For their study, the University of Southern California team collaborated with Kaiser Permanente Southern California (KPSC) to analyse a cohort of more than 74,000 patients who were diagnosed between March and August 2020.
The researchers accurately predicted the patients' historical exposure to specific air pollutants by utilising the detailed residential address history of the Kaiser Permanente members' electronic medical records. The results highlighted the devastating impacts of air pollution exposure on COVID-19 patient outcomes.
Chen explained: "Our research demonstrated that one-year average exposure to PM2.5 translated to a 20-30% increase in the risk of hospitalisation, intensive respiratory support and ICU admissions from COVID-19. Exposure to NO2 for one month carried an increased risk of 12-18%. We also saw that long-term PM2.5 exposure was associated with a higher risk of mortality from COVID-19."
Optimising patient outcomes
Due to the findings, the USC researchers are now aiming to investigate the performance of potential interventions that mitigate air pollution exposure, such as air purifiers to reduce individual levels of PM2.5 exposure.
Chen concluded: "We're starting some crossover clinical trials to investigate these types of strategies on a personal level, to see whether they can help reduce cardiometabolic disease risk."
Recommended Related Articles