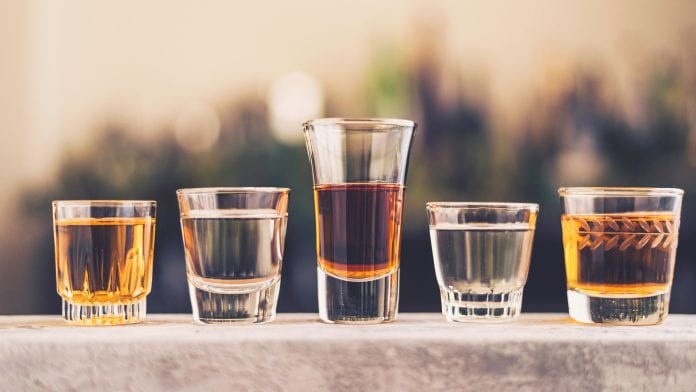 Over the past several years, US alcohol consumption rates have declined rapidly, leaving consumers to find new alternatives.
Notably, the cannabis industry is directly correlated with US alcohol consumption decline; Investment-bank firm Cowen & Co. reported that as of 2016, legal adult-use cannabis US states witnessed binge drinking rates fall by 9% below the national average, and 11% below non-cannabis states.
However, newly added states such as California and Nevada had higher rates of alcohol consumption and lower rates of cannabis use. Regardless, Cowen expects the rates to shift in both alcohol and cannabis consumption in those specific states. As a result, Cowen said it is reasonable to assume that as more states continue to legalise adult-use cannabis, alcohol binge drinking rates will continue to falter.
Alcohol consumption falling
Furthermore, the Centers for Disease Control and Prevention estimated that 17% of the US population engaged in binge drinking, meaning that one in six reported doing so four or more times a month. In states that legalised adult use, the number of binge drinking sessions per month was 9% below the national average.
For instance, the state of Washington, which was the first state along with Colorado to legalise recreational use, has seen alcohol consumption rates decline over the past several years. As of 2018, Washington reported that just under 15.6% of adults were reported having four or more drinks on one occasion in the past month compared to the national average of 17.4%, according to America's Health Rankings UnitedHealth Foundation.
In particular, many millennials have opted to consume cannabis over drinking alcohol. According to a MarketWatch article, a millennial said that she prefers to consume cannabis over alcohol because it saves her more money and doesn't cause the intoxicating effects of alcohol.
According to a Yahoo News poll in 2017, it was concluded that the majority of the 55 million marijuana users in the US are millennials, and as the number of alcohol consumption rates decline, the cannabis industry is expected to directly benefit as more users turn towards cannabis-based alternatives.
According to data compiled by Grand View Research, the global legal marijuana market is expected to reach $66.3 Billion by the end of 2025 while expanding at a CAGR of 23.9% during the forecast period.
While the US is experiencing declining rates of alcohol consumption, Canada seems to be unchanged. Canadian provinces with the highest rates of legal cannabis consumption don't appear to be drinking less under legalisation.
Brock University business professor Michael Armstrong notes that the reason alcohol consumption is still relatively high in the country is that consumers are used to the characteristics associated with drinking. Having beverages that are based on water-soluble THC would better drive the marketplace forward. Nonetheless, many consumers still tend to prefer consuming traditional flower or vaping extracts and concentrates instead of imbibing cannabis-based drinks.
According to Statistics Canada, 5.3 million or 18% of Canadians ages 15 years and older reported using cannabis in the first quarter of 2019 compared to 14% who reported using just one year earlier.
While cannabis-infused beverages are expected to be a large market driver in the near future, the flower segment is still projected to account for the majority of the market.