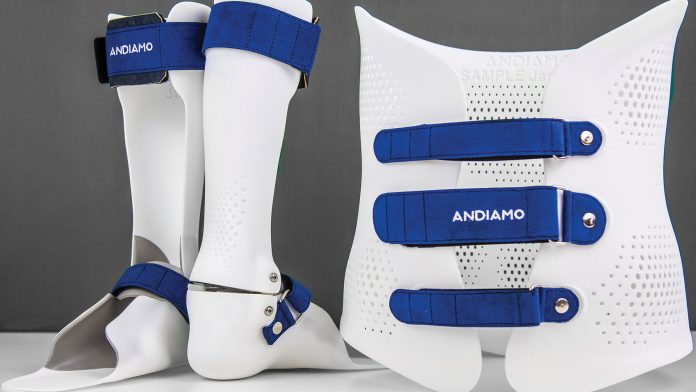 Andiamo provides fast, affordable, comfortable and effective orthoses by reshaping biomechanical supports using 3D technology
Faster production, enhanced comfort, lower costs and vastly improved patient experience and outcomes, are just some of the benefits resulting from an innovative approach to creating orthoses developed by UK-based healthcare technology business Andiamo.
Andiamo's progress in the field of orthotics has led to a world-first that revolutionises the design and production of biomechanical supports. By tackling this challenging area in a remarkable new way, they look set to change the world view of orthoses and their use – but the journey is just beginning.
Andiamo are now looking for researchers, orthotic specialists and hospitals to collaborate with them on this next phase of development and expansion
Orthotics, where external braces or orthoses are used to support joints and associated biomechanics, is a branch of medicine that has been largely overlooked in terms of funding and research. Reliance on methods established in the 1950s, lengthy delivery times, poor design and outdated manufacturing techniques are all common. These issues are intensified in paediatric care, where children can outgrow orthoses before they are even delivered.
Worldwide impact
Naveed and Samiya Parvez, the founders of Andiamo, understand the severe impact that this can have on families. Their company is behind the creation of the most advanced orthoses in the world, with innovations featuring a revolutionary approach to orthotics. Six-month waiting times are now reduced to just a week, providing orthoses that are strong, lightweight, and most importantly, uniquely designed to fit the exact contours of the patient and their specific movement.
"Access to orthoses is a global issue," explains Naveed. "We estimate that of the one billion people living with a disability across the world, 100 million could be helped with the use of an orthosis for conditions including cerebral palsy and stroke. The support that a brace gives can relieve pain, increase mobility and reduce the need for surgery. However, less than a third of people who could benefit from an orthosis actually has access to them. Their costs and the availability of physicians who can specify and fit them are the major barriers to wider access.
"In paediatric medicine, even when access to orthoses is available, the problems are worsened. Currently, a child attends three to four fitting appointments, including a casting session using gypsum, requiring them to remain completely still for up to an hour. A wait of up to six months then follows whilst a plastic mould is handmade around the contour of the cast. During this time, the child grows, so the resulting support is often too small when it eventually arrives.
"Orthoses are crucial for disabled children and their families. We know this from experience. Our son Diamo suffered from cerebral palsy, and without orthoses, it was difficult for him to eat or even sit in his wheelchair. Even after multiple castings and fittings, the orthoses would come back with design issues, often leaving him housebound or suffering sores and bruises from the ill-fitting braces. Following Diamo's death in 2012, we became determined to find a way for other families to avoid the suffering we experienced. We wouldn't accept that there wasn't a better way to provide these life-changing devices."
Together with a core group of specialist physicians, orthotists, software engineers and product designers, Naveed and Samiya formed Andiamo with the clear aim to provide orthoses that delivered a perfect fit and were comfortable, effective and affordable. Only then could these children and their families gain more control over their day to day life and greater autonomy and freedom.
The process was devised from the recent developments in 3D scanning, additive manufacturing (3D printing), and machine learning, as well as their use in dentistry. Naveed and his team discovered that where 3D printed parts could be used in reconstructive surgery, so too could this technology be applied externally in the form of orthotics.
The Andiamo approach tackles three main issues seen with traditional orthoses:
Time – decreasing the time taken in consultations, measuring, design and manufacture;
Accuracy – improving the fit of the resulting brace and its complementary biomechanical behaviour; and
Weight and size of the final orthosis – providing a slim and lightweight device that can support a greater freedom of movement.
Disrupting the conventions
Naveed continues: "Instead of creating a cast, we use 3D scanners to accurately capture the dimensions of the affected area. In just 60 seconds, we can build up a 3D image that is accurate to under a millimetre. Combined with patient data and past orthosis behaviour, our software recreates the exact dimensions of the affected area along with its associated biomechanics. Instead of three to four fitting appointments, we complete this whole process in a single appointment.
"Our software creates the clinically approved design and then transmits it to the 3D printer that manufactures the orthoses from advanced lightweight materials. Instead of hand-stretching plastic over a cast, which introduces human error, the printer builds the whole orthosis to the exact dimensions we input. The orthosis is as strong and 65% lighter than traditional versions. We see greater mobility, particularly in patients who need braces for walking. Andiamo leg orthoses fit normal shoes and can be concealed discreetly under trousers."
The patient benefits are clear, but how do these developments impact on the clinics and physicians providing orthotic care?
"Using our service, clinicians can deliver improved care to their patients," Naveed adds. "Physicians perform the scan and upload the data to the software system. We receive the data and the design and manufacturing process starts. Within a week, the orthotist sees their patient again and fits the completed orthosis.
"When orthoses are more accurate and delivered faster, clinicians can see more patients. In fact, we estimate that clinic productivity can be doubled, without the need to hire additional orthotists. We are seeing a global increase in the requests for orthotic care and yet the number of new orthotists entering the field is in decline. Instead of three to four fitting appointments, we complete this whole process in a single appointment. Hospitals and clinics can reduce their costs and increase their productivity by changing the way they view orthotic delivery, and that's got to be a good thing."
What's next for Andiamo?
"We are currently in the scaling-up stage," says Naveed. "We have already proved that the process works and that the resulting product far exceeds current orthotic experiences. We have already launched Andiamo solutions to two European countries and, thanks to a Horizon 2020 grant, we are looking to expand our services Europe-wide.
"But we want to take the technology further, so more patients access an advanced level of care. We have been working exclusively in the paediatric field since we began, but there are many more adults whose lives could be changed by access to a better service.
"We want to speak to researchers who are interested in any aspect of our orthoses, from materials to design, manufacturing, and of course, clinical application. We're offering a chance to be involved in ground-breaking research on brand new technology that is out in the field now. We're also keen to develop partnerships with other experts in orthotic care so that through collaboration we can reach more patients and further scale up our offering. Likewise, we want to speak to more hospitals and clinics about how they can be empowered by the Andiamo solution to provide a better service to their patients.
"We estimate that, on average, a traditional orthosis costs £3,500 (~€4,000) from initial consultation to patient delivery. Our process already delivers 10% cost savings, but it doesn't stop there. Once we have scaled up our design and manufacturing capability we estimate savings of up to 80% and delivery in only 48 hours. Time and money are often the barriers to patients having access to the care that they need. Our solution solves these challenges and opens orthotic care to all who need it, giving patients more power to improve their quality of life."
Special Report Contact Details