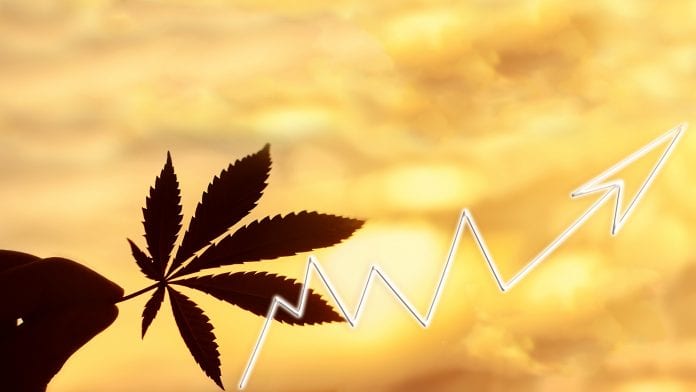 The European CBD market remains immature, and little data has been available to CBD brands seeking to understand consumers, here New Frontier Data share crucial data-driven insights into the EU CBD ecosystem.
Cannabidiol (CBD), touted for its wellness applications, has become the buzz of the cannabis industry. Heavy investment in manufacturing and retailing of hemp-based CBD products, both across Europe and internationally, has accompanied its rise in popularity. However, little data has been available to CBD brands seeking to understand their consumers. In the last quarter of 2019, New Frontier Data, in collaboration with DeepNature Project and Mile High Labs, conducted a survey of more than 3,100 Europeans in order to assess the attitudes, perceptions, and uses of CBD across the European Union. The results, published in New Frontier Data's EU CBD Consumer Report series, is giving CBD operators crucial data-driven insights about their consumer bases.
For more information about purchasing and downloading the EU CBD Consumer Report series, visit: newfrontierdata.com/analyst-reports/
Did you know that New Frontier Data are partners with us? Learn more about New Frontier and their mission to elevate discussion around the legal cannabis industry.
By the numbers: CBD in the EU
16% of Europeans ages 18 and older have tried CBD;
3 of 4 consumers report CBD having positively impacted their lives;
11 factors are deemed 'important' or 'very important' among more than 60% of CBD consumers; and
18% of non-consumers indicated their likelihood of consuming CBD in the following six months.
CBD consumption in Europe
The European CBD market remains immature. While awareness of CBD among European adults is relatively high (56%), the number of people who have used CBD is significantly lower (16%). Most consumers are new, with more than half indicating having first used in the previous six months, and about one in three having first used it within three months prior to the survey. However, despite low overall use, nearly three-quarters (74%) of consumers reported CBD having positively impacted their lives. The strong positive feedback from consumers will give CBD brands a strong basis to drive new adoption and motivate consumers to transition from novelty or occasional use to more regular and routine use.
European consumers cited far-ranging reasons for CBD use, indicating that adoption holds potential to accelerate across several vectors as related products become more widely available and their diverse applications better understood. The top five reasons cited for use include pain management (among 40% of consumers), relaxation (34%), stress relief (31%), anxiety reduction (26%), and increasing overall wellness (21%). More than two in five (41%) of consumers indicated expecting their consumption of CBD to increase over the following six months, whereas about one in ten (11%) expected it to decrease.
Perceptions about CBD vary by region, as shown in the figure below. The wide differences in attitudes across the region indicates that a one-size-fits-all approach may be less effective for CBD brands than a strategy that accounts for the intermarket differences.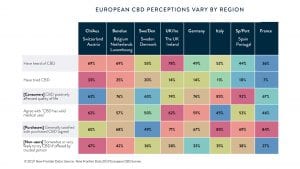 CBD purchasing behaviours
The top three factors cited by consumers as being very important or important when making their CBD purchasing decision include price (81%), the amount of CBD per serving (75%), and the total amount of CBD in the product (74%). Eight other factors were deemed very important or important by more than 60% of consumers. The relative importance of so many purchase influencers suggests that CBD brands will have broad latitude to determine their differentiating factors as they work to attract new consumers. However, attracting new consumers from other brands may be more challenging given the relatively high levels of brand loyalty demonstrated by the majority of consumers.
While no single CBD brand is dominating the European marketplace, some do appear to have at least a foothold among purchasers. The brands cited most often among European purchasers include CBD Vital, Cannabigold, Nordic Oil, and Cannapower, though none was claimed by more than 10% of those surveyed.
A majority (63%) of purchasers reported spending a monthly average of €99 (~$109 USD) or less on CBD products. Over the previous six months, 41% saw an increase in their spending; conversely, 44% expected to increase their spending, while 46% expected their spending to remain the same.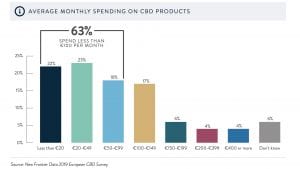 CBD consumption in the European Union vs the United States
Our analysis shows that, in general, the CBD market in the United States is more mature than in the European Union (EU). In particular, use and awareness among the general 18+ population are notably higher in the United States.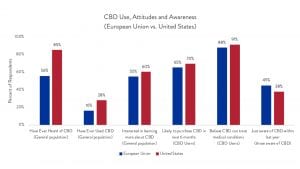 Perhaps the overarching difference between the regions is that most people in the US who are likely to try CBD already have, but in the EU there are greater barriers as markets come online. The data suggests that in the EU there is a greater lack of awareness about CBD and less access to CBD products. For brands and operators this is important, because there are significantly more people in the EU than the US who are going to try CBD but have not yet.
The US is getting a broader, more uniform advertising and messaging campaign about CBD, because of each shared cultural elements, spill over from states with legal cannabis, and the 2018 Hemp Bill permitting nationwide production of hemp. The EU, conversely, as a market loses some of those advantages, creating more nuanced differences in regional markets and inconsistencies in their respective rates of maturation.
What about non-consumers?
Among 84% of Europeans surveyed who reported not consuming CBD, about one fifth (18%) expected to do so within the following six months. Among non-consumers, while nearly one third (32%) said they would not consider using CBD, a quarter (25%) reported having had abstained from CBD because they did not know enough about it. A similar number (26%) described their abstention as due to lack of interest in CBD.
'Quality of products', 'being able to ask about products', and 'advice or consultation' were respectively listed as the three most important factors influencing their potential sourcing of CBD. Two of the factors suggest that potential consumers may rely heavily on the place they buy from to educate/inform their decision. For brands and CBD retailers, that highlights the need for a well-trained staff and sales force to discuss the dosing, specific applications, and outcomes of the CBD products. Additionally, an equivalent number of consumers primarily source CBD from online sources; effectively delivering educational and product descriptions online will be important to attracting potential consumers and expanding the CBD addressable market.
More information covered in the EU CBD Consumer Report series
New Frontier Data's EU CBD Consumer Report series provides a plethora of further information on the EU CBD ecosystem, as well as more actionable insights for CBD brands and operators. In addition to the themes mentioned above, the reports detail CBD behaviour as it relates to:
• Influencing purchase decisions;
• Consumers' concerns about CBD;
• In-depth regional profiles;
• Consumer archetyping; and
• Market sizing.
Giadha Aguirre DeCarcer
CEO
New Frontier Data
001 844 420 3882
sbentley@newfrontierdata.com
https://www.linkedin.com/company/new-frontier-financials/
https://newfrontierdata.com/
This article appeared in the first issue of Medical Cannabis Network which was out in January 2020. Click here to subscribe for all the latest updates.