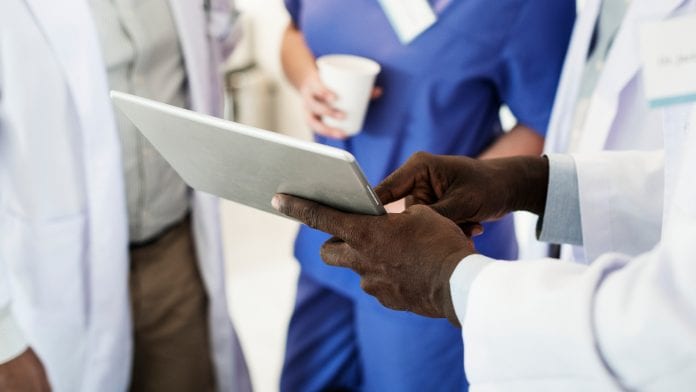 In regards to artificial intelligence in healthcare, F5 Networks' Ralf Sydekum asks: Can human doctors ever really be replaced by AI-enabled apps?
Looking further into artificial intelligence in healthcare, continuous developments in artificial intelligence (AI) are dramatically changing the world of health. In particular, medical professionals are starting to leverage the nascent technology for more precise and reliable diagnoses, accelerating the start of treatments and offering tailored recovery plans for patients.
However, a significant difference still exists between automating manual tasks and mediating medic and patient relationships. Can human doctors ever really be replaced by AI-enabled apps?
The robot will see you now
There is no doubt that artificial intelligence is making its presence felt in hospitals today, including detecting diseases earlier and more accurately. According to the American Cancer Society, AI can now deliver 99% accurate reviews and translations of mammograms 30 times faster than before, dramatically reducing unnecessary biopsies.
With five billion people in the world having no access to surgery or primary medical care, there is clearly a pressing need for substantial technological intervention. Recent use cases of note include the UK's National Health Service (NHS), trialling symptom-checker chatbot apps to triage primary care patients. Users submit their symptoms to the app and quickly receive a recommended action drawing on algorithms, clinicians, and data analytics.
Across the sector, artificial intelligence is already being used in various ways to sift through colossal amounts of data to highlight treatment mistakes and workflow inefficiencies. It is even helping healthcare systems to avoid unnecessary hospitalisations. Other intriguing examples that are being trialled include facial tracking systems to determine whether a patient is distressed based on muscle movements in their nose, lips, cheeks, or eyebrows.
In fact, the reality of an all-encompassing AI doctor may be closer than we think.
Recently, subscription health service provider Babylon Health launched AI software capable of beating human doctors in a medical exam. It is a remarkable achievement and suggests a near future where artificial intelligence can play a major role in supporting local medical practitioners and relieving the burden of rising community demands.
The safety risks surrounding AI in healthcare
While AI is fast evolving, major concerns still remain about the technology's ultimate capacity to make an accurate diagnosis or properly empathise with patients.
Crucially, the role of patient empathy in healthcare must be the primary consideration. An inevitable lack of emotional intelligence means there is always a danger that crucial psychological or behavioural nuances are missed, and people are put at risk. Doctor-patient relationships are especially important when individuals suffer from illnesses like stress or depression. AI critics also decry its possible role in diminishing human interaction, depersonalising the healthcare environment, and damaging community spirit.
Security issues are another significant obstacle to widespread AI adoption. According to McAfee Labs, healthcare was 2017's most targeted sector in terms of breach instances.
Unfortunately, too many applications are still built without security in mind, whereas monitoring systems and other wearables are frequently hacked by cybercriminals hunting for sensitive personal data. Meanwhile, malicious automated bots are spreading throughout the world's healthcare sectors, collecting, tracing, and swiftly retrieving data with greater sophistication than ever.
Ransomware attacks are also on the rise. Earlier this year, SamSam brought havoc to the healthcare sector, seeking insecure remote desktop protocol (RDP) connections and vulnerable JBoss systems to carry out its infections.
These are worrying trends and there is no margin for error when lives are at stake. It is therefore vital that healthcare providers stay ahead of the technological curve, including intelligently managing traffic from a single platform that controls user access and delivers robust application and network security. It is essential to know what makes your apps vulnerable, as well as how they can be attacked. Only then can you implement appropriate solutions. App developers also have a duty to do better and ensure applications, in public or private cloud environments, are fully tested for scale, performance, and security.
The prognosis
Seamlessly melding artificial intelligence with healthcare in a way that augments and improves current practices without risk is no longer a sci-fi pipedream. AI is clearly playing an increasingly important role in paving the way for analytics, diagnosis, treatment and reporting. The ongoing challenge will be to intelligently combine technological advances with emotive and empathic human input.
There is undeniably great potential for improved healthcare if the right policies and boundaries are in place. Until then, the ostensibly impassive world of a full-service 'download a doctor' will have to wait.
Ralf Sydekum
Technical Manager
F5 Networks
Tweet @F5Networks
www.f5.com
This article will appear in issue 8 of Health Europa Quarterly, which will be published in February 2019.