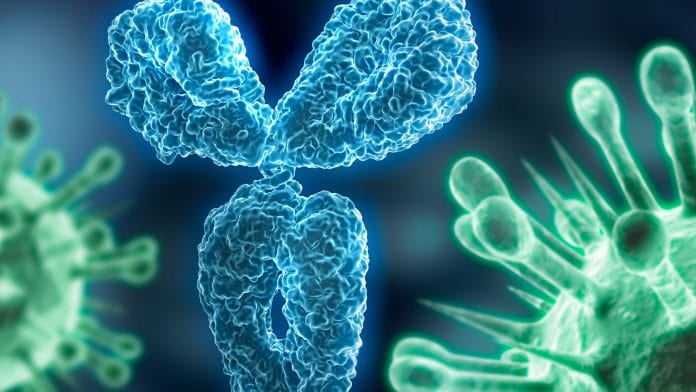 AstraZeneca's antibody treatment – AZD7442 – has been unsuccessful in preventing symptomatic COVID-19 in patients recently exposed to the SARS-CoV-2 virus.
The results of AstraZeneca's STORM CHASER trial, a Phase III, randomised, double-blind, placebo-controlled, multi-centre trial which assessed the safety and efficacy of its long-acting antibody (LAAB) combination AZD7442, did not meet the primary endpoint of post-exposure prevention of symptomatic COVID-19 compared to a placebo.
However, the researchers suggest that the treatment may be able to prevent symptomatic COVID-19 in individuals who have not already been infected with the virus.
AZD7442
AZD7442 is a combination of two LAABs – tixagevimab (AZD8895) and cilgavimab (AZD1061) – derived from B cells donated by convalescent patients after SARS-CoV-2 virus. The human monoclonal antibodies, which have been optimised by AstraZeneca with half-life extension and reduced Fc receptor binding, bind to distinct sites on the SARS-CoV-2 spike protein. The optimised half-life extension approximately triples the durability of its action compared to conventional antibodies.
The researchers say this could afford six to 12 months of protection from COVID-19 following a single administration.
Trial results
Participants that took part in the trial were unvaccinated adults aged 18 years and over, who had confirmed exposure to a person with a case of SARS-CoV-2 within the past eight days.
The results demonstrated that, in the overall trial population, AZD7442 reduced the risk of developing symptomatic COVID-19 by 33% compared to placebo – a result that is not statistically significant.
Myron J. Levin, MD, Professor of Pediatrics and Medicine, University of Colorado School of Medicine, US, and principal investigator on the trial, said: "The results of STORM CHASER suggest that AZD7442 may be useful in preventing symptomatic COVID-19 in individuals not already infected.
"The PROVENT trial will give us more clarity in this patient population. While COVID-19 vaccination efforts have been successful, there is still a significant need for prevention and treatment options for certain populations, including those unable to be vaccinated or those who may have an inadequate response to vaccination."
Mene Pangalos, Executive Vice President, BioPharmaceuticals R&D, said: "While this trial did not meet the primary endpoint against symptomatic illness, we are encouraged by the protection seen in the PCR negative participants following treatment with AZD7442. We await results from PROVENT, our pre-exposure prevention trial and TACKLE, our treatment trial in preventing more severe disease, to understand the potential role of AZD7442 in protecting against COVID-19."