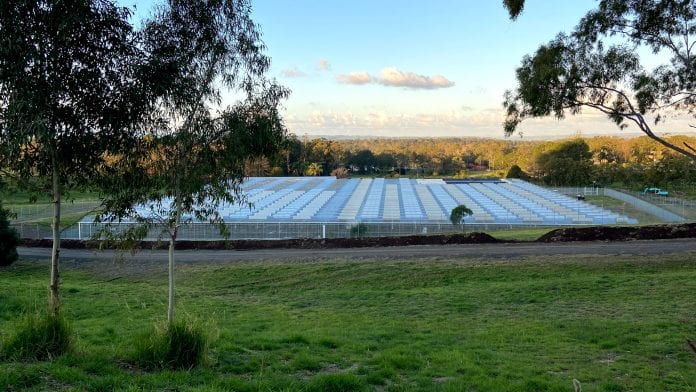 CannaPacific is building a solid foundation to become a major player in the global medical cannabis sector.
A little-known Australian biotech company, CannaPacific, is building a solid foundation to become a major force in the global cannabis pharmaceutical industry. Underpinning CannaPacific's operation is a cultivation facility located near beautiful Byron Bay on the east coast of Australia. The facility includes a 10,000m2 Dutch glasshouse, outdoor cultivation area and an advanced plant research and development campus. "Our cultivation facility in the hills of Byron Bay is truly unique and offers our partners a great marketing opportunity to showcase the purity of their product," said CannaPacific's CEO, Joshua Dennis.
"CannaPacific is an ethical pharmaceutical company with the belief that evidence matters."
Utilising the world-class plant science research and development team of Professor Chris Grof and Tim Bowser, CannaPacific is building an advanced genomic breeding programme. Grof and Bowser have significant experience in genetic plant breeding to improve medicinal crop productivity at an industrial scale; Bowser's experience includes leading the GSK opiates team to deliver a 300% productivity uplift, 50% cost reduction, seven patent families on new plant strains and three entirely new products over a five-year period.
CannaPacific has engaged internationally recognised academic partners for the development of registered cannabinoid-based medicines and has commenced a drug development programme that will generate significant scientific data for submission to gain fully registered cannabinoid medicines for the global market. The preclinical trials have commenced and will move into Phase 1 in 2022.
CannaPacific's research and development covers the full supply chain using a molecular breeding programme for the production of new cannabis varieties focusing on the development of minor cannabinoids. This in turn will support novel product development in therapy areas of PTSD, anxiety, and pain within palliative care. CannaPacific also has research collaborations in place with the University of Newcastle and Extractas Bioscience (formerly Tasmanian Alkaloids), a global leader in research on medicinal plant extracts, allowing the team to access a substantial stock of genetic material.
Expanding on the current state of palliative care and PTSD research, CannaPacific's scientific team and their research partners are using novel pain signalling models and cannabinoid formulations to develop safe, effective cannabinoid-based medicines for the treatment of these indications. "CannaPacific's chosen indications of palliative care and PTSD, highlights a great unmet need – and CannaPacific is building a global therapeutic offering to meet that need," Dennis commented.
CannaPacific is operating a full, current Good Manufacturing Practice-compliant (cGMP) medicinal cannabis supply chain which is similar to the UK's GW Pharmaceuticals, the only medicinal cannabis company that is truly vertically integrated from plant science and cultivation through to patient prescriptions.
"Few cannabis companies are engaging in true pharmaceutical product development and this is creating a real point of difference for CannaPacific. We are one of the few global companies undergoing rigorous preclinical and clinical trials to gain registered products. There is so much anecdotal evidence that this unique group of molecules can effectively treat numerous indications and by combining advanced molecular breeding technology with a traditional approach to drug development, we are building a global therapeutic offering with an initial focus on the key indicators of palliative care and post-traumatic stress disorder (PTSD)," said Dennis.
"Our clients value the fact that we are Australian-grown and manufactured."
Part of CannaPacific's business model is selling white label products manufactured through our GMP supply chain. "We are currently selling into Australia, New Zealand and South Africa and working on projects within Europe," Dennis explained. "Our unique and ethical approach has been well-appreciated across the investment community and our clients value the fact that we are Australian-grown and manufactured. We are fortunate to be able to take advantage of the abundance of natural resources and relevant industry talent that exists in Australia.
"With Australasian medical cannabis regulations still tight and unlikely to relax anytime soon, penetrating the Asian market will be particularly difficult unless you have registered products. The Special Access Scheme in Australia, and the Named Patient/Compassionate Use schemes in the EU, are merely a stopgap while cannabinoid medicines are researched thoroughly and made available through agency approvals.
"Cannabis companies have come to realise that they have to become pharmaceutical companies to survive; and they are finding it extremely difficult as they don't have the skills or the team experienced in pharmaceutical development. The companies that don't have a pharmaceutical bias and a strong R&D programme will not be sustainable in the long term."
CannaPacific has developed medical education clinics utilising a strong doctor education platform and a large network of prescribers with whom the company works directly throughout Australia, helping doctors to prescribe for their patients.
Dr Erica Cameron-Taylor, a palliative care specialist and CannaPacific's Head of Clinical Development, said CannaPacific supported doctors who avoided prescribing medicinal cannabis due to the administrative hurdles and uncertainties associated with doing so. "We hope to reduce the stigma through educating doctors on the efficacy of cannabis medicines for patients when prescribed by their own GP," she said. "Medical cannabis should be prescribed by the doctor that knows the patient's health and can pick up on any red flags, rather than sending them to a standalone cannabis clinic or patients sourcing it themselves from the internet or black market."
CannaPacific's Chief Medical Officer, Dr Mike Fay, believes strongly in CannaPacific's values. He explained: "Evidence matters if we want to provide serious and effective patient care. This can only be achieved through rigorous clinical trials delivering quality data on the optimal cannabinoid-based medicines for use in specific therapy areas."
Meanwhile, Dennis is looking forward to the future. "Currently CannaPacific is one of the few Australian companies that has supply contracts for dried flower with our key partner Extractas Bioscience (previously Tasmanian Alkaloids), one of the largest opiate producers in the world," he said.
Chairman of CannaPacific Peter Gunning was previously CFO of GenesisCare, a global leader in cancer treatment; and is an experienced business leader in the health care sector. He maintains: "By following our unique strategy, maintaining our ethical approach and with the right mix of people, partners and investors, CannaPacific will be serious contenders worldwide for cannabinoid treatments and market growth will follow."
Joshua Dennis
Chief Executive Officer
CannaPacific Pty Ltd
+61 427 631 611
josh@cannapacific.com.au
cannapacific.com.au
This article is from issue 16 of Health Europa. Click here to get your free subscription today.