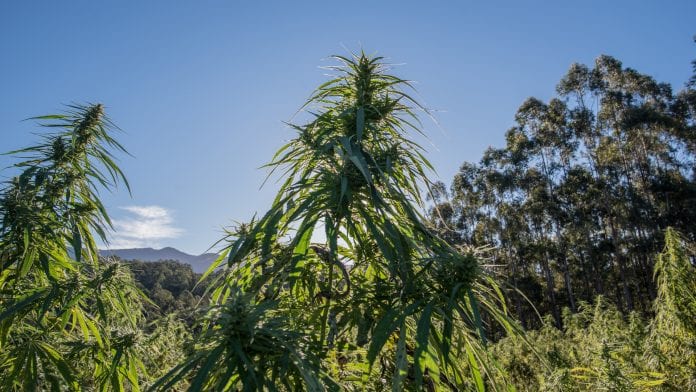 In 2017, after extensive campaigning by industry bodies and advocates, the federal government of Australia approved the legalisation of hemp-based foodstuffs for human consumption.
The cultivation of hemp for food had been banned in Australia since 1937, when widespread concerns over the alleged dangers of cannabis – shored up by representatives of the growing cotton and nylon industries, working to destabilise their competition – led to strict legal sanctions which would last until the 21st century.
Regulation and policy
Industrial hemp with a low concentration of THC – meaning no more than 0.35% in Victoria, Western Australia and Tasmania; and no more than 1% in New South Wales, South Australia and Queensland – may be grown in Australia under a state-issued licence. Rather than recognising hemp as a farming commodity, Australian government regulations classify it as cannabis under the Drugs, Poisons and Controlled Substances Act 1981, meaning it is subject to strict monitoring protocols in order to deter medicinal and recreational growing and safeguard the public. Farms applying for a state licence to grow hemp must submit to a programme of official inspections and monitoring; and state authorities must approve any location where hemp is to be grown. The Australian Border Force conducts regular testing on hemp shipments into the country, to ensure cannabis is not inadvertently imported.
The Australian government places extracts from the leaf and flower of the hemp plant within the parameters of the United Nations Single Convention on Narcotic Drugs, meaning it is legally classified as a narcotic substance, rather than as a food supplement or other agricultural product. While the US and Canada are also signatories to the same convention, both nations have instituted deregulation of hemp since the convention was signed in 1961: by 2025, the US hemp market is expected to reach a value of between $20bn and £25bn.
Market growth
In Tasmania, where the relatively cool climate is particularly conducive to hemp cultivation, the total hemp crop makes up around two thirds of Australia's total output; Tasmanian farms produced 1,500 tonnes of hemp, with a value of around $6m, in the 2017-18 harvest season. Hemp production in Tasmania has further benefited from cold weather industry development techniques used in other countries such as Canada, where industrially produced hemp has been legal for a longer period of time.
The hemp industry in South Australia, which produced its first commercial hemp crop in early 2019, is projected to be worth $3m per annum by 2025.
Why hemp?
Hemp and its derivatives carry a number of active nutritional benefits, providing an effective source of vitamin E, essential fatty acids and protein, among other key nutrients. Hemp seed is frequently used in the production of protein powder; while hemp seed oil can be used in cooking or on salads; some consumers bake breads or cakes using hemp flour. Many cosmetic products, including lotions, soaps and sunscreen, include hemp extract due to its documented benefits for skin health. Hemp fibre can be used in the production of clothes, rope and paper; as well as in 'hempcrete', a strong, pest resistant building material which absorbs carbon dioxide as it is manufactured.
Hemp crops can be harvested twice per season, meaning farmers can expect increased income and reduced risk. In addition, hemp is a significant source of carbon sequestration; while the plant's extensive root system has been used in projects cleaning the surrounding soil of harmful substances such as lead and cadmium. An experiment trialling the planting of hemp to accelerate the decontamination of the soil surrounding Chernobyl in the 1990s was largely successful.
Obstacles
Much like the USA, hemp production in Australia has been hampered to some degree by discrepancies between federal and state regulations; while public opinion and the approach of policymakers have not been wholly sympathetic to the industry, primarily due to its perceived association with cannabis. Awareness on the part of both political entities and potential consumers of the benefits of hemp, whether as a foodstuff, a cosmetic product or as a manufacturing substance, remains low; and farmers have found that the lack of support which follows a lack of education into hemp production has extended to law enforcement bodies.
Research and development in the field of hemp is similarly impeded by the plant's fluctuating legal status – in addition to a lack of cohesive funding support for research endeavours, scientists can experience difficulty actually sourcing hemp material for trials and evidence gathering.
In addition to legislative concerns, accelerating expansion of Australia's hemp industry carries the associated risk of increasing pressure on the country's limited water resources. While hemp has been praised for its comparative sustainability – and while it remains substantially more water efficient than, for example, cotton – large scale cultivation facilities would require between three and six megalitres of water per hectare for irrigation.
This article appeared in the second issue of Medical Cannabis Network which is out now. Click here to get your free subscription today.