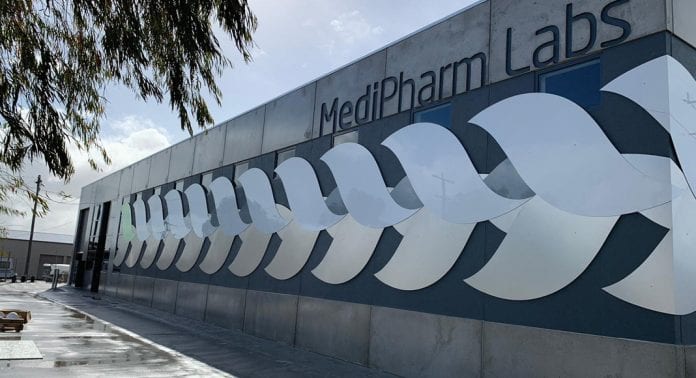 MediPharm Labs Australia has played a vital role in advancing the APAC medical cannabis market – but their advancemens have only just begun.
'Australia is considered the region's gold standard of pharmaceutical manufacturing and was the first APAC country with a medicinal cannabis framework and a regimented application process ensuring all companies are duly licensed'.
In 2016, Australia became the first country in Asia Pacific to launch a country-wide medicinal cannabis framework when the country passed federal legislation to enable the production and sale of cannabis for medical use and related research. This law allowed concentrate-based medical cannabis to be prescribed in Australia for the treatment of a variety of specific illnesses.
The development of the industry since the creation of this regulatory regime is considerable. Physicians can apply to prescribe medicinal cannabis under the Therapeutic Goods Administration's Special Access Scheme Category or via Authorised Prescriber status for unapproved therapeutic drugs. As of July 31 2019, over 10,000 prescriptions have now been written in Australia for medicinal cannabis products, with approximately 11,500 patients having been authorised. Since legalisation, the Office of Drug Control has issued 69 licences including: 27 licences for cultivation of cannabis for medicinal use; 17 for cultivation for research; and 24 for manufacture of medicinal cannabis products as of 2 August 2019.
Australia is considered the region's gold standard of pharmaceutical manufacturing and was the first APAC country with a medicinal cannabis framework and a regimented application process ensuring all companies are duly licensed. As Australia has a well-developed pharmaceutical industry (of note, Australia is the largest exporter of codeine and thebaine in the world), the country already has a sizable, skilled pharmaceutical workforce with a set path to market through the federal body Therapeutic Goods Administration (TGA), which administers Good Manufacturing Practices (GMP) certifications.1
Since November 1995 when the TGA gained accession to the global organisation, Pharmaceutical Inspection Co-operation Scheme (PIC/S), Australia became connected to 51 participating regulatory authorities around the world with comparable GMP inspection systems. Through PIC/S, Australian GMP compliant manufacturers would receive critical international GMP certification recognition, as reciprocal recognition agreements are in place between Australia and other 'Pharmaceutical Inspection Co-operation Scheme' member-countries.
MediPharm Labs Australia enters the Australian cannabis market
MediPharm Labs Australia Pty. Ltd., a subsidiary of Canadian public company MediPharm Labs Corp. (TSX: LABS) (OTCQX: MEDIF) (FSE: MLZ), was founded in 2017 and has played an important role in advancing Australia's emerging cannabis industry. The Canadian parent, MediPharm Labs Corp., established in 2015, is a trusted global leader in the specialised production of purified, cannabis oil and concentrates as well as contract manufacturing of advanced derivative products.
In Australia, cannabis cultivators may only apply to the Office of Drug Control for their licence if paired with a processor, because this medicinal cannabis market doesn't allow for any smokable medicinal cannabis flower, only concentrate-based products. MediPharm Labs Australia received its cannabis manufacturing licence from the ODC under the Narcotics Drugs Act 1967 on May 21, 2019. In its capacity as a processor, MediPharm Labs Australia has been named a specialised processor on dozens of domestic Australian cultivator licence applications ensuring a strong future of industry partnership. MediPharm Labs Australia is expected to serve as part of MediPharm Labs' global supply chain platform and a springboard to serving the Asia-Pacific region. It also represents a business model that MediPharm Labs can use for future expansion in other regions of the world.
Construction of MediPharm Labs Australia's extraction and manufacturing facility in Wonthaggi, Victoria is progressing very well with completion on target before year end 2019. The state-of-the-art facility, built to the same rigorous standards as the facility in Canada, will feature multi-phase supercritical CO2 extraction capacity to process up to 75,000 kg of dried cannabis annually as well as secondary processing equipment for the manufacture of purified and high concentrate cannabis distillate. Industrial scale production will be supported by leading infrastructure designed with ISO standard-built cleanrooms and critical environments that accommodate Good Manufacturing Practices workflow. Key customised equipment, including two primary extraction systems, have been received with commissioning planned before the end of 2019.
To drive the successful development of the business, MediPharm Labs Australia has been building its senior leadership team. At the helm is Warren Everitt, CEO, Asia Pacific who brings a long career of executive leadership, sales and marketing in Asia Pacific through his international digital marketing agency, Market One, where he consulted to some of the world's biggest companies.
Head of Quality for Australia is Dr Jake Golding who brings 20-years' experience in pharmaceutical and bio tech organisations, with expertise in chemistry, commercial production & operations as well as quality systems. Golding's experience includes registration & qualification of facilities, processes & equipment with regulatory bodies.
Similarly, Everitt has hired experts for other key roles in GMP manufacturing, pharmaceutical financial analysis and control, international pharmaceutical regulatory compliance and registration, and project management for buildout of GMP pharmaceutical facilities.
"Recruiting top local talent to our team ensures we are able to fulfil our growth ambitions on behalf of customers and shareholders," said Everitt. "I look forward to working with these proven professionals to build out our platform and convert our pipeline of opportunities into sales."
MediPharm Labs Australia recently announced it has entered its first manufacturing agreement with a Licensed Producer in Australia. "This is MediPharm Labs Australia's first agreement for product sale since receiving our cannabis manufacturing licence in May of 2019 and further establishes MediPharm Labs as a leader in the emerging Australian and Asia-Pacific markets," said Pat McCutcheon, CEO, MediPharm Labs Corp. "We are delighted to start working with this Licensed Producer, and others, who share our vision of providing the highest quality pharmaceutical-grade products. We look forward to supporting Australian Licensed Producers with our specialised extraction capabilities and expertise to address this rapidly expanding cannabis market and growing patient demand."
MediPharm Labs Australia recently announced the successful negotiation of multi-year supply agreements with three Australian Office of Drug Control-approved cultivators, BBS Pharmaceuticals among them. These supply agreements, and other letters of intent which the company has in place, represent arrangements with a significant, diverse range of local cannabis cultivators to fuel MediPharm Labs Australia's growth plans to be the extraction market leader. The MediPharm Labs business model is powered by this reliable, high-quality, cost-efficient supply.
"The BBS team is thrilled to be working closely with MediPharm Labs Australia as a key Australian partner for dried cannabis supply. As a proud South Australian owned and operated company, in an exciting industry, we are looking forward to providing MediPharm Labs Australia with the highest quality medicinal grade feedstock, produced at our state of the art facility using the best local capabilities with global know-how," said John Dagas, CEO, BBS Pharmaceuticals.
This cannabis input supply will support the extraction and production of private label oil in Australia for local and international markets. MediPharm Labs has a global network of buyers providing a long-term, stable channel for input products, ensuring the commodity is stable. Sales generation from the facility is expected to begin in the first half of 2020, subject to receipt of final local authorisations and a GMP certification from the Therapeutic Goods Administration of Australia.
Future Asia Pacific partnerships
For cultivators emerging throughout the APAC region, partnering with an Australia-based processor like MediPharm Labs Australia provides the possibility of a longstanding, secure business relationship. Australia's stable political environment, its established cannabis regulatory framework and its long history of pharmaceutical manufacturing will lend credibility, expertise and market access to new cannabis ventures in Asia Pacific.
In turn, future licensed cultivators in legalised South East Asian countries, could offer the global cannabis industry attractive input supply due to favourable growing climates as well as lower local costs of labour, electricity and auxiliary services such as transport and waste.
Cultivation under Good Agricultural and Collection Practices (GACP) from the APAC region could be sent to Australia for final processing and GMP manufacturing into approved concentrate-based derivative products, and ultimately exported to other global markets utilising Mutual Recognition Agreements (MRA) of the 'Pharmaceutical Inspection Co-operation Scheme' under allowing jurisdictions. Patients/consumers are already seeking health care products that are Australian made because of the perceived higher product value, and products made in Australia can attract premiums.
Emerging APAC cannabis enterprises can accelerate their market-readiness and market-entry by joining established global supply chains of market leaders, like MediPharm Labs Australia. Strategic partnerships will be a key driver, bringing the APAC region to their full potential as successful participants in the growing global cannabis industry.
References
Sybil Taylor
Chief Marketing Officer
MediPharm Labs
+1 705 719 7425
info@medipharmlabs.com
Tweet @MediPharmLabs
https://www.medipharmlabs.com/
This article has also appeared in Health Europa Quarterly Issue 11, which is available to read now.