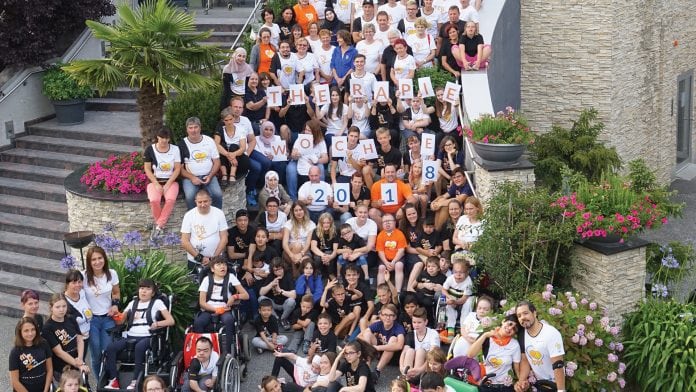 In July, Health Europa saw first-hand how the Austrian MPS Society's Therapy Week brings patients and their families together for more than just a week of therapy.
In July, the Austrian MPS Society held its annual Therapy Week, which Health Europa was honoured to attend as the media partner as a part of the ongoing working relationship that we have with the organisation.
As the name of the event suggests, Therapy Week is a week of activities put together by the Austrian MPS Society's head, Michaela Weigl, where patients from across Europe – and indeed the wider world – and their families meet. Each morning, a whole suite of therapies are offered to the patients, while in the afternoons more social activities are organised.
Therapy Week, as Health Europa found out, is much more than a week of therapy; it is a holiday for patients and their families; it is a chance for them to meet with others in similar situations and discuss their lives with people who know the challenges – and rewards gained from meeting those challenges – posed by the diseases; it is a chance for those whose sons or daughters have been diagnosed with MPS to give something back to the community; it is a chance for the patients and their families to speak with Michaela about any issues they are having (perhaps with regard to their doctors or insurance companies) and hopefully gain assistance; and, perhaps most importantly, it is a time when some of their worries, problems and concerns can take a back seat, and they can enjoy their time with their families.
It was abundantly clear from the smiles and laughter that Therapy Week was a pleasure and not a chore; the patients and their families were actively engaging with the event staff in a number of different therapy areas. And, when not in therapy, they were excited to see the beautiful Alpine scenery in the picturesque Austrian village of Saalbach-Hinterglemm – a ski resort town southwest of the city of Salzburg.
Water therapy
Taking a tour of the week's activities – guided by Michaela and accompanied by Dr Susanne Kircher – an excellent researcher who has dedicated much of her professional life to the study of MPS – Health Europa had the pleasure of seeing much of the therapy areas offered during the week in action.
In the hotel's swimming pool, Michaela's daughter, Maria – an MPS patient – was enjoying the water, along with two other patients. Water therapy is a fundamental part of the therapies on offer during the event; as many MPS patients have significant mobility issues, being in the water helps to enhance their flexibility a little, and, of course, they are able to move much more freely when immersed in the pool and therefore have a chance to move in ways they would not be otherwise able to.
Health Europa spoke to Maria when she had finished in the pool. She said that the water therapy is one of the things she enjoys most, saying that it helps with her mobility, but is also fun.
Michaela had explained that, following Maria's diagnosis – and the fact that it took Michaela 15 years to get to this point certainly says a lot about how difficult it is to access treatment – she had initially been required to travel to London, UK, every week – for several years – for her daughter to receive treatment as part of a clinical trial. This was, of course, a hugely time-consuming and expensive effort but, eventually, Michaela was able to gain Maria's treatment first in Austria and then at her own home. She also explained that, of the 24 patients who are members of the Austrian MPS Society who are currently receiving enzyme replacement therapy, only four are able to receive that treatment at home – one of whom is Maria. This, it seems, is because of the many restrictions placed on patients by their insurance companies, on whom the patients rely to fund much of their treatment pathways.
Expensive medicines
Another significant barrier to patients receiving appropriate treatment – in appropriate locations – is the cost of the medications they require. Michaela explained that this is something she had recently spoken about at the jour fixe of 'Political Children Medicine', which is calling for a political discussion and improvement of medical issues which are currently failing, especially those who have been diagnosed with rare diseases like MPS – including those around insurance and the cost of medicines. Here, she talked about how the quality of life and indeed the very survival of MPS patients depends on highly expensive medicines.
Maria told Health Europa that while she was grateful for the treatment she was able to receive in London, being able to access that treatment at home is of huge benefit, not least because she does not have to travel so far, and that she hopes to see other patients with MPS to be able to do the same in the future.
Maria had spoken at the recent European Rare Disease Conference in Vienna, where she provided a patient testimonial to an audience of over 900 stakeholders from all over Europe, including many patients suffering from rare diseases, representatives from Eurordis, from the Austrian Ministry of Health, doctors, researchers and so on, explaining the difference it makes to both her and her family to be able to receive treatment. The sharing of patient experiences such as this is crucial in raising awareness of the diseases, which Maria highlighted as one of the most important issues surrounding MPS.
As well as now receiving her enzyme replacement therapy at home, Maria is also able to have a physiotherapist travel to her home address each week to deliver this therapy. Again, this is not something all patients are as yet lucky enough to experience, but Michaela is working tirelessly – with this as with all else – to help to make this a reality.
At the Therapy Week event, physiotherapy was also offered to the patients, and Michaela explained that this has now been a part of the event for the last 17 years. This, as with the water therapy, helps patients with their mobility issues, often with very significant improvements over relatively short periods of time.
Maria said: "Of course, physiotherapy is a big benefit, and at Therapy Week we are able to take advantage of this nearly every day which really helps with our mobility."
Other therapy areas
Massages also help the patients with their mobility – and are available to them in a variety of forms during Therapy Week – but other therapy areas also work to help with mobility but may be less obvious. For instance, three dogs – Benni, Aurora, and Anton – took part in the event. Dogs, of course, are loved by children of any kind, and at the event the children would sit with the dogs, stroke them and play with them, throw a ball for them, and so on. And these slight movements acted as a type of physiotherapy of their own, with the children moving in ways that they would be unlikely to move in had they not been engaging with the animals.
'Smoveys' were also being used in a session at the event. These instruments are a D-shaped hoop which are held in the hand almost like a dumbbell. Each Smovey ring weighs 1lb and includes four metal balls that run freely inside the hollow plastic tubes. These are swung while taking part in an aerobics-type routine – which was being led by one of the board members of the society. Again, the MPS patients taking part – and in this instance it was adult patients – were being encouraged to move in ways they would not normally move in, thereby helping with their mobility. And, of course, this was a fun activity for them to take part in, and one perhaps which was quite far removed from their daily activities when they are at home.
The child MPS patients also took part in painting therapy classes, and they were also to be seen in the childcare room, experimenting with flour and water or playing in the soft play areas or with playing cards; and the adults took part in dance therapy classes on the roof of the hotel, with a backdrop looking onto the tree-clad mountains and in the fresh, Alpine air.
A family unit
These are just a selection of the many activities that the patients took part in throughout the mornings of the Therapy Week. In the afternoon, Michaela and her tireless team – and this includes her sons, daughters, and husband who all play vital roles in the event and the organisation more broadly (including providing photography, working with the dogs, and managing the childcare, amongst many other functions) – arrange afternoons outside, including a trip to a local lake or on the cable cars to the top of the mountain.
It was clear that the event was loved by everyone who attended. While much of the therapy provided in the mornings may well be challenging to the patients and their families, their time there was treasured. And it was clear that there were absolutely no distinctions made on the grounds of race, generation, diagnosis or culture; everyone was equally welcome and everyone was seen as, and felt, a part of a larger whole.
Therapy Week, overwhelmingly, had an air of a large family gathering, with those attending all helping each other and working together as a team. And, as Michaela has recently said, the MPS society wants to Make Patients Smile, and Therapy Week certainly did that, and so much more.
In the following pages of this Special Feature, you will find interviews with individuals from Therapy week – including Michaela and Susanne – further outlining the importance of this key event in the MPS calendar and discussing other key issues (some of which have been touched on above).
This article will appear in Health Europa Quarterly issue 6, which will be published in August, 2018
Recommended Related Articles