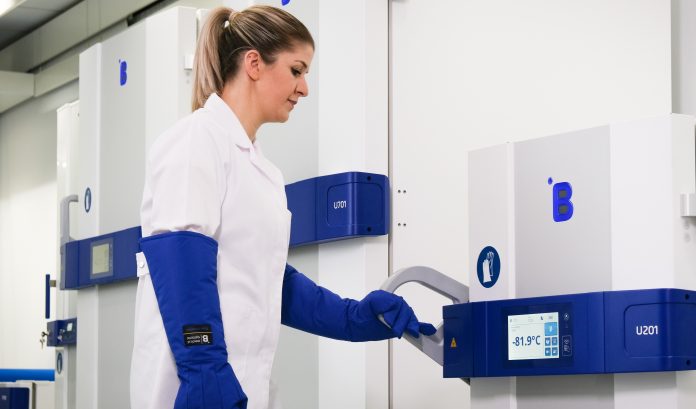 B Medical Systems, a global leader in medical cold chain solutions, has announced that the company's Ultra-Low Freezer U201 has received the world's first World Health Organization (WHO) PQS prequalification.
B Medical Systems have received the world's first prequalification for Ultra-low freezers for the company's U201 Ultra-low freezer. The mission of the WHO Performance, Quality, and Safety (PQS) process is to prequalify medical products and devices so that member states and UN purchasing agencies are assured of their suitability for use in immunisation programmes.
This prestigious accolade has become a trusted and reputed symptom for safety, quality, and efficacy in the medical industry.
Ultra-low freezers
Ultra-low freezers are used for storing temperature-sensitive specimens such as biosamples and vaccines at temperatures as low as -86°C to enable their long-term and reliable storage. They are some of the most complex products in the refrigeration industry and employ innovative technologies that allow Ultra-low freezers to maintain low temperatures.
Ultra-low freezers play a vital part in the medical industry due to their long preservation capabilities. This is especially prominent for maintaining biological samples such as DNA and RNA in addition to vaccines that require low storage temperatures.
B Medical Systems U201
B Medical Systems' U201 has a gross storage volume of 214L and provides a storage temperature varying from -86°C to -20°C. Encompassing innovative refrigeration technology, the product presents exceptional temperature uniformity and holdover time.
The U201 uses a green refrigerant, minimising the impact on the environment and is compliant with the US SNAP and EU F-Gas regulations. Furthermore, this Ultra-low freezer offers inbuilt alarm systems and 24/7 real-time monitoring solutions through the B Medical Systems' Real-Time Monitoring Devices (RTMD) and °B Connected solution. Additional security measures include a password-protected/NFC-based locking mechanism to ensure unauthorised access to the specimens.
The product also boasts certification to operate at ambient temperature as high as +43°C, making it an ideal solution for last-mile vaccination campaigns, doctors' clinics and other medical institutes. The device also holds a class II(a)/II certified medical device as per EU MDR and US FDA regulation.
Luc Provost, CEO of B Medical Systems, said, "It's a very proud moment for us. The WHO PQS prequalification is a testament to the quality and standard of our product. The U201 Ultra-Low Freezer offers a compact, reliable, and sustainable ultra-low freezing solution. The unit can work at ambient temperatures as high as 43°C, making it a perfect solution to be used even in areas with harsh tropical climates. We developed this product to meet the growing demand for ultra-low temperature storage of COVID-19 vaccines. However, with the growth of mRNA technology, cell and gene therapy, etc, we see more and more requirements for reliable ultra-low temperature storage across the world.''
Recommended Related Articles