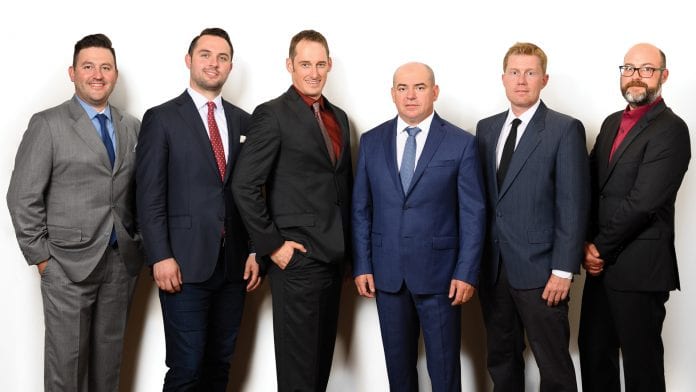 Macedonian-based grower is on a mission to produce high quality, low-cost solutions to meet unmet market needs.
Demand for medicinal cannabis in Europe has reached new levels and is expected to grow by more than 400% through 2023. With a market of over 742 million people and a total healthcare spend of €2.3 trillion, the continent is on track to become the largest medical cannabis market in the world.
Licensed producers globally are struggling to keep up, with ongoing issues surrounding supply, quality and consistency. The result has left patients across the continent paying top dollar for inconsistent medical cannabis.
Canadian Chris Liddy and Macedonian Ice Nikoloski are looking to address this growing issue. Their company, Balcanns, is on a mission to set a new standard for medicinal cannabis, with the duo assembling a team of experienced personnel and constructing a new production facility in Prilep, North Macedonia.
Liddy is the company's CEO and technical lead. A graduate of the University of Guelph's Controlled Environmental Systems Research Facility, he specialises in plant biology and novel hydroponic systems. He has spent more than 10 years identifying and controlling safety risks, with expertise in addressing category issues like the prevention of mould and particulate contamination. His experience in both plant production and the implementation of safety programmes uniquely translates to the successful growing and production of medical-grade cannabis at scale.
Canadian expertise on Macedonian soil
Born and raised in Macedonia, Nikoloski is the company's President. He's responsible for overseeing operations and governmental relations and has been essential to forging strong connections with Macedonian universities while recruiting top talent in both plant production and pharmaceuticals across the country. As an experienced entrepreneur and a Macedonian native with a strong local network, he has been integral to ensuring a smooth and successful launch for the business.
"Working in Canada, we've been privy to a number of industry-firsts, key learnings and insights surrounding the industry" says Liddy. "We've seen extensive issues with the commissioning and scaling of medical cannabis production facilities. These challenges are intensified by the strict requirements of the European Union. We knew as a business we could deliver a technically superior product at scale that could meet the needs of this rapidly emerging market."
The founders have assembled an experienced team to work alongside an advisory board with cannabis and operations backgrounds, including Zam Hexamer, Jeff Huber and Peter Dameski. Hexamer, the company's VP of Engineering and Operations, possesses a deep level of experience commissioning and operating commercial hydroponic production systems. He founded a commercial controlled environment horticultural production company and has experience in operations at a leading Canadian licensed producer.
Huber, an experienced operator in scaled plant production has designed, commissioned and operated large scale-controlled environment facilities, and will be providing Balcanns with ongoing strategic technical advice. He is a visiting researcher at the University of Guelph and the master grower and scientist for one of the largest automated indoor vertical farms in North America. Currently, he is directly responsible for the simultaneous production of over 20,000,000 plants.
Dameski is a leader in training and professional development. He has created specialised training for use across the organisation. His experience working closely with Canada's leading financial institutions paired with his Macedonian heritage uniquely qualified him for the role. His unique skill set is ideal to translate technical knowledge into actionable information that can be applied to a large-scale workforce in Macedonia.
Externally, Jamie Blundell, President of the Cannabis Growth Opportunities Corporation (CGOC), has been appointed to the Balcanns' advisory board. Blundell oversees the Corporation's strategic capital investment in Balcanns and will provide ongoing insight, expertise and access to the CGOC's network. "We believe this team has the right experience and vision to create a new standard for cannabis globally" said Nikoloski. "Paired with the advantages of working in Macedonia, we're confident we can take medical cannabis production to a new level."
The facility
Balcanns is currently finalising construction of a facility located just outside of Prilep. The facility is located on a compound inclusive of over 20 hectares of land which is perfectly suited for indoor, greenhouse or outdoor cannabis growth. This facility was specifically designed to produce high quality cannabis oils and extracts that are fully compliant with European GMP requirements. The facility will utilise customised drying chambers and CO2 extraction technology.
The team is moving with the speed and discipline to have the first crop ready for mid 2020 and is applying innovative new technology and methods like micropropagation (plant tissue culture) to create a new standard for cannabis.
For those unfamiliar with the process, micropropagation grows plant cells under sterile conditions on a nutrient culture medium. The method utilises a smaller footprint, is effective for mass propagation, and possesses a lower chance of disease transmission. The company believes that the implementation of micropropagation and other technologies into its production facility will allow the company to produce a superior product that is highly consistent.
"One of the biggest challenges in meeting the needs of the market is producing a consistent product at scale. Many of the methods commonly used are not optimised for large scale production and, at best, can result in an inconsistent product" says Liddy. "Inconsistent cannabinoid concentrations are a real issue for both patients and doctors. Our approach will reduce variation and with a goal of providing safe and reliable cannabis with every crop."
Macedonia and Europe
Strategically located in North Macedonia, the country possesses an ideal climate for growing, a highly qualified workforce at globally competitive labour costs, and one of the lowest corporate tax rates in the world. With the country set to begin the process of joining the EU later this year, it is ideally situated for Balcanns to easily and effectively supply key European markets.
To supply the European market, medical cannabis producers must comply with existing regulations for the European pharmaceutical industry. European requirements often differ from most countries with an existing medical cannabis industry. Existing licensed producers may need to complete upgrades to their operations in order to meet strict European standards. With countries like Canada experiencing ongoing domestic supply challenges, it is unlikely that licensed producers can meet this new demand anytime soon.
As the cannabis industry continues to evolve and mature, forward thinking jurisdictions like North Macedonia stand to benefit from foreign investment and expertise. As for the team at Balcanns, they are only getting started. The team is already in talks to expand operations and is meeting with a diverse group of businesses to explore a range of opportunities.
"This is only just the beginning" states Nikoloski. "We know the demand and potential for medical cannabis is only going to continue to grow. We're excited about what lies ahead and the chance to provide a safe and reliable option to the medical community in Europe and around the world.
Chris Liddy
CEO
Ice Nikoloski
President
Balcanns
+1 905 617 5437 (Liddy)
+1 416 648 5655 (Nikoloski)
cliddy@balcanns.com
inikoloski@balcanns.com
http://balcanns.com/
This article will appear in Health Europa Quarterly Issue 11, which is available to read now.