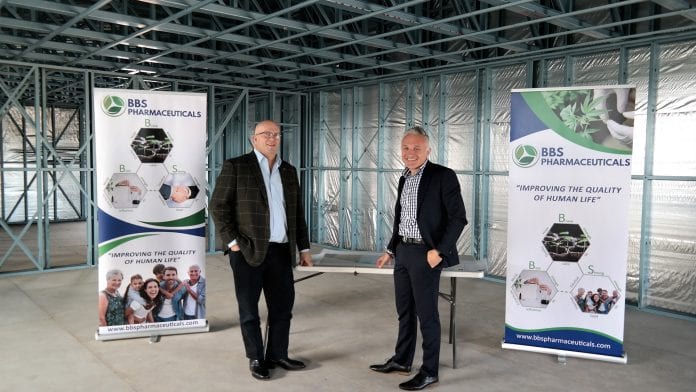 CEO John Dagas is optimistic about the medicinal cannabis market growth in Australia and the positioning of BBS to be a leader in Oceania.
Although the coronavirus epidemic itself was not something we could predict, as a solid business with a strong business plan, it is our duty to always be prepared for the unexpected and stay invested and focused on our goals, so that we can weather the tough times. With this in mind; and as our medicinal cannabis site in South Australia is nearing completion and our partners on our trial site are working on the cultivation of our strains, we have been putting together the finishing touches to our senior management team to ensure that we hit the ground running once these unfortunate global challenges ease. At the same time, on our South Australian site, all our electricity generation is from solar; while we have worked hard to ensure that all wastewater and storm water from our cultivation and manufacturing operations is recycled and reused within our own 1.5m square metre site.
In collaboration with our joint venture (JV) partners, we have developed our own strain which maximises yield whilst reducing cycle times. We are offering a vertically integrated model that provides end to end solution from seed to pharmaceutical sale.
Legalised cannabis in Australia
Meanwhile in Australia, over the last 12 months there has been a significant shift in mindset towards the growth of the legalised cannabis industry, with an ever-increasing number of local and overseas companies setting up operations. This is crucial for our industry, as it ensures that we are becoming front of mind for government agencies which regulate the industry or see the potential export capabilities as a business cluster.
Confirming that medicinal cannabis businesses are essential service under the public health orders issued by the states and territories during the COVID-19 pandemic was also sensible, and represented a huge win for our industry.
Last month we had the pleasure of welcoming South Australian Minister of Trade and Investment Mr David Ridgway, who visited our site and was impressed by the progress our company has made despite the COVID-19 outbreak.
Our team had the opportunity to give Minister Ridgway a tour of the site and discuss the challenges and prospects of the medicinal cannabis industry in Australia and the exporting and manufacturing opportunities.
Local MP Mr Adrian Pederick also visited our site and was thrilled with the employment opportunities BBS Pharmaceuticals is bringing to the region.
Medicinal cannabis market to bloom to $1.5bn in Australia by 2025
As various phases of legalisation come into effect in different parts of Australia, the country's cannabis market is expected to break through the barrier of US$1.5bn by 2025, making it the largest legal cannabis market in the Oceania region.1
The forecasts for the coming five years represent a mammoth jump for Australia's cannabis market, which is currently estimated at a value of just US$40m. This figure is expected to jump to US$170m by next year, and more than triple in the year after, down the line making its way past the $1bn mark by 2023.
The jump in value is the anticipated result of regulatory changes that have come into effect across various parts of Australia in recent years, lifting restrictions on use for certain purposes. The Oceania cannabis market can be broken down into four categories, namely medicinal; recreational; industrial hemp; and cannabidiol (CBD).
Experts have long argued that legalising all forms of cannabis has tremendous economic benefits, while the stigma around the substance and the consequent resistance results from a lack of research into the matter.
At the same time, Australia recently reported its top month of patient approvals for medical cannabis while the Australian government has identified specific 'nonessential' industries in order to apply restricted operations to fight the novel coronavirus pandemic – and medical cannabis is not on that list.
The Australian cannabis industry is here to stay. We have many solid companies with robust operations and business plans to ensure that we grow at a pace sustainable to our environment.
Here at BBS we have a clear vision of the road ahead and we are working diligently as sound corporate citizens to ensure that we add value to our industry, our clients, the Australian government and our community; and we are welcoming interest both internationally and domestically. Domestically we already have what is purported to be the largest off-take agreement of dried cannabis flower to an Australian manufacturer and we welcome other interest from Australian manufacturers and distributors of pharmaceuticals.
Internationally, we currently have a number of Memorandum of Understanding (MOUs) and JVs both at academic and industry level.
Being privately held, we are sufficiently agile to pivot our strategy to meet market demand and have the ability to quickly upscale, hence no supply contract is too big for BBS Pharmaceuticals to handle.
As for the quality of our product, we grow in climate-controlled glasshouses in sunny South Australia with the driest climate, to ensure the highest quality of cannabis input into making the highest quality pharmaceuticals.
References
Report prepared by market research consultancy Prohibition Partners.
John Dagas
CEO
BBS Pharmaceuticals Pty Ltd
+ 61 438 388 667
john.dagas@bbspharmaceuticals.com
Tweet @BBSpharma
This article is for issue 3 of Medical Cannabis Network. Click here to get your free subscription today.