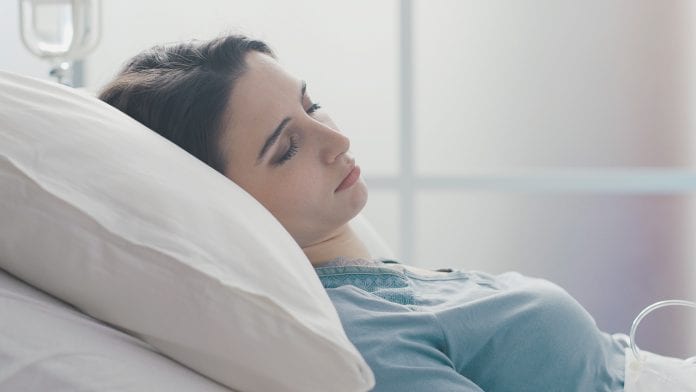 HEQ examines the role of bedlinen handling and correct laundering practices to help with halting the spread of infection.
Bedlinen represents a commonly overlooked vector of infection within hospitals and care facilities. Fabrics can carry and spread an array of diseases; and improperly disinfected linens can heighten the risk to patients of contracting healthcare-associated infections (HAIs). Healthcare staff, meanwhile, are particularly at risk of contracting or spreading infection when stripping beds or tending to patients: soiled linens may contain particles of human blood, sweat, wound exudate, sputum, saliva, urine, vomit or faeces, all of which can in turn carry harmful pathogens.
Contaminated bedlinen is a key risk factor in the spread of infectious diseases; however, correct laundering and handling processes can reduce this risk substantially. COVID-19 contamination, for example, can be effectively eliminated through standard hospital laundering methods.
Infection Control International CEO Dr Carol McCurdy said: "The 2019-nCoV is a fragile organism which is susceptible to the antimicrobial action of the established laundering process which occurs through a combination of mechanical, thermal, and chemical factors. It is critical for laundry operators to reach out to their healthcare customers to ensure they understand how that hospital intends to handle linen from confirmed 2019-nCoV patients, as there is variation in policies between hospitals."
Lessons on infection prevention from Ebola
During a minor outbreak of Ebola in the USA in 2014, the Healthcare Laundry Accreditation Council (HLAC), a US-based nonprofit which oversees and certifies companies which clean hospital textiles, issued an advisory notice recommending healthcare laundries adhere strictly to guidance issued by the US Centers for Disease Control and Prevention (CDC) for the handling and decontamination of bedlinens, in order to prevent the spread of infection. Gregory Gicewicz, the then-President of HLAC, said: "HLAC-accredited laundries meet the highest standards for processing healthcare textiles based on federal regulations and best industry practices. These standards, when followed and maintained, cover the complete textile processing cycle, from handling and transporting, laundering and finishing, to customer service. The healthcare customer of an HLAC-accredited laundry can confidently expect a consistent and smooth flow of clean textiles; and, ultimately, the knowledge of safety for their employees and the end user: the patient."
Laundries accredited by HLAC were advised to dispose of bedding which could have been exposed to confirmed or suspected Ebola patients in biohazard precaution bags, in accordance with their hospitals' hazardous waste disposal protocols. "It's best to err on the side of caution," Gicewicz commented.
HLAC guidelines on laundry handling during the COVID-19 pandemic refer again to the CDC's recommendations, although – as the coronavirus appears to be broadly vulnerable to common disinfectants and standard hot laundry procedures – the guidance issued by the CDC and HLAC is significantly less restrictive than during the Ebola outbreak. While the CDC has advised that laundry management can continue in line with routine procedures, HLAC has cautioned of the increased risk to staff handling soiled linens. Current HLAC President Linda McCurdy noted: "It is imperative that laundry facility staff follow universal precautions: ensure proper personal protective equipment (PPE) with eye protection and mucous membrane protection; enforce functional separation; and ensure that soiled textiles are properly bagged. I encourage facilities, including those on-site at hospitals and medical facilities, to remind their staff of the importance of following these standards and of their essential role in reducing the risk of an epidemic."
Employee training
Gicewicz has advocated immersive training for laundry staff, on the basis that observing the impact their work has on patients personalises the work and allows them to see hospital laundry as part of a greater endeavour, rather than just as a job. He commented: "An employee may view the gown she is folding as one of a thousand inanimate objects that go somewhere that she does not care about. Now go to a critical care part of a hospital and observe a critically ill patient wearing the gown that you processed, while lying on the bedding that you handled, in the room that was cleaned using the microfibres that you processed and delivered earlier. Laundry workers that witness the criticality of their work in patient safety are much more likely to view their work as a higher calling rather than just a job. Give them this opportunity by taking them to see their work in action."
As with any other role with an aspect of infection prevention, healthcare laundry employees have been shown to benefit greatly from regular training, refreshers and comprehension tests covering clinical best practice and standard protocols. It is currently recommended that laundry staff working with hospital linens receive up-to-date training on key topics including the use of PPE, environmental cleaning and testing, safe linen handling and the risks posed by bloodborne pathogens.
Material selection
In selecting bedlinens, healthcare procurement teams must balance the cost of an item with its quality and efficacy. Synthetic healthcare textiles (HCTs) are more costly at the point of purchase than blended or pure cotton, but wholly synthetic textiles are commonly more resilient, lasting for up to twice as many processing turns as cotton or blended materials. Rapid turnaround of HCTs is also a key issue to consider: cotton scrubs, for example, can take 15 minutes to dry in a standard laundry tumble dryer; while synthetic scrubs only take five minutes. Where available, microfibre and microdenier products – which have drastically dropped in cost in recent years – are recommended as the best means of averting pathogenic contamination of linens.
Ensuring best practice
The UK's Health and Safety Executive (HSE) recommends a 'wash-based disinfection process', with soiled HCTs to be cleaned at 60°C for at least 10 minutes or 71°C for at least three minutes, with adequate mixing time allowed to ensure full heat penetration. This wash protocol is also recommended for linens potentially contaminated with HIV and hepatitis C. Unsoiled heat labile linens – those which may degrade or lose material integrity when subjected to high temperatures – must be washed at 40°C, so additional chemical detergents must be added to ensure full disinfection.
In community settings and in facilities which lack access to specialist laundering services, contaminated linens must be washed at the highest possible temperature recommended for the fabric – ideally at 80°C, where this is possible – or dry cleaned. In situations where these cleaning protocols cannot be observed, it is considered best practice to incinerate linens which may contribute to the spread of infection, although for the sake of practicality these guidelines are somewhat relaxed in the case of at-home laundry, with the appropriate detergent, of contaminated HCTs for patients with bloodborne viruses.
This article is from issue 14 of Health Europa. Click here to get your free subscription today.