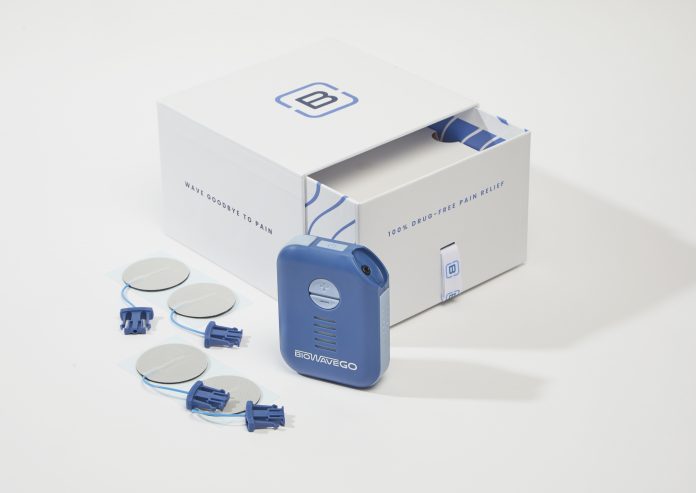 BioWaveGO medical consultant Dr Dominic Hegarty highlights the need for greater access to neuromodulation devices for chronic pain treatment.
The pandemic has highlighted the need to build more resilient health systems, re-think traditional solutions and look for other options centred around innovative technology that provide equitable and timely access to treatment and services. This is felt most keenly in the treatment of chronic pain, with an estimated two in five (one and a half billion) individuals suffering from chronic pain across the globe, and one in ten developing new chronic conditions each year. Healthcare systems have struggled to appreciate the growing challenges that chronic pain presents. Conventional physical therapy, medication or surgery are simply not enough for most patients. Future treatment of chronic pain management relies on the exploration of emerging innovative and cost-effective technologies.
The enormity of the challenge
Chronic pain poses a huge challenge for individuals, healthcare systems and our economies. Each year approximately one in five European adults are affected by chronic pain. The estimated direct and indirect healthcare costs for chronic pain disorders in EU Member States is between two to three percent of their GDP. Despite the existence of effective therapeutic options, 67% of patients living with chronic pain are receiving inadequate treatment. This is partly due to a lack of awareness but also organisational issues within healthcare providers.
In addition, a recent set of surveys found that:
87% of chronic pain sufferers try at least four different treatment options, often without achieving even a 50% improvement in symptoms;
41% of survey respondents are unhappy with the way they are treated for pain and almost 24% say their primary healthcare provider does not understand the impact of their symptoms and is dismissive of their condition; and
61% of Europeans who could benefit from neuromodulation technology as a real-time treatment never get offered the therapy despite its availability across Europe.
These studies highlight an urgent need to not only address health budgeting and resourcing barriers that restrict the treatment of chronic pain, but also to ensure training and continuous medical education of healthcare workers to optimise access to essential pain treatments.
Why does technology suit pain management?
The concept of using electrical current (neuromodulation) to manage pain was first considered in the 1960s. By the 1990s, there were specific percutaneous leads which meant that the application of an electric current to the spine (spinal cord stimulation) could be used to provide quick and effective drug-free pain relief. The MedTech industry were first to recognise the role of technology within pain management and engage with clinicians in order to understand the clinical challenges, resulting in the advent of smaller implantable leads, wireless devices and, more recently, non-invasive devices such as BioWaveGO, all aimed at providing a suitable electrical field at or near a group of nerves to activate local inhibitory interneurons which inhibit the nerve fibres that carry pain signals.
Like any true synergistic relationship, the clinical challenge combined with technical innovation has produced a variety of treatment options, often surpassing the expectations of older pain treatment such as physical therapy (e.g. acupuncture, massage, desensitisation, etc.), oral medication (e.g. opioids), and ablative therapy (e.g. thermal or chemical treatment). Recently, the term bioelectronic medicine has been coined in order to describe the use of neurostimulation to modify the response of nerve tissue. Bioelectronic medicine has an important advantage over more traditional therapies as it can employ electrical technologies to deliver targeted, personalised therapy and eliminate the need for drug-centred therapy. The issue now is working out how we can enable clinicians to have greater access to different equipment in order to ensure more individuals who could benefit from this technology are given the opportunity to improve their lives.
How the technology works
Physiologically, pain derives from nerve fibres and the most effective way to stop pain is to target its source. As pain is electrical in nature it is logical to counteract it with electrical currents. BioWave technology does just that – targeting the pain directly at the nerve base with electrical waves offering patients longer lasting relief from their conditions. Unlike TENS, which delivers a signal across the surface of the skin, BioWave's smarter pain blocking technology delivers a signal straight to the nerve using high frequency, alternating current. Utilising electrical waves rather than chemicals, the device blocks pain deep at its source. It can provide relief from the sudden onset of severe pain and offers acute relief for up to 24 hours following a 30-minute treatment.
The FDA and CE certified medical grade device has a proven track record, with the ground-breaking American technology being used across medical and professional sports settings to treat pain for the past 13 years. Our recently published research assessed the benefit of the BioWave device on several painful conditions and there is clear evidence that this simple, cost-effective device can offer a viable clinical solution. The device has been particularly effective for individuals suffering mild to moderate symptoms, with 80% of patients finding a BioWaveGO treatment has reduced the pain they are experiencing by around 60%. The device is capable of not only treating acute and chronic sports injuries, but also a variety of chronic pain conditions such as arthritis, osteoarthritis, neuropathic pain, back pain, carpal tunnel syndrome and repetitive strain injury.
What is needed now?
The European Commission's EU4Health Programme for the 2021 to 2027 period will make a significant contribution to post-COVID-19 recovery by strengthening the resilience of health systems, improving access to healthcare and promoting innovation in the health sector. Pain management needs to be a part of this plan. The programme will also provide funding for the digital transformation of health systems, which represents an opportunity to accelerate novel interventions to improve patient quality of care, of which pain therapies should be incorporated.
Only five percent of individuals who could benefit from neuromodulation get the opportunity to receive the treatment. This failure of care needs to be addressed immediately. The management of chronic pain using drug-free, effective, and long-term therapy needs to be afforded the same urgency as diabetes or cardiac therapy. When the number of people receiving better treatment options increases, a real benefit will be felt in society. By giving individuals access to pain management services before the pain becomes established, healthcare systems and society can reduce the long-term economic burden of chronic pain.
In summary
Considering the increasing pressure on healthcare systems in Europe, digital and technology-based solutions are already becoming a mainstream solution. Who could have known just how great the need would become to keep vulnerable patients out of hospital? Who could have foreseen the unannounced increase in chronic pain services required to deal with the symptoms of long COVID? Who would have guessed the expected wait time to be seen in a pain clinic would have doubled or tripled across Europe almost overnight? The socioeconomic ramifications of this will be enormous unless we take action now.
Bioelectronic therapies such as BioWave tackle pain from a scientific perspective and revolutionise the way pain is treated by offering patients continuity of care and access to rapid pain treatment. Rather than waiting months or years for a procedure, accessible and user-friendly technology such as BioWave should be seen as an opportunity to provide immediate pain relief and minimise the need for further medical intervention.
Finally, on a personal note, I have been inspired by how technology can transform an individual's quality of life with just the push of a button. I encourage my team to be agents of change as we begin to see the green shoots of recovery. We must advocate now, more than ever, to promote and embrace digital technologies in daily practice within healthcare. This will go a long way in making our post-COVID world a smarter and more digitally enabled place.
This article is from issue 18 of Health Europa. Click here to get your free subscription today.
Contributor Details