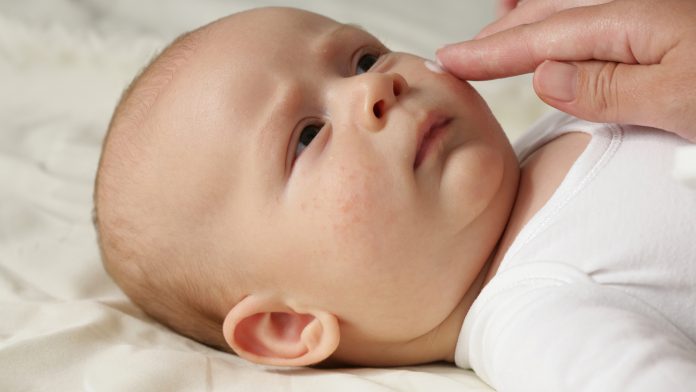 Researchers have developed an immune biomarker test that can predict the subsequent onset and severity of eczema in babies.
In a new study presented at the 31st European Academy of Dermatology and Venereology (EADV) Congress, researchers have developed a new method that could change the diagnosis process of eczema in babies.  
The Barrier dysfunction in Atopic newBorns (BABY) study analysed data from 450 cases of eczema in babies (300 term and 150 preterm newborns) to examine if skin barrier and immune biomarkers could predict the onset and severity of eczema during the first two years of life. 
What is eczema?
Eczema is a condition that causes the skin to become dry, itchy and cracked. It is common in children and tends to develop before their first birthday.  
It is currently unknown what exactly causes eczema, and it is clear multiple factors contribute to this condition. Atopic eczema often occurs in people who get allergies and can run in families, developing alongside other conditions like asthma and hay fever. 
Predicting eczema in babies
Both term and preterm babies with elevated levels of TARC (Thymus and Activation-Regulated Chemokine) at two months were found to be over twice as likely to develop eczema by the edge of two years. This increased risk was still prevalent when adjusting for parental atopy – where the immune system is sensitive to allergic diseases – and filaggrin gene mutations, which is a major predisposing factor for eczema in babies and adults. The study revealed a positive association between the level of TARC and the severity of eczema in babies. 
Researchers used tape strips to painlessly and non-invasively collect skin cells from the babies' hands at zero to three days and two months old in term children and from the skin between the shoulder blades at two months old in preterm children. The strips were analysed for immune biomarkers for eczema in babies.  
First author and co-researcher Dr Anne-Sofie Halling, from the Bispebjerg Hospital at the University of Copenhagen, commented: "To our knowledge, this is the first to show that non-invasively collected skin biomarkers can be used to predict the subsequent onset and severity of paediatric atopic eczema." 
"The study will help us investigate and create future preventative strategies for children with elevated TARC levels to help stop the development of this common and debilitating disease, which is an exciting prospect." 
Recommended Related Articles