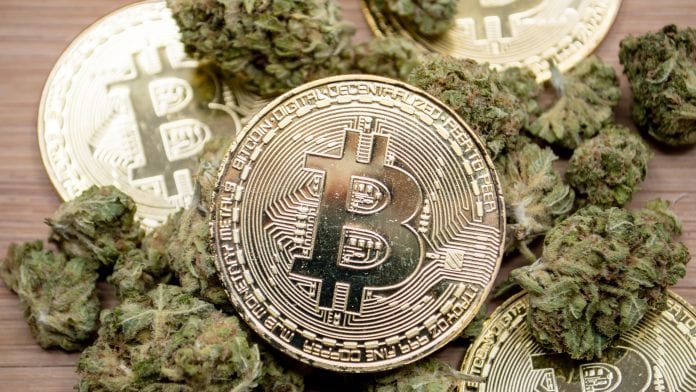 With so much speculation surrounding both bitcoin and cannabis markets – can the two work together?
Over the last few years we have seen the meteoric rise of bitcoin and its consequential dips – seeing the cryptocurrency skyrocket in value from just under $1,000 (~€899.37) at the start of 2017 to above $10,000 in November 2018.
A number of companies have taken steps to benefit from the growth of the burgeoning cryptocurrency industry. One area of the industry that appears to offer significant growth potential is the application of bitcoin and other cryptocurrencies to sectors of the economy, such as the cannabis industry.
Bitcoin and cannabis in the UK
A UK online CBD Shop, CBD Shopy, is keeping with the times and accepting digital currency as a form of payment – making itself the first in the UK market to do so.
CBD Shopy has reiterated its goal of providing the CBD market with a one-stop solution to the diverse needs of consumers as it announces the acceptance of cryptocurrency as a form of payment.
The buzz around CBD oils and other such products has continued to increase in recent times as millions of people, as well as professionals, realise the wellness benefits of CBD products.
Financial experts have continuously advocated for the use of digital currency due to its features. Unfortunately, many businesses and industries in the UK and other parts of the globe are yet to tap into this revolutionary financial solution. However, CBD Shopy is looking to change this narrative, particularly in the CBD industry as it accepts digital currency, specifically Bitcoin, Bitcoin cash, Litecoin and Ethereum as a form of payment.
Blockchain: the decentralised economy
The intersection of the growth of the cannabis and cryptocurrency markets has created a promising environment for firms looking to capitalise on the robust growth currently occurring in these industries.
Legalisation of the use of cannabis for medical and recreational use by governments around the world has led to powerful demand for the product, which shows no signs of letting up anytime soon.
Similarly, the ability of the blockchain to provide a decentralised, encrypted ledger to store records in an efficient, verifiable manner without requiring assistance from intermediaries has facilitated growth in the cryptocurrency market.
The blockchain serves as the backbone of cryptocurrencies such as bitcoin, and its radical transparency has enabled the use of bitcoin to process high risk transactions, such as those in the cannabis industry.
Companies that participate in either or both of these markets can take advantage of the interplay between them, as firms offering pureplay bitcoin offerings can benefit from the increased usage of the cryptocurrency likely to arise from the growth of the cannabis market, and companies strictly offering cannabis services can profit from the increased payment and management options enabled by blockchain technology and cryptocurrencies.