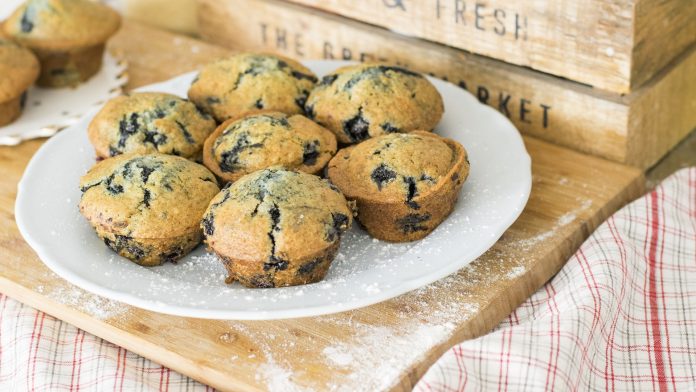 Campaigners have called for less sugar and clear nutrition labelling after new analysis shows that blueberry muffins sold in UK supermarkets contain up to ten teaspoons of the ingredient.
The new analysis by Action on Sugar and the Obesity Health Alliance (OHA) shows a major variation in content, portion size and lack of nutrition labelling on blueberry muffins.
In line with the UK government's plans to reduce sugar in common products by 20% by 2020, the two groups are calling for manufacturers to reduce the amount.
On average, muffins bought at railway station food outlets for the 'on-the-go' culture had 19% more per portion and were 32% bigger than those bought in supermarkets.
61% of all muffins included in the survey contained six teaspoons or more, which is the upper daily limit for a child aged 7-10 years.
Lack of nutrition labelling
There is also lack of nutrition labelling on products sold at popular outlets in train stations (AMT Coffee, Camden Food Co., Delice de France, Patisserie Valerie, Pumpkin, Ritazza and Upper Crust) and in supermarket bakeries, meaning consumers are in the dark about exactly what they're eating.
Below are blueberry muffins with their sugar contents:
Costa – ten teaspoons;
McDonald's and Pret A Manger – eight teaspoons; and
Marks & Spencer and Co-op bakery – four teaspoons.
Misleadingly labelled healthy
Caroline Cerny from the OHA said: "We may think grabbing a blueberry muffin is a reasonably healthy option for a snack on the go compared to other cakes or a chocolate bar – yet the figures suggest otherwise.
"There is huge variation in both the size of muffins and the sugar content, and with limited nutrition labelling it's all too easy to eat a huge amount of sugar in just one serving."
Cerny added: "Some of the muffins on sale have twice as much sugar than others. This shows that it is possible for industry to significantly reduce sugar even in their most sugary products to help us all make healthier choices. Industry must step up to the plate and take responsibility for making the food they produce healthier."
What is the recommended amount of sugar?
Children aged 4-6 years – five teaspoons;
Children aged 7-10 years – six teaspoons; and
Children aged 11 years onwards – seven teaspoons.
The joint alliance has called for front-of-pack traffic-light nutrition labelling to be mandatory across all products, including in the out-of-home sector.
Source: Obesity Health Alliance