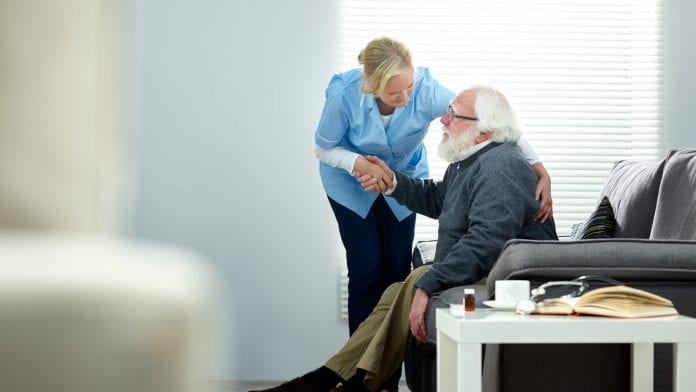 An immediate financial boost is needed for social care to support its exhausted workforce and ensure that vital services do not collapse, says ADASS.
The Association of Directors of Adult Social Services (ADASS) has said that extra funding is needed immediately to pay for additional staff and care as alarming gaps are appearing in social care teams through COVID-19 infection, self-isolation, and sheer fatigue. The sector, which had existing vacancies of 112,000 prior to the pandemic, is being expected to ease the strain on the NHS by supporting people discharged from hospital to free up beds but this is putting additional strain on the services.
ADASS is also issuing an urgent plea for anyone with experience of care work to consider returning to the job to help the care sector get through the coming weeks.
Supporting staff
ADASS says new recruits are needed as well as financial support to help its exhausted workforce and ensure that services for older people, disabled people, families, and carers do not collapse as the COVID-19 pandemic hits a new peak.
James Bullion, ADASS president, said: "Like our NHS colleagues, social care workers have never been under such pressure. They are doing more than ever before, but absences are high and rising and our capacity to keep vital services going is at grave risk.
"We need funding, now, to enable care providers to recruit extra skilled pairs of hands and we are asking anyone who has done care work in the past to think very seriously about returning to help us get through this. Every single person who steps forward will be making a huge contribution."
ADASS has asked for an additional £480m in England to increase the provision of care at home for older and disabled people and is seeking extra help in the form of £50 a week for family carers who are providing the most intense support for loved ones.
Bullion continued: "Family carers are playing a vital part in our national struggle against this deadly virus. If we fail to back them up, we will pay a high price when those they support fall back on the health and care services."
Improving pay
Many care workers are only paid £8.91 an hour. In light of the current crisis, ADASS is urging a major overhaul of pay and conditions for care workers – calling for a national care wage of at least £10.90 and significant investment in training and creation of career paths to put social care work on a par with that in the NHS.
Bullion said: "The extraordinary courage and dedication shown by our 1.5 million care workers during the COVID-19 crisis must be recognised. The pandemic has opened people's eyes to the essential contribution they make to our society for such relatively low reward."