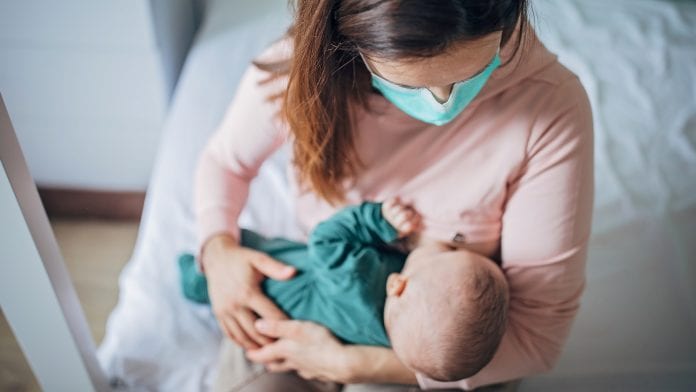 A new, observational study has demonstrated that it is unlikely mothers will pass COVID-19 to their newborn babies through breastfeeding if they take correct hygiene precautions.
Women who have COVID-19 and are breastfeeding a newborn are unlikely to pass the infection to the child if proper hygiene precautions are taken. The study involved 120 babies born to mothers with the infection and found no cases of transmission during childbirth or after two weeks of skin-to-skin contact and breastfeeding.
The study aims to improve guidance for breastfeeding mothers as current guidance for new mothers infected with COVID-19 is conflicting. The American Academy of Pediatrics advises that mothers and newborns should be temporarily separated at birth and recommend that babies are fed expressed breastmilk until their mothers are deemed to no longer be infectious according to certain clinical criteria.
The research can be found in the journal The Lancet Child & Adolescent Health.
Breastfeeding and COVID-19
If mothers wear appropriate face coverings and follow correct infection control procedures, newborns are unlikely to contract the infection, the study suggests.
Primary lead of the study, Dr Christine Salvatore, Weill Cornell Medicine-New York Presbyterian Komansky Children's Hospital, USA, said: "Data on the risk of COVID-19 transmission during pregnancy or while breastfeeding are limited to a small number of case studies. Consequently, guidelines for pregnant women and new mothers vary. We hope our study will provide some reassurance to new mothers that the risk of them passing COVID-19 to their babies is very low. However, larger studies are needed to better understand the risks of transmission from mother to child."
Currently, contrasting from the advice in America, the World Health Organisation (WHO) and the Royal College of Obstetricians and Gynaecologists recommend that mothers should share a room with their babies and breastfeed, with appropriate precautions – emphasising that the benefits of breastfeeding outweigh potential risks of COVID-19 transmission.
Joint lead on the study, Dr Patricia DeLaMora of the Weill Cornell Medicine-New York Presbyterian Komansky Children's Hospital, USA, said: "We know that skin-to-skin contact and breastfeeding are important both for mother-infant bonding and for long-term child health. Our findings suggest that babies born to mothers with COVID-19 infection can still benefit from these safely, if appropriate infection control measures are followed."
Further research and recommendations needed
The researchers highlight that the sample size in the study is small to draw firm conclusions and larger studies may be needed.
Dr Melissa Medvedev, of the University of California San Francisco, who was not involved in the study, commented: "Salvatore and colleagues provide valuable data indicating that perinatal SARS-CoV-2 transmission is unlikely and allowing newborns to room-in and breastfeed is safe, with appropriate precautions. Despite these insights, key questions remain unanswered.
"Robust population-based data are needed to quantify the incidence of complications among pregnant women and neonates, and to understand rates and routes of vertical and horizontal transmission, including asymptomatic transmission. Studies are also required to determine the effectiveness of infection prevention and control practices in the neonatal care setting."