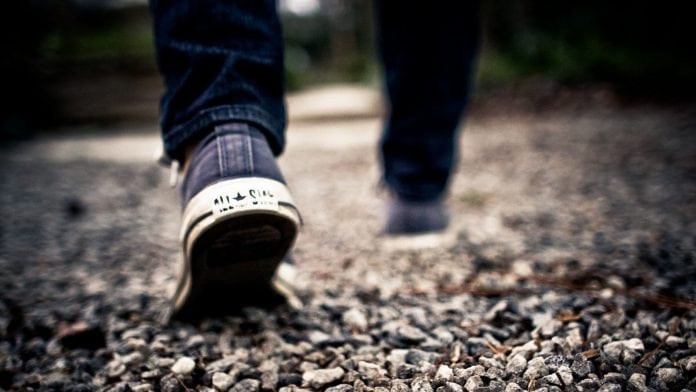 Public Health England (PHE) and the Royal College of General Practitioners (RCGP) are encouraging adults to focus on brisk walking to improve general health, advising that 10,000 steps isn't the only way to get healthy.
A new campaign from PHE aims to get adults more physically active by highlighting that just a ten-minute brisk walk counts as exercise and will improve general health.
There are an estimated three million middle-aged adults who are physically inactive in England, and experts are doing more to promote a form of exercise which ensures that moderate exercise can be achieved by a brisk ten-minute walk.
Increased walking intensity
PHE and the RCGP are encouraging people to increase the intensity of their walking and not to focus on the distance or number of steps.
Moderate intensity physical activity means getting the heart rate up and breathing faster. This can be achieved by a ten-minute brisk walk a day and can help to reduce the risk of early death by up to 15%.
Taking a ten- minute brisk walk every day can help build towards the recommended 150 minutes per week of moderate to vigorous physical activity. This has been linked to a lowered risk of:
Type 2 diabetes;
Cardiovascular disease; and
Some cancers.
What the public think of physical activity
A new survey by PHE about people's perceptions of physical activity found that:
Many adults struggle to fit in exercise, with 31% not having enough time, followed by 27% not feeling motivated and 25% being too tired;
Half of these adults think more than 240 minutes of exercise per week is required to see general health benefits, nearly double the recommended guidance of at least 150 minutes – and 15% think that more than 420 minutes per week is required (an hour per day); and
87% say they walk more than ten minutes per day; however, this drops to 54% who say they walk briskly for this amount of time.
Physical inactivity contributes to one in six deaths in the UK and costs the NHS over £0.5bn (~€0.57bn) every year.
Creating a positive impact
Professor Helen Stokes-Lampard, chair of the Royal College of GPs, said: "Small, often simple, lifestyle changes can have a really positive impact on our health and wellbeing, so anything that encourages patients to live better and move more is a good thing.
"There has been a substantial rise in the number of patients who have developed multiple long-term conditions in recent years, and many of these, including Type 2 diabetes and heart disease, are linked to not being active enough."
It was also reported this week that WHO director general Dr Tedros Adhanom Ghebreyesus and Portuguese Prime Minister Antonio Costa launched a global action plan on physical fitness.