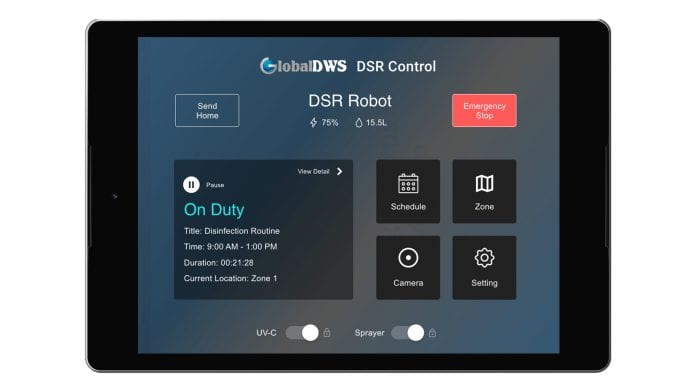 GlobalDWS: Combining UVC and robotics to create the  Disinfection Service Robot solution for COVID-19 risk management and prevention.
GlobalDWS is a leading international systems integrator and provider of cognitive services and innovative technologies, including Artificial Intelligence (AI), Internet of Things (IoT), and service robotics, to empower the modern workplace.
At GlobalDWS, we believe that innovation and creativity are key to empowering our customers in building a healthy and dynamic workplace which enhances productivity and collaboration. In these unprecedented times, it is critical that our public and private sectors come together to develop advanced and creative solutions to support frontline workers in healthcare, senior care, and essential businesses in the fight against COVID-19 and health crises of the future. "We believe that Canada has the talent and infrastructure to develop innovative solutions to meet the growing need for safer and smarter workplaces," says Rami Wehbe, CTO and co-Founder of GlobalDWS.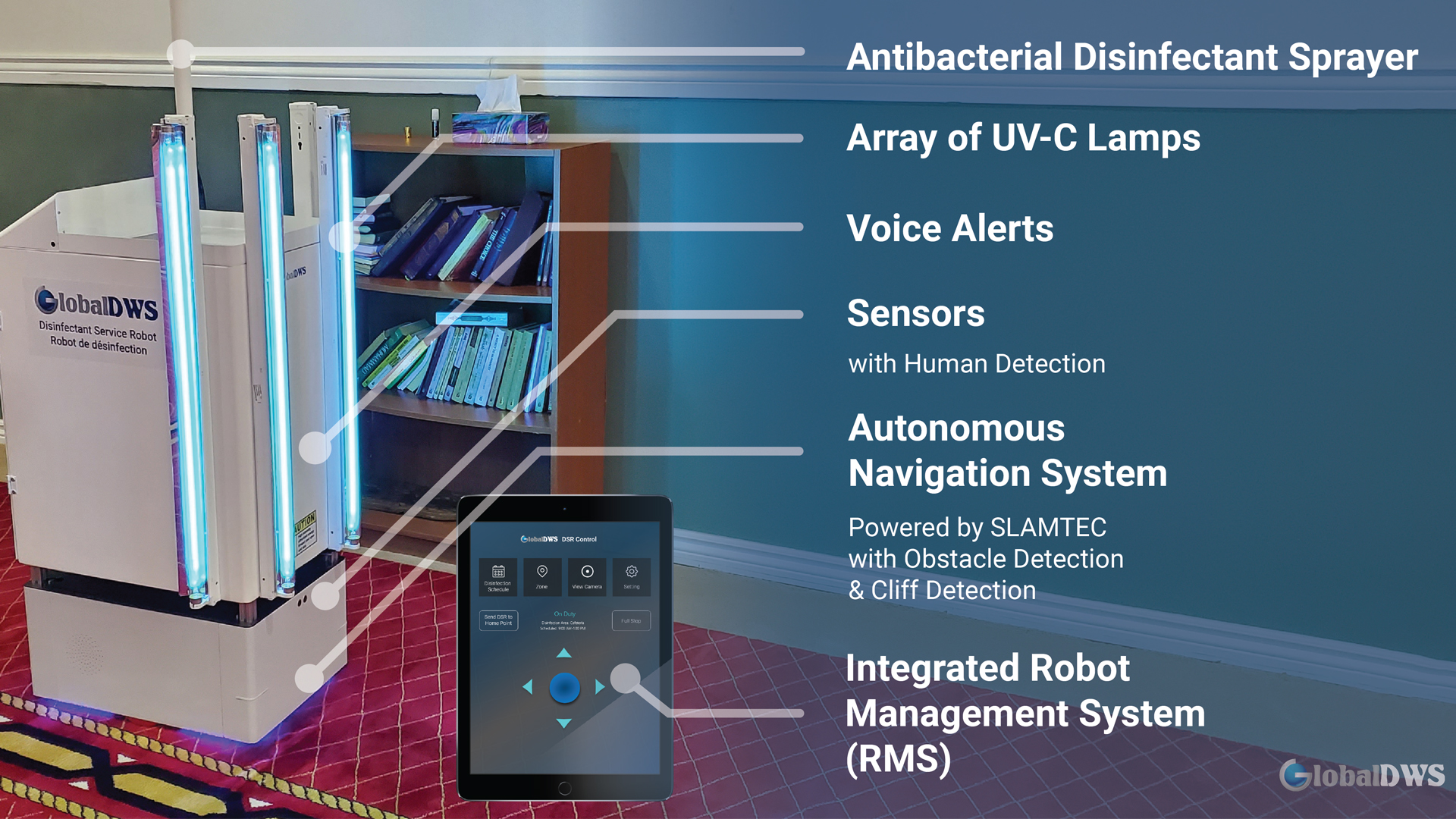 The solution
GlobalDWS's Disinfection Service Robot (DSR) is a fully autonomous robotic platform equipped with high-intensity ultraviolet-C (UVC lights) and a chemical disinfectant sprayer. The DSR leverages its autonomous navigation system and IoT integration to communicate between the disinfection module and other robotic components; and intelligently navigates throughout the facility to ensure all identified areas are thoroughly disinfected.
The DSR can be controlled via a mobile phone or tablet for operations related to the disinfection process and navigation. Controls for the UVC lights, disinfection sprayer, and navigation system provide staff and operators the necessary functions necessary to operate the DSR.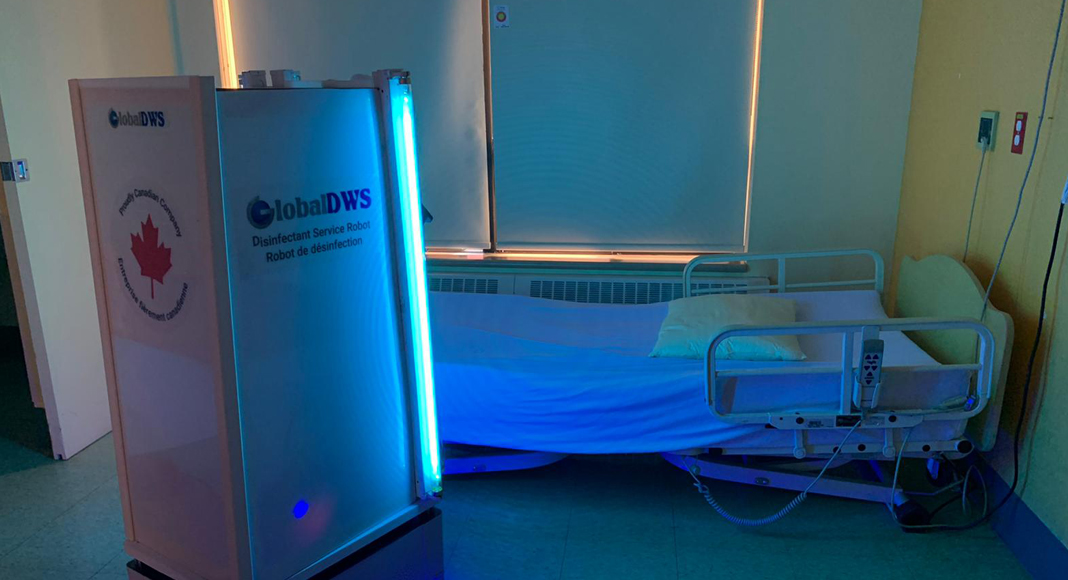 Multi-barrier disinfection platform
The DSR minimises the risk of exposure to COVID-19 and other harmful bacteria and viruses by delivering measured doses of 254nm UVC light and chemical spray to targeted areas. The UVC lights are strategically positioned on the DSR hardware to maximise the field of coverage allowing up to cover 220° of UVC exposure. To increase the effectiveness of the disinfection process, a chemical sprayer system was added to the solution to disinfect areas that were not specified as disinfection points by the user.
AI and cognitive capabilities
The DSR is engineered to leverage the autonomous navigation system to efficiently deliver automated disinfection throughout the facility without any human intervention. This is achieved by combining cognitive abilities such as intelligent vision and voice with the disinfection module and programme. Alongside its cognitive abilities, the DSR offers comprehensive safety assurance in the form of human presence detection and object detection and avoidance.
Safety features
With human safety as the top priority, the DSR is designed to take dedicated precautions during its operation. In addition to the safety measures taken by the autonomous navigation system, the DSR stands out by offering full 360° human presence detection using advanced computer vision. The human presence detection module notifies the disinfection system the moment a human is detected to turn off the UVC lights and pause the disinfection routine. Human confirmation is then required to resume operations.
Robot Management Portal
Built on Microsoft's Azure IoT Central platform, GlobalDWS's Robotic Management System (RMS) is an online IoT platform that allows appointed persons to control and manage aspects of their robotic environment. A DSR-specific online management portal that acts as an extension to RMS has been engineered for easy access to controls and insights to the disinfection process.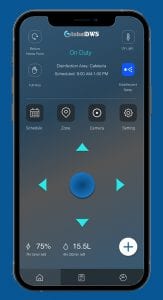 Reporting and analytics
The DSR's online management portal displays metrics and analytics related to the disinfection process for an elegant view of your disinfection performance. Information such as current job progress, areas disinfected, and robot health provide facility staff with valuable insights about the disinfected areas. The portal also provides functions for configuring disinfection routines and schedules. Administrators can remotely alter their disinfection sessions to fit their changing businesses' needs.
Smart building integration
GlobalDWS prioritises security, privacy, and a human-centric experience in all its solutions. Powered by Microsoft's Azure infrastructure, both the DSR and RMS have been designed to simplify the integration with new and existing smart buildings to deliver intelligent disinfection operations. Smart buildings and IoT devices empower businesses to uncover unrealised value by providing essential insights regarding their workplace operations. Real-time metrics from the robotic platform and other connected systems play a key role in providing appointed staff with up-to-date analytics to make informed decisions related to business operations.
Supporting community health and safety with DSR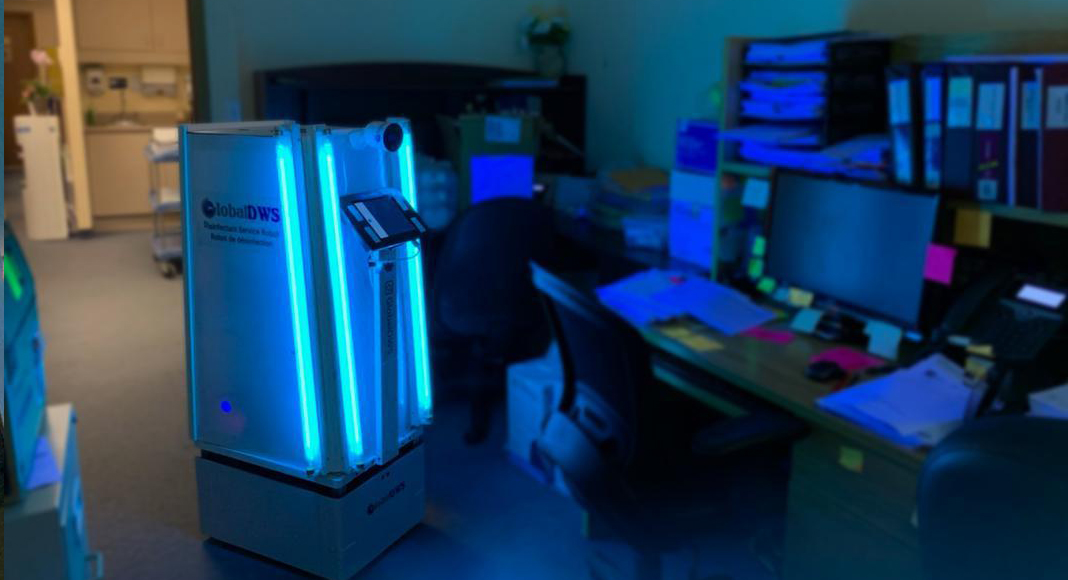 The crisis in Canadian healthcare long-term care facilities
Since the outbreak of COVID-19, seniors living in long-term care facilities account for over 80% of all cases in Ontario and approximately 3,400 deaths. In addition to regulatory issues, many of the challenges stem from the high recurring cost of terminal cleaning procedures, a lack of personal protective equipment and the resulting spread of infection among staff.
"When the World Health Organization (WHO) announced the onset of a global pandemic in early March, our team assembled to brainstorm how we could leverage our experience in innovative technologies and system integration to develop a solution that would help our community manage the months to come," says Jessica Knelson, Technology Marketing Analyst at GlobalDWS. "In just three weeks, we were able to bring our first version to market and support a local senior care home which had been identified as a COVID-19 hotspot by Toronto Public Health."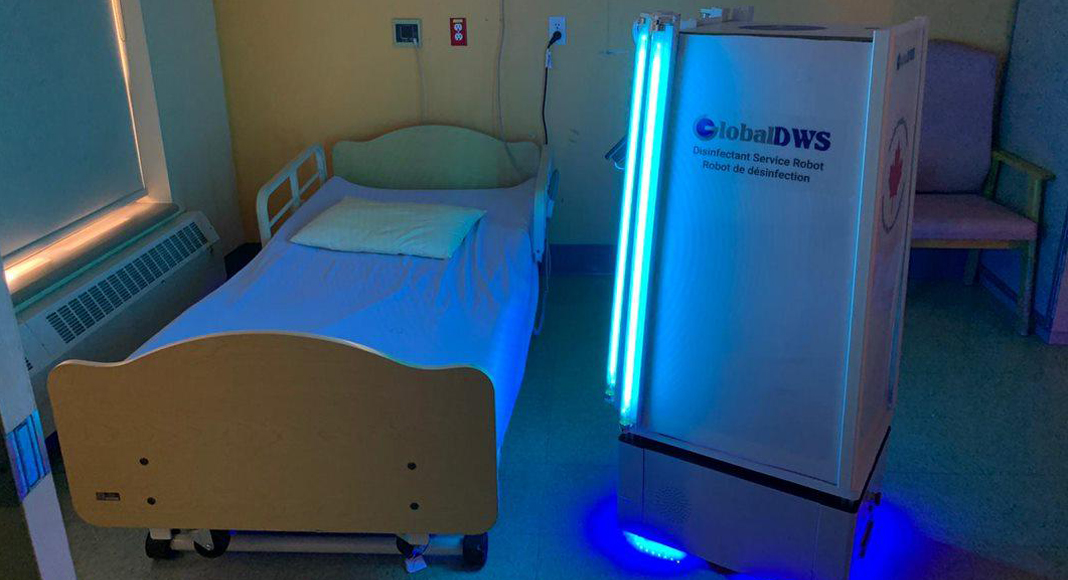 DSR case study in a Canadian senior home
GlobalDWS's DSR helped with the terminal cleaning of a local senior home affected by COVID-19 by disinfecting high-touch surfaces which were previously difficult to clean, such as resident charts, offices, and medication rooms.
Management identified the presence of the virus in their facility after a healthy resident tested positive for the virus after their room had been terminally cleaned. The affected facility's challenges and objectives with the pilot were to (a) deactivate the presence of the virus across the facility; and (b) gain the ability to keep the waiting area disinfected between visiting groups. The DSR platform provided the facility with an extra measure of precaution to protect the wellbeing of residents, staff, and visitors; reducing the risk of transmission, enhancing operational efficiencies, and increasing the emotional wellbeing of staff and residents.
Contact us
If you would like to learn more about our DSR and how it can improve your business processes and COVID-19 management, please contact our sales department for a complimentary one-hour consultation meeting.
This article is from issue 16 of Health Europa. Click here to get your free subscription today
Contributor Details