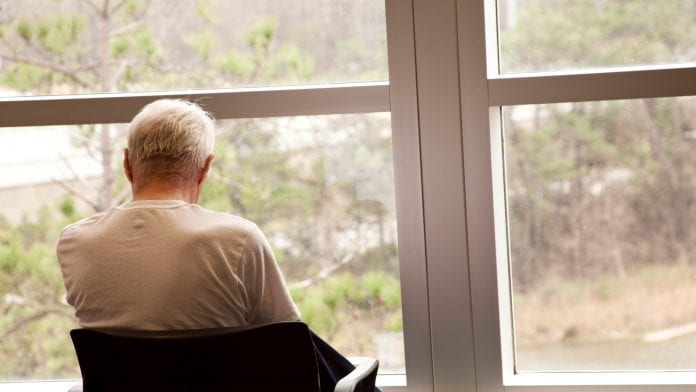 A campaign has been launched to call for a lift on restrictions which prevent families from seeing their loved ones in care homes due to the COVID-19 pandemic.
Since the UK went into a series of nationwide lockdowns at the start of March families have been unable to visit relatives living in care homes in a bid to prevent the COVID-19 virus from spreading to vulnerable populations.
But many people have expressed concerns over the impact that the social distancing restrictions are having on their loved ones, including Olivia O'Neill of Manchester who says that her father's health has declined due to not being able to interact with his family.
O'Neill has now launched the 'Put a Face to the Pain' campaign calling on the government to allow families to visit relatives who are living in care homes.
The campaign aligns with further calls from the likes of The Association of Directors of Adult Social Services (ADASS) which is now calling on the Health and Social Care Minister to allow family visits, highlighting that the absence of visits for older and disabled residents in care homes is having a profoundly detrimental effect on their health, welfare, and wellbeing.
Last month Vice President of the Court of Protection, Mr Justice Hayden circulated a letter in which he states that visits to care homes residents from family, friends, or a member of the person's household are 'lawful'. He was responding to recently updated guidance from the Department of Health and Social Care on policies for visiting arrangements in care homes.
Restrictions on family visits
O'Neill launched the campaign after not being able to properly visit her father for nearly seven months – only seeing him twice through a window.
O'Neill said: "Angela Rayner MP organised for me to be able to see my dad through a window twice – which wasn't great, but it was better nearly seven months with no contact whatsoever.
"The first time I was in complete and utter shock at how much he had deteriorated throughout this lockdown. This is someone who, before lockdown I was taking out for meals all the time. A lot of things he said wouldn't make sense, but that all there was really to it – you would not know that he has Alzheimer's unless you spoke to him.
"He was desperately trying to get out of the home a lot of the time to get to us and was being held back by the nurses that kept telling him to sit down. The rest of the time, he just stared blankly into the distance, which he has never ever done before."
Due to current restrictions, O'Neill is still unable to see her father, being told no visits would be possible for another six months – including window visits. After hearing this news O'Neill made a public call for people who were going through the same experience to share their stories.
"I've got hundreds of people writing to me, saying that they were going through the same thing and the pain it was causing to them, as well as the deterioration, of course, of their loved ones. So, I thought that this is not good enough. There are care workers going in and out of the home every single day, and the home health agency workers are going from home to home. If the homes were in total isolation, you could maybe understand it, but there are people coming in and out those homes every day anyway, and homes are accepting COVID-19 patients."
O'Neill highlighted that family visits are an essential part of vulnerable people's care, particularly residents living with conditions such as Alzheimer's or dementia as they are prone to decline with reduced social contact.
"If they spend a period of time without any family, they do not know who their family are anymore, and they lose even more of themselves because those loved ones act as an anchor to themselves, along with the increased distress that isolation from family causes. They don't understand where family members have gone, and they can't understand what the virus is or even the concept of it."
Calls to allow visits in care homes
O'Neill wants the Put a Face to the Pain campaign to raise awareness of the issues these families are facing and has collated a number of videos of families sharing their struggles with visiting loved ones throughout the lockdown periods.
O'Neill said: "This needs to be dealt with quickly and it should be at the top of the list of priorities right now. I'm going to keep fighting for it and keep pushing it until hopefully, we can achieve change. The number of people that I've spoken to whose loved ones have died in this area is serious. They've only been allowed to go in at the very last hour, and only one family member has been allowed to go."
Deputy Leader of the Labour Party, Angela Rayner, has supported O'Neil's campaign, saying: "My heart goes out to Olivia and to anyone that is unable to visit loved ones in care homes. It's extremely distressing for them and I completely understand their pain and anger. The Government need to get a grip of the test and trace system and give the social care sector the support it so desperately needs so that we can get to a place where our care homes and the virus is controlled so that people can see their loved ones.
"As we head into winter, Labour has warned the government to put a plan in place for care homes or risk a repeat of the first wave of coronavirus that saw tens of thousands of care home residents die. We know that cases are on the rise across the country, including in our care homes.
"We need a plan for care homes that will make sure staff have easy access to rapid testing kits and adequate PPE. Coronavirus has taken an enormous toll on elderly people and their families. The government need to learn the lessons from the mistakes they have made so far and make social care staff their top priority."
O'Neill added: "It's impossible to expect families to sit back and just allow their loved one to see through another six months, which a lot of these people won't make it through. I know I feel that way about my dad. So, because it's now a long-term problem, there's going to have to be money invested by the government.
"My message to the Government, or anyone that holds any sort of power to be able to change this on a personal level, is to put yourself in my shoes, where you are unable to see someone you love and someone who has done so much in your life. My dad is an amazing man and I have to sit back and live every single day knowing how much pain and distress that my dad is in and watch him deteriorate at an insanely fast rate that isn't normal and which is being accelerated because he's not been able to see me and his other family. This is something that I think is worth the money and time investment to change because I think on a personal level, any human being could see that this is not right."
Jointly with Healthwatch and the Care Support Alliance (CSA), ADASS recently wrote to the Secretary of State, to voice concerns regarding visits to care homes, noting that additional steps should be considered going forward to address this pressing issue and to enable care, support, and the emotional well-being of care home residents and their families.
On this issue, ADASS Immediate Past President, Julie Ogley, stated: "People's full range of needs must be considered in relation to visiting policies. Any entry (whether by visitors, staff, or maintenance staff) carries a degree of risk. Some providers have suitable environments (or adaptations), PPE, and reliable testing to enable visiting to happen as safely as possible. The views of all residents and their families should be sought as to the levels of risk they are willing to take as well as respecting and protecting the lives of others.
"Whilst, as a nation, we are facing enormous challenges to minimise the risk of infection and the spread of COVID-19, we must recognise the detrimental impact that not seeing a loved one for a prolonged length of time can have on the individual's emotional, mental and physical well-being. It is pivotal that we strike the right balance between protecting ourselves, people in care, care staff, our families, and our local communities, and the well-being of the individual."
To find out more about the Put a Face to the Pain campaign visit linktr.ee/putaface.
By Stephanie Price