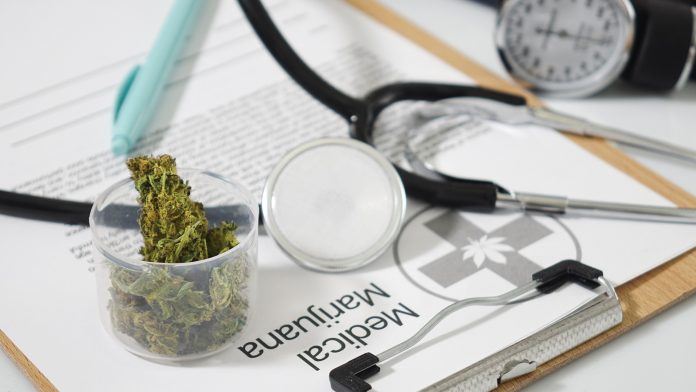 Medical cannabis is a prescription drug in Canada – so why are patients being forced to pay tax on it? CFAMM president and CEO Gerald Major shares his thoughts.
Being of European descent it is a privilege to be updating Europe on such an exciting topic. I use medical cannabis to treat ankylosing spondylitis and psoriatic arthritis among many other autoimmune conditions, mental health and the effects of chronic inflammation. I use medical cannabis for my skin, pain, mood, fatigue, appetite and, most importantly, sleep.
I am also prescribed pharmacological and non-pharmacological therapies and try to keep a base of exercise and good nutrition. Opioids are covered by most private drug plans and in public formularies for most Canadians, yet must I mention we are in a global opioid crisis. I have successfully reduced 85% of my opioid use for chronic pain as the result of arthritis through several surgeries and medical cannabis.
A patient in Alberta spending $600 (~€397) per month on medical cannabis will pay 24.3% ($145.80) in tax. For most Canadian patients, including myself, this means 24.3% under-dosing the physician-recommended dose. So, we have an amazing medicine that patients are having success with for various ailments, many of which are very severe, and these Canadian patients can't afford their medicine.
Founded in 2014, Canadians for Fair Access to Medical Marijuana (CFAMM) (Canadiens pour l'accès équitable à la marijuana médicale (CAEMM)) is a federal non-partisan, non-profit, patient-run organisation dedicated to protecting and improving the rights of medical cannabis patients.
CFAMM's goal is to support medical cannabis patients, improve their outcomes and enable them to obtain fair and safe access to their medication. We aim to continue to do more for the Canadian patients who choose to use medical cannabis as a treatment option. Medical cannabis patients in Canada have been left alone for far too long; CFAMM is changing that by giving patients an amplified voice.
Patient advocacy is alive and well in Canada. We protect and fight for our rights and support our most vulnerable with whatever it takes. This is what it means to be Canadian to me. We don't leave people behind under any circumstance.
The Liberal Party led by Prime Minister Justin Trudeau formed a majority government that brought cannabis legalisation to Canada on 17 October 2018. Minister of Finance Bill Morneau, Minister of Border Security, Organised Crime and Cannabis Act Bill Blair and the Liberal Party also brought taxing medicine to Canada for the first time.
Cannabis was subject to 'harmonised sales tax' (HST) from day one of the legal medical cannabis framework. HST does not apply to any other prescription drugs in Canada. Excise tax or 'sin' tax was added with the legalisation of recreational cannabis.
How is this tax charged in Canada?
The federal government currently requires that cannabis producers charge all medical cannabis patients an excise tax of 10% or $1 per gram. HST is then charged on the sum of the base price of the medicine plus excise 'sin' tax, forcing medical cannabis patients to pay additional tax on the excise tax applied to their treatment which can increase the cost of their treatment by over 25% depending on the province. We are applying tax on top of tax, and we are doing this to the most vulnerable people in Canada. Gasoline, rubber and fuel-inefficient vehicles are some of the goods subject to excise tax in Canada. Medicine has no place on this list.
So, what exactly is CFAMM doing about this government overreach?
CFAMM launched #DontTaxMedicine in 2017 and, since then, over 28,000 emails have been sent to elected officials advocating for the elimination of this unjust tax. The elimination of all taxes is an important step towards making cannabis more affordable for patients.
Medical cannabis is medicine, and, in Canada, we don't tax medicine. Removing the sales tax would be consistent with how we treat other prescription medicines, and we will continue to advocate for all taxes to be removed from medical cannabis. By placing unjust taxes on medicine, our government is hurting the very people they should be helping.
CFAMM is very proud of the cannabis industry, and we realise our responsibility and obligation to the same vulnerable patients we support. The support that we have received from the entire cannabis industry including data firms, back office systems, manufacturers, pre-licensed applicants, public relations and individual fundraising efforts has been very welcoming and rewarding to know that we will be able to do more for the people that need it the most.
We applaud all our ongoing supporters of CFAMM and by extension the patients we support. CFAMM has achieved many things over the years based on the backs of patient volunteers and cannabis industry leaders. We are excited and dedicated to doing more for patients. CFAMM must become a one-stop shop for medical cannabis patients.
How has the legalisation of recreational cannabis impacted patients?
The mandate of the legalisation of recreational cannabis was to regulate, to keep cannabis out of the hands of our children and profits out of the hands of criminals, and to ensure public safety. By not providing exemptions for medical patients, our government has basically ignored the more than 1.1 million medical cannabis patients in Canada.
Tax, impairment both at work and while driving, workplace disclosure and access are all issues where medical cannabis patients are being disadvantaged to the point of non compliance. Bad policy hurts Canadians; in Canada we don't tax medicine and we don't hurt those living with chronic illness. By not including exemptions for medical cannabis patients, patients have been ignored as a result of recreational cannabis legalisation.
About CFAMM
Canadians for Fair Access to Medical Marijuana is a federal non-partisan, non-profit, patient-run organisation dedicated to protecting and improving the rights of medical cannabis patients.
CFAMM's goal is to enable patients to obtain fair and safe access to medical cannabis with a special focus on affordability, including private and public insurance coverage. To learn more, visit us online via the contact details below.
Gerald Major
President and CEO
Canadian's for Fair Access to Medical Marijuana
Tweet @CFAMMcan
https://cfamm.ca/about-us/
https://donttaxmedicine.ca/
Please note, this article will appear in issue 9 of Health Europa Quarterly, which is available to read now.