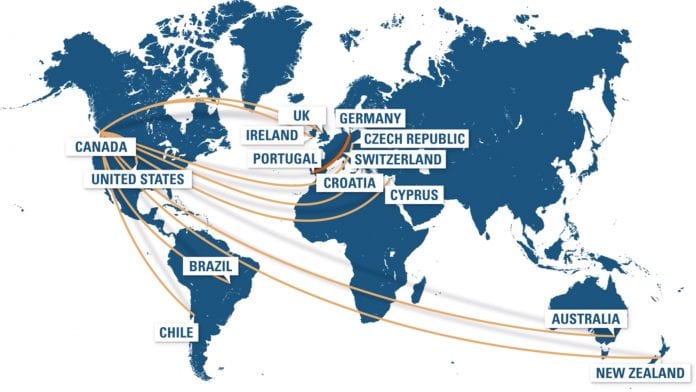 The European Union's nascent medical cannabis market is ready to expand with Canadian cannabis cultivators.
New Frontier Data estimates that the potential European market for legal medical cannabis exceeds $42bn (~€38.02bn).1 Currently, Europe does not cultivate enough cannabis to supply the existing and growing demand. In order to meet market needs for medical cannabis the EU must supplement locally produced cannabis with products from international sources.
Canada, with its established international market, is in a prime position to become a principal supplier. Canadian cannabis companies have been rapidly increasing their global reach, tripling exports of medical cannabis from 500kg in 2017 to 1,460kg in 2018.2 As international sentiment towards medical cannabis has shifted, Canada's largest cannabis cultivators have aggressively jockeyed to become a leading supplier of cannabis products globally.
Did you know that New Frontier Data are Partners with us? Discover their featured Partner Page about the legal cannabis industry and their insightful eBook delving into the world of cannabis research. 
Galvanising growth in Germany
Perhaps the best example of this phenomenon is Germany. Germany imported 2,500kg in the first half of 2019.3 While there are plans in place to begin domestic production, Germany is currently dependent on imported cannabis to meet the population's growing demand. At present, only Canada and the Netherlands are exporting medical cannabis to Germany for pharmacological use.4
Canadian suppliers are hurrying to capitalise on this market. Earlier this month, iuvo Therapeutics announced it received their first international shipment of cannabis from Canadian producer TerrAscend.5 TerrAscend joins Aurora, Canopy Growth Corp, Cronos Group, Tilray, and Wayland as one of the few Canadian producers with an export permit and an EU Good Manufacturing Practices (GMP) certified facility.
Tilray recently signed a deal to supply medical cannabis to Germany from its cultivation and processing facility in Portugal. According to the agreement, Tilray will export $3.3m worth of cannabis.6 Cronos has a five-year supply agreement with Pohl-Boskamp, a German pharmaceutical producer.7 Canopy Growth Corp (CGC) has identified Germany it as a key growth market. To that end CGC has set up part of their European operations in Denmark. They expect sales from their Danish facility to begin before the end of 2019.8
Germany won't be free of Canadian cannabis even after they start seeing the results of domestic production in early 2021. Of the 13 available lots awarded to cultivators by the German Federal Institute for Drugs and Medical Devices, nine were awarded to the German subsidiaries of Aurora Cannabis (5) and Aphira (4).9
Engaging the EU
Germany is not the only member of the EU dependent on Canadian cannabis to satisfy domestic demand. Tilray also has supplied medical cannabis products to Ireland, Croatia, the Czech Republic and many other European countries. Canopy Growth Corp has active subsidiaries in the UK, Spain, and Denmark. Aurora has access to Malta, Italy, Luxembourg, Portugal and Poland. For a snapshot of Tilray's and Canopy's Canadian cannabis activity world-wide, see the graphics below.
Creating competition
Canada's first-mover advantage has launched their cannabis producers onto the global stage. While this has allowed Canadian companies to increase their market cap, there are potential costs to such an expansion. Local operations will benefit from the transfer of intellectual property and talent. The ability to deploy this intellectual capital in developing markets could lead to accelerated growth for the competition.
The Netherlands has already started to update its practices based on its Canadian competition. They have planned a four-year trial where all coffeeshops will be supplied only by regulated growers. It is hoped that this will reduce illicit market activity and allow those regulated growers to capitalise on the total available market.10
International competition is brewing as well. In Israel, Breath of Life Pharma is targeting the EU, Canada, and Australia as potential export markets. Also, in Israel, Kalytera is developing CBD and next-generation cannabinoid therapeutic treatments for deployment in the US and Europe.11
In Latin America, Colombia is taking steps to differentiate themselves in the cannabis market. Clever Leaves, a vertically integrated and licensed producer of pharmaceutical-grade medical cannabis, was licensed to export cannabis into Canada for scientific purposes in the beginning of 2019. In late April, Clever Leaves became one of the first Latin American firms to export medical cannabis to Europe.12
Alternatively, we may find that Canada's first-mover advantage is substantial enough to allow them to invest in or outright purchase their international competition. Many local producers are facing off against Canadian subsidiaries with the advantages of established strategies & production pipelines.
Reference
Giadha Aguirre DeCarcer
New Frontier Data
+1 844 420 3882
sbentley@newfrontierdata.com
This article has also appeared in Health Europa Quarterly Issue 11, which is available to read now.
Recommended Related Articles