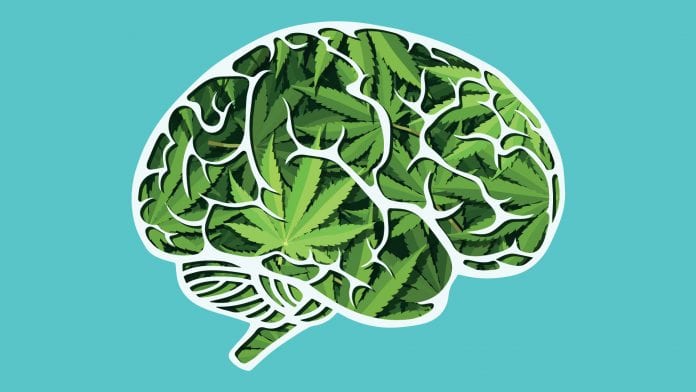 A number of studies have been looking at the link between cannabis and psychosis, however, much more needs to be done to fully understand the effects.
One recent study has linked high potency cannabis with the development of neurological conditions such as psychosis and schizophrenia, however, other research emphasises that it is not clear whether pesticides and other chemicals that are used in the growing of cannabis impact such conditions.
Dopamine signalling
Currently, there is not a lot of information about the effects of cannabis on brain neurochemistry, and specifically about its impact on dopamine signalling.
The recent study, published in Addiction Biology, provides the first evidence of a lowered response to stress-induced dopamine signalling in the brain's prefrontal cortex in individuals that are at high risk for psychosis who regularly used cannabis.
It found a dose-response relationship between higher cannabis use and increased risk for schizophrenia, a condition associated with abnormal dopamine synthesis and release in the brain.
Senior author Romina Mizrahi, MD, PhD, of the Centre for Addiction and Mental Health, in Toronto, said: "Regular cannabis use has a profound effect on cortical dopamine function, in particular in relation to the stress response, which is critical for young adults at risk for psychosis."
"These results highlight the need for further research on the impact of cannabis on brain neurochemistry, especially in populations at risk for psychosis."
Daily use
Daily cannabis use, especially of high potency cannabis, is strongly linked to the risk of developing psychosis, according to another case-control study from 11 sites across Europe, published in The Lancet Psychiatry journal.
The study suggests that in cities where high potency cannabis is widely available, such as London and Amsterdam, a significant proportion of new cases of psychosis are associated with daily cannabis use and high potency cannabis.
Dr Marta Di Forti, lead author from the Institute of Psychiatry, Psychology, and Neuroscience at King's College London, UK, said: "Our findings are consistent with previous studies showing that the use of cannabis with a high concentration of THC has more harmful effects on mental health than the use of weaker forms. They also indicate for the first time how cannabis use affects the incidence of psychotic disorder at a population level.
"As the legal status of cannabis changes in many countries and states, and as we consider the medicinal properties of some types of cannabis, it is of vital public health importance that we also consider the potential adverse effects that are associated with daily cannabis use, especially high potency varieties."
Dr Tom Freeman of the Addiction and Mental Health Group (AIM) at the University of Bath added: "In this major international study across 11 sites in Europe and Brazil, we found that patterns of cannabis use were strongly associated with both the risk of psychosis and its incidence. We found that daily use of high THC cannabis was associated with a five-fold increased risk of psychosis compared to people who never used cannabis.
"We also showed for the first time, that that variation in patterns of daily use and high THC cannabis can account for the substantial variation in the incidence of psychosis across Europe. This study cannot provide definitive evidence for a causal relationship between cannabis use and psychosis. "However, the association between THC exposure and mental health is of concern, given our previous findings that THC concentrations doubled across Europe in the last decade."
Contaminants and medical standardisation
Some research, however, suggests it is not clear whether high levels of THC that impacts mental health, or whether contaminants and impurities in illegally and legally grown cannabis is a factor.
A paper, Cannabis contaminants: sources, distribution, human toxicity and pharmacologic effects, published in the British Journal of Clinical Pharmacology, noted: 'Grey and academic literature highlight the presence of pathogenic microbial contaminants, particularly bacteria and fungi (mould), within cannabis preparations. Most of the microbial contamination occurs during the improper preparation and storage of cannabis products.'
Mite and budworm infestations as well as fungal infections of cannabis flowers, such as botrytis and mildew, can occur in cannabis that is harvested whilst it is wet, and which is dried and stored under wet, humid conditions.
The study also noted the problems posed by pesticide use in the growing of cannabis: 'Pesticide use for the cultivation of cannabis crops is well established. Human consumption of pesticides may confer substantial sequelae, including malignancy, developmental issues, reproductive, neurological and endocrine disorders.
'Russo recently reported on the significant prevalence of pesticide contamination in Washington State, where laboratory analysis revealed that 84.6% of legalised cannabis products contained significant quantities of pesticides including insecticides, fungicides, miticides and herbicides. These comprised a wide array of different substances and encompassed proven carcinogens (Carbaryl, Diuron, Ethoprophos, Permethrin, and Propargite), endocrine disruptors, as well as a variety of developmental, reproductive and neurological toxins.
'These findings corroborate an earlier analysis by the Los Angeles City Attorney's office, who found excessive quantities of the pesticide Bifenthrin in medicinal cannabis samples. The prevalence, constituents and concentration of pesticides above maximum residue levels in cannabis preparations remains incompletely described in the scientific literature.'
It also notes that there have been many reported cases of cannabis being contaminated with salmonella and Enterobacter, streptococcus, klebsiella, and fungal such as mycotoxin‐producing strains of Aspergillus.
It states: 'Much of the information regarding microbial contamination emanates from isolated and uncontrolled case reports and series, as well as growers' personal communication.
'In the absence of quantification and effects on health, as the medical cannabis industry moves forward, thresholds for clean medicine, standards and procedures, such as TGO 93, need to be developed and standardised internationally.'