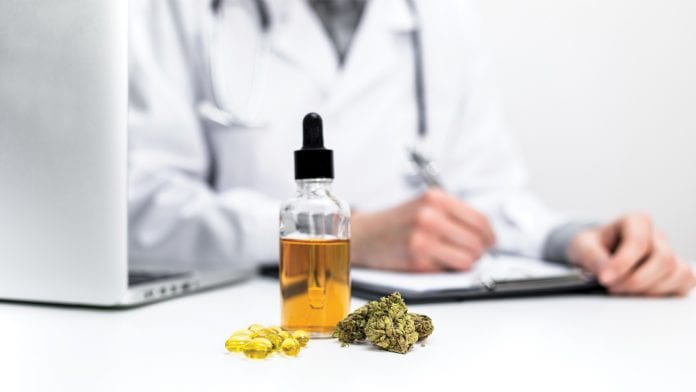 Managing Director of Cannabis Doctors Australia (CDA), Dr Matua Jansen, explains how CDA is leading the charge towards providing simple and affordable access to medical cannabis.
For Dr Matua Jansen, the journey towards becoming a medical cannabis advocate started after his move to Australia from New Zealand to work in Oncology. " I witnessed first-hand the side effects chemotherapy, and the over-use of prescription opioids were having on my patients, but it wasn't until I had a patient who one day refused chemotherapy, and asked me about medicinal cannabis treatment that I started to really look at it as a viable option.
I was hesitant at first, unaware of the evidence that existed in support of it. However, the patient went on to show me numerous studies and research which indicated that in her case, there was the possibility that medical cannabis could be used as an effective treatment. This inspired me to investigate and learn more about the plant and its potential."
Coming from a family in which there are five doctors over two generations; the same inspiration was also felt by other members of the Jansen family. What followed was a discussion between Dr Matua Jansen and his cousin Dr Ben Jansen, on how through the changing medical cannabis legislation in Australia, they could ensure not only that patients could access affordable medical cannabis treatment, but also that they could ensure the quality of the products being prescribed. This thought process led to the founding of CDA Health group in 2018 by three members of the Jansen family.
Who is CDA Health?
CDA Health Pty Ltd is the parent company of the Group, aimed at setting the standards on how cannabis products are imported and how they are prescribed to patients in need. The Group has four subsidiaries. Burleigh Heads Cannabis (BHC), Cannabis Doctors Australia (CDA), Cannabis Doctors Aotearoa Limited (CDANZ) and Healthy Not High (HNH).
The first of these, Burleigh Heads Cannabis (BHC), is the wholesale branch of the CDA Health family. BHC was one of the first Australian companies to be granted a wholesale and distribution licence in 2017. The Founders of the company saw this as an important step in overcoming some of the challenges they foresaw for patients in the emerging medical cannabis market. This step was crucial to ensure that patients had access to the highest possible standard of medical cannabis, that it was safe and importantly reliable.
"One of our priorities when we started, was how to ensure the standard and quality of the cannabis medicines we would be prescribing our patients. We quickly realised that the best way to enforce this would be to apply for a wholesale and distribution licence. That way we could have some control over the product. This resulted in us by default helping to set the standard for the way each State now oversees licensing and approvals in terms of the security levels we have in our warehouse, and the oversight we have over how the medication is approved, how the medicine is stored and how it is transported. Every little step has been carefully considered to guarantee it cannot be tampered with, and ensure we are accessing safe medicine that comes with certificates of analysis, grown to specific standards and quality". States Dr Matua Jansen, Managing Director of CDA.
Since being one of the first to apply for a licence, the 'firsts' haven't stopped. In 2018, BHC was the first to import CBD crystal isolate into Australia; and more recently BHC were officially registered to have the strongest cannabis flower in Australia. This enables patients to have access to quality therapeutic medicines at affordable prices via BHC.
The second subsidiary is Cannabis Doctors Australia (CDA), which is the clinical arm of the Group. CDA's objective is to provide an efficient, affordable and streamlined process for patients requiring medical cannabis access. CDA operates several doctor-led medical cannabis clinics along with an Australia-wide TeleHealth consultation service whereby patients can consult from the comfort of their own home.
CDA is one of the first (possibly the only), medical cannabis Enterprise in Australia, to pass the key milestone of 3000 patient approvals and over 7000 prescriptions, since launching in October 2018. The clinical model is run and managed by CDA's internal doctors and medical practitioners who have chosen to undergo the CDA training programmeThe training involves education in all regulatory and compliance considerations, familiarisation with the consultation and application processes and a series of templates that CDA's in-house doctors have developed.
"We formed our first clinic in October 2018, and since then, we have gone to open more clinics throughout the east coast of Australia. So, in a sense, what we've done is set up a doctor-led organisation, that is independently owned, and is Australian registered with well-informed Australian doctors, and we aim to continue to expand that model throughout Australasia.
The importance of this entity is threefold. Firstly, it has enabled us to standardise the consultation process. Secondly, it has enabled us to collect important data on the effectiveness of the medicines, and lastly it has enabled us to exercise the power of the patient, in the sense that with over 3000 patients, a number that is increasing daily, we are now in a strong position to negotiate for more affordable pricing on their behalf." Explains Dr Jansen.
The third of the subsidiaries is Cannabis Doctors Aotearoa Limited (CDANZ). CDANZ was established in response to New Zealand's less stringent legislation, whereby doctors can prescribe medical cannabis to patients without the need for complex approvals. CDANZ utilises the same trusted patient-focused clinical model as Cannabis Doctors Australia. CDANZ provides operational and technical knowledge as well as intellectual property to pharmacies and affiliate doctors within their network that are currently seeking access to medical cannabis.
"We are about to ship product to New Zealand to cater for the medical cannabis patient base there and to offer more affordable products than those that are currently available in New Zealand. We are also training doctors and specialists to make sure that we're providing the same level of quality service as we do in Australia. Finally, we are ensuring CDANZ doctors are using standardised treatment plans to ensure that patients are safely being prescribed with products, being monitored, and being evaluated as per our tried and trusted processes." States Dr Jansen.
The fourth entity is HNH. This is the Group's hemp and nutraceuticals brand that aims to have sustainable Australian-grown hemp products sold online and in-store. Currently, it's in the early stages and preparing for the changes in the legislation, which will potentially enable CBD to be de-scheduled. Here we will have a focus on a brand that can build itself within the food and beverage sector, as well as the health and wellbeing sector.
The challenges and opportunities
According to Dr Jansen, Australia has already taken a big step in the legalisation of medical cannabis, but as with all new emerging markets, and particularly in one as contentious as cannabis, there are several hurdles that need to be overcome. The first and biggest is misinformation. The second is cost. Through the Group's medical entity, Cannabis Doctors Australia (CDA), the company's founders have taken these challenges head-on.
"Years of prohibition has meant that, even though the recent 2018 Prohibition Partners Oceania Report estimated that 1 in 13 people aged 15-64 currently use cannabis in the Oceania region as a medicine, the medical properties of the cannabis plant are not widely known by patients and doctors alike. As a result, information […] or rather misinformation is a big challenge." confirms Dr Jansen.
Informing patients
Patients are now becoming more, and more aware of the potential of medical cannabis and its benefits for those suffering from chronic illnesses. Unfortunately, a lot of the information readily available has up to now, been second-hand, often confusing and in some cases completely wrong, passed on in social media, word of mouth or by those who wish to make a profit from the suffering of others.
CDA has taken a novel and very practical approach to the challenge of ensuring patients are more informed – it has used the internet, social media and advocacy groups to ensure that as many people as possible are informed and also made aware of the data and research that is out there on medical cannabis, and in so doing, helping people make better informed decisions with regards to their health and medical cannabis.
"Information is key. So, we try to make available as much free information and research as we can online and social media for patients. Additionally, we attend and speak at events – all to raise awareness, and at the same time gather data which we use and share, to better inform the public and medical colleagues.
"In-fact by doing this, we have helped many people come forward and seek medical advice and treatment, paving the way to over 55 medical conditions being acknowledged and approved for medical cannabis treatment in Australia." states Dr Jansen.
Informing doctors
To address the challenge posed by misinformation amongst doctors, resulting in some being hesitant to prescribe medical cannabis to patients; CDA has, with several other clinical specialists and subject matter experts, carefully put together a comprehensive training program.
Dr Jansen Explains, "Doctors are not educated on the endocannabinoid system. So, we have put together a comprehensive program that covers topics ranging from physiology right to the practical implications of prescribing, effective and safe monitoring, and evaluation of patients."
How does this all translate in terms of providing value and benefits for patients?
"Two of the four directors of this company are doctors, with decades of experience. That experience has meant that we have helped to design an organisation that, from the beginning is patient focused. So that right from the start, patients have access safe, affordable treatment plans through standardised quality medical cannabis consultancy. To ensure this, we have been able to establish a CDA patient journey from the beginning, when they inquire on our website, social channels and so on, and from this, they are able to get a level of information that is superior to others in the marketplace. We're talking about specific information to patients on what the processes for approval is, how cannabis products work and what the costs are. We can also assist them with getting referrals from their regular treating doctors to CDA doctors, to be approved for medical cannabis.
For example, we had a patient in Victoria who went to see the doctor and suffered from chronic pain – when they saw a regular doctor, unfortunately, that doctor lacked the correct level of knowledge regarding the potential benefits of medical cannabis. As a result of this, they declined to refer that particular patient, and they failed in their duty of care to the patient- to understand that they have an obligation to the patient, to educate themselves on the legal alternatives available.
"At CDA, we have developed a database including hundreds of doctors who can refer their patients. Using our database, we were able to find that particular patient a referring doctor, then CDA was able to consult with the patient, prescribe the required medication, and the patient was able to collect the medicine from their pharmacy all within two weeks." States Dr Jansen.
What does the future hold for CDA?
The founders of Cannabis Doctors Australia believe the future is bright for the Group. Having successfully achieved validation of their clinic model, training program, and assured the import of safe and reliable products, the founders are now looking at expanding the clinic model within Australia, and also internationally across to New Zealand.
Furthermore, they are aiming to build manufacturing capability that will allow them to take bulk products and convert them to finished high-quality products, which will in turn, enable patients to access more affordable medicines. The aim? – To grow the organisation into Australia's leading medical cannabis provider.
Dr Matua Jansen
Managing Director
Cannabis Doctors Australia
www.cannabisdoctorsaustralia.com.au
This article will appear in Health Europa Quarterly Issue 11, which is available to read now.