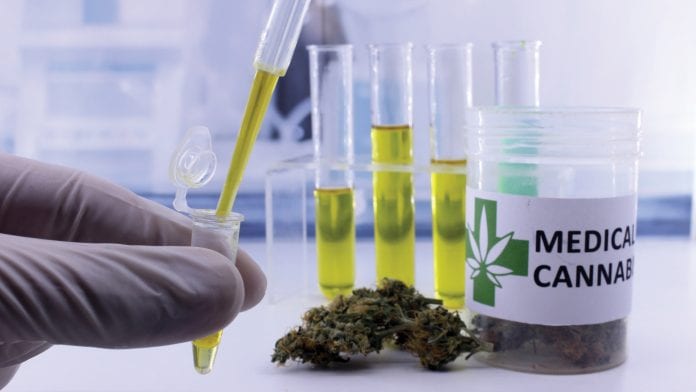 Strainprint™ Technologies Ltd leads the way in a rapidly evolving cannabis industry, providing user-generated medical cannabis data and analytics.
Canada made history on 17 October 2018 by ending prohibition, giving the green light on recreational cannabis and making it the second country in the world to legalise the plant nationwide. Since then, the legal cannabis industry in North America has been booming and is showing no signs of slowing down. It is rare in a lifetime to witness the birth and rise of a brand new industry, and everyone from physicians, growers, legislators, medical researchers, retailers, executives, patients, lawyers, marketers, and everyday users are diligently working to set up and source the necessary tools and data to help navigate this abundant new world of opportunity.
Strainprint™ Technologies Ltd (Strainprint), based in Toronto has risen to the occasion; continually growing and evolving their portfolio of services to adapt to the ever changing industry. The 'cannabis big data' technology company is the leading demand side cannabis data and analytics company, with the world's largest longitudinal, real-world observational data set of its kind.
What started as a handwritten patient journal for Strainprint co-founder Stephanie Karasick to track how different strains and consumption methods affected her, has quickly evolved into an all-encompassing cannabis intelligence ecosystem, helping to advance the scientific understanding of cannabis and its legitimation as a mainstream therapy. The rapidly growing company is taking the guesswork out of medical cannabis for users, patients, physicians, and the entire cannabis industry across North America.
How are they doing this?
For many people who are receptive to using cannabis as a therapy treatment, finding the right strain and dosage to treat any given condition or symptom can be a gruelling process which is riddled with obstacles.
People are often surprised to learn that cannabis was actually frequently used for medical purposes prior to the 1930s, but more than 80 years of prohibition and the removal of cannabis from the pharmacopoeia made certain that there are currently limited clinical trials on cannabis; and as a result, a lack of understanding of the medicinal healing opportunities. This can make it very difficult for patients, physicians and pharmacists to determine which products align best with a person's genetic, health, and situational variables. A common roadblock when it comes to increasing the understanding and acceptance of cannabis is that often when patients do find an ideal strain suited to their symptoms, they are hesitant to share that information due to the societal taboos that still linger around cannabis consumption, even when it applies to its wellness benefits.
However, more studies are showing that using cannabis as a legitimate therapy has many short and long term benefits and can help to treat countless physical and mental symptoms. Evidence thus far from limited observational and clinical studies conducted by Health Canada suggest that cannabis and prescription cannabinoids may be useful in alleviating a wide variety of conditions and symptoms, such as:
depression;
anxiety;
insomnia;
nausea and vomiting associated with chemotherapy;
multiple sclerosis;
epilepsy;
chronic pain;
acute pain;
headaches and migraines;
post-traumatic stress disorder (PTSD);
alcohol and opioid withdrawal symptoms;
glaucoma;
sleep disorders;
Alzheimer's disease;
dementia, and many more.
However, much more research is required for cannabis to be perceived as a legitimate medical therapy. Due to the limited scientific research and clinical trials available, figuring out which strain is best suited for which symptoms or conditions can be an exasperating guessing game for both patients and physicians alike.
The Strainprint app is helping users to overcome these frustrations and teaching them to use cannabis in the most effective and responsible way possible by providing real time, reliable, and user driven data to determine the optimal strain to treat any given condition. Users can track their consumption and the effectiveness of a specific product they're using.
The idea for such an app came to fruition when Karasick began looking for alternative treatments to manage her PTSD. "I spent my life adrift in a fog" she said. When she was only six years old, her brother passed away triggering a deep trauma which sent her on a trajectory of significant sadness and depression, along with a crippling fear of death.
After years of trying different prescription drugs without success, she was eventually introduced to medical cannabis as a viable alternative to treat her emotional suffering. She consulted with medical professionals and obtained a medical cannabis permit (which was required to access medical cannabis prior to Canada legalising recreational cannabis nationwide in 2018). Karasick quickly found it to be the most effective and sustainable treatment option for her PTSD symptoms, thus beginning a new journey to healing. "For the first time in my life, I saw a light at the end of the tunnel. I felt joy."
As she began exploring which medical cannabis strains and ingestion methods worked best for her symptoms, she came to realise two things. "One, cannabis worked for me; and two, not all cannabis worked well for me," she recalls. "With so many strains to choose from, I was overwhelmed, and I didn't know how to track my experiences of what worked and what didn't" – until she thought about her Fitbit.
"If I can track my steps, why can't I track my cannabis use too?"
It was this realisation which got Karasick thinking about how all medical cannabis users could learn to use cannabis more efficiently and soon, the idea for the Strainprint app was born. To get started with the free app, patients simply log in when they are ready to medicate, select the symptom they would like to treat, then rate how well a strain, dose, and administration route worked for them. After they input their experience, the app then summarises and anonymises the data, storing it within a secure cloud-based network. This highly secure system uses 256-bit, military grade encryption and exceeds the confidentiality requirements of Canadian, US and European government health agencies (HIPAA, PIPEDA, PHIPA).
"Strainprint is perfect for me to track how well what strain works and when to treat epilepsy, lumbar fractures and migraines," said Andrew, an app user from Ontario. "It also offers suggestions on cannabis strains other users have said helps them. It's very easy to use and very accurate."
Since its introduction to the market in 2017, the app has powered more than 1.35 million patient reported outcomes and was recently recognised for 'best app' at the 2019 O'Cannabiz Industry Awards Gala. The demand for the ground breaking tool is a true testament to its success and no doubt a direct result of its user friendly and crowd sourced set up.
Although other cannabis tracking apps are on the market, the Strainpoint app is not substantiated by reviews, but rather proven patient results. It is powered by patients for patients, and was designed alongside physicians to produce quantitative, actionable medical grade data, providing much more than the anecdotal or qualitative evidence found in other cannabis apps. It tracks 350 conditions, 70 symptoms and 15 cannabis administration routes, and comes prepopulated with more than 1,600 legal and lab verified cannabis products from across North America. In just two short years, Strainprint has collected more than 65 million data points, including strain names, terpene profiles and the percentages of various cannabinoids found in different strains.
"As a veteran who relies on medical cannabis to lead a healthy life, I can honestly say that this is the best app out there for tracking medical cannabis use and how it affects you," said Jim, a medical patient from Nova Scotia. "Its ease of use and the option to convert your results to a PDF format to give to your doctor sets it above all else. I was totally new to the use of medical cannabis, and the Strainprint app has been my guide since the start. It's an absolute must for anyone serious about getting healthy with medical cannabis."
Having earned much success and recognition in North America, Strainprint now has their sights set on European cannabis markets. In fact, the company is working diligently to become General Data Protection Regulation (GDPR) compliant to fulfil the new standards for consumer privacy rights in the EU. This will enable them to introduce the app and other research and technology tools to patients, medical professionals and governments alike throughout the continent.
The app fuels industry leading cannabis data and analytics
The power of the app goes well beyond patient outcomes. The confidential user information collected goes on to feed the company's analytics platform, Strainprint Analytics. This subscription service takes the 100 per cent anonymous data and offers access to clinics, pharmacies, licensed producers, researchers, physicians, and governments should they choose to subscribe. The real-time data helps the aforementioned groups make informed decisions about what to grow, what to prescribe and what trends are on the horizon. Once logged into Strainprint Analytics, subscribing clients can access community data in legible charts and reports that reveal outcome patterns, patient behaviour changes, and popular strains based on patient or consumer interactions and efficacy.
What makes the relationship between the app and the analytics function so unique is its crowdsourcing nature, and as users input their results, their data contribution and tracking help to influence and shape the entire industry in real time, with the possibility of fuelling research and change that could eventually circle back to affect their own health in a positive manner.
This leads to improved production and treatment, and better market and medical research industry wide. With more than 1.35 million anonymous personal health records and 65 million data points, Strainprint Analytics is currently the leading source of medical cannabis data in all of North America.
For the ever-growing pool of businesses popping up in the cannabis industry each day, Strainprint Analytics can provide them the resources to select the most effective medical strains for cultivation. Businesses have the opportunity to identify patterns for the products they cultivate, process or distribute, not to mention they can gain key insights into consumer behaviour and preferences, delivering a substantial competitive advantage with nearly instant product feedback in an increasingly over saturated and complicated marketplace.
By delivering this unparalleled market research, the analytics service also provides physicians and researchers with game changing solutions that help simplify the often-convoluted navigation of the medical cannabis landscape. For physicians and other medical professionals, having an established understanding of a strains' ideal function can streamline the consultation time needed to find the right treatment for patients, improving patient outcomes by recommending strains with proven results and boosting patient engagement and loyalty by helping them to track the effectiveness of their treatment in real time.
Furthermore, the data and analytics generated by the app is helping researchers, government agencies and policy makers to advance medical research studies and clinical trials, which in turn helps improve the quality of life for a large and growing community of medical cannabis patients across North America. If these groups continue to use this information to their advantage, they'll no doubt be at the forefront of history, helping to solidify Canada's role as a world leader in cannabis data and research.
For example, Strainprint recently partnered with Israeli research leaders Lumir Lab and Gynica to conduct the world's first international clinical study on using cannabis to treat endometriosis, a condition affecting 180 million women around the globe. Lumir Lab is a research and development laboratory licensed by the Israeli Ministry of Health, located in Jerusalem Biotechnology Park, Hebrew University.
The study is leveraging Strainprint's clinical trial ready research platform to provide ethics approval, validated questionnaires, custom surveys, real time treatment tracking and data visualisation in support of in clinic visits. Gynica and Lumir Lab will also use the Strainprint Community, the company's community portal to recruit as many as 1,000 patients in each country.
Survey participants must be 18 years or older and currently suffer from endometriosis. Once they register to the Strainprint Community, they can request access to an exclusive group only open to questionnaire participants, giving them access to the questionnaire, forums, specialised endometriosis education materials and more.
Here is how interested candidates can participate:
Go to https://strainprint.ca/community/groups/endometriosis/;
click 'Join the Community' or 'Already a Member? Login here;
you'll be returned to the endometriosis group where you'll click request membership; finally
once your group membership has been approved and you enter the group, click on the survey link.
The study seeks to develop clinically validated cannabinoid-based products that can be approved for international distribution. A key objective is to identify which active cannabinoids, terpenes and flavonoids provide the most effective relief, reduce pain, and prevent reoccurrence.
As the research and medical opportunities of the cannabis plant gains more global legitimacy each day, people will continue to have the unique opportunity to participate in many more ground breaking medical trials.
With analytics comes comprehensive research reports
Designed to work in tandem with the analytics platform, Strainprint recently added research reports to their growing platform of technology services. The objective is to provide comprehensive evidence-based research reports to physicians, healthcare workers, producers, researchers, pharma companies and policy advisors by leveraging Strainprint's proprietary data, thus delivering additional resources and support to those working to push the medical cannabis barometer forward.
Prescription pharmaceuticals undergo phased clinical trials, and cannabis as a plant-based medicine is not subject to these same stringent requirements. The need to understand the medicinal capabilities and interactions of this plant are incredibly important, yet knowledge is incredibly limited.
While there is a great deal of supply side data available, the demand side data produced by Strainprint sets itself apart with their patient reported outcomes data generated through the app.
Providing simplified interpretations of complex subject matter, the report service delivers sought after, and symptom specific reports, product profiles and usage reports, as well as specialised industry surveys and reports to better meet patient needs based on a variety of published topics.
The first available reports include a study of more than 35,000 outcomes from more than 2,700 patients on a variety of formulations and administration routes for treating insomnia. The insomnia report reveals significant gender and age differences, as well as key chemical profile similarities. Similarly, Strainprint's polypharmacy report analyses the results of a custom study of more than 1,000 app users across a variety of symptoms to understand polypharmacy attitudes and behaviours. Survey results and analysis revealed the behaviours of respondents who use cannabis in combination with at least one other form of medicine to treat their symptoms.
Strainprint will soon release The Canadian Medical Cannabis Experience: A 2019 Patient Retrospective, an invaluable report designed to support the entire industry by providing key consumer insights that analyse variables such as age, gender, region, usage, and product efficacy. Using 1.35 million patient-reported outcomes including more than 800,000 lab-verified patient interactions from medical cannabis patients who were treated with full spectrum, lab-tested products from dozens of licensed producers across a variety of symptoms and conditions, the report will give medical professionals and industry stakeholders instrumental tools to make informed medical and business decisions.
With a full editorial calendar and the option to create custom reports tailored to specific topics at the request of researchers, Strainprint is empowering and educating said researchers and guiding the future of clinical medical cannabis trials around the world.
Strainprint is continually challenging the status quo and looking for partners who align with their vision to explore cannabis research and teach people to 'use cannabis better,' thus changing the way healthcare providers and policy makers think about cannabis as a legitimate medical therapy and shifting the way people understand patient interaction with cannabis.
Andrew Muroff
CEO
Strainprint Technologies Ltd
+1 800 420 0564
Tweet @strainprint
info@strainprint.ca
https://strainprint.ca/
This article has also appeared in Health Europa Quarterly Issue 11, which is available to read now.