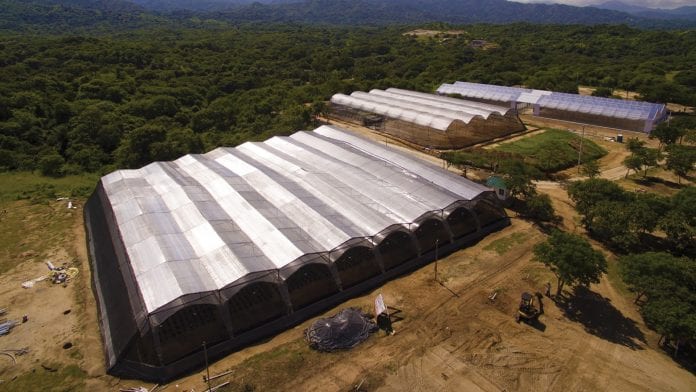 Avicanna CEO Aras Azadian explains how the company plans to position itself at the forefront of the cannabis industry through its R&D and cultivation activities.
Avicanna aims to establish itself as a leader in the global medical cannabis industry through its product discovery and development processes, intellectual property portfolio, strategic relationships, and cultivation infrastructure. Avicanna's team believes that its two main business segments, namely research and development or R&D and cultivation, strategically position Avicanna to be a front-runner in the development, manufacturing and commercialisation of plant-derived cannabinoid-based products and extracts throughout North America, Latin America, Europe and Asia.
Avicanna intends to capitalise on the nexus between both business segments, where the intellectual property gained from its R&D efforts is used to inform and improve the products of its cultivation and extraction activities, while the raw materials from its cultivation and extraction efforts can be used to further its R&D initiatives. Avicanna anticipates, in both cases, to benefit from a reduced cost compared to what would be incurred through purchasing such intellectual property or raw materials, as the case may be, from third parties.
Additionally, Avicanna has a growing network of world-class strategic relationships, including the University of Toronto and other leading Canadian and international academic and clinical institutions. Avicanna believes these to be best-in-class and major vehicles for the evolution of the cannabis industry.
The centre of an industry, the epicentre of science
In addition to be being situated in the centre of the emerging cannabis industry, Avicanna benefits from being the only cannabis company that is in the MaRS Discovery District of Toronto. Headquartered in JLABS@Toronto, which is a collaboration among Johnson & Johnson Innovation, the University of Toronto, MaRS Discovery District, Janssen Inc., MaRS Innovation, and the Government of Ontario, JLABS is located in an urban innovation district uniquely placed to lead change. It brings together educators, researchers, social scientists, entrepreneurs and business experts under one roof designed to bridge the gap between what people need and what governments can provide, which allows entrepreneurs access to corporations, investors, mentors, university institutions and labs to test their concepts.1
JLABS@Toronto provides access to a 40,000 square foot facility that includes lab space, state-of-the-art equipment, and access to scientific, industry and capital funding experts. JLABS operates on a 'no strings attached' model of incubation accelerators that do not take any equity or rights to products, revenue or control.
In the heart of Canada's largest and the world's most diverse city, Avicanna is strategically located among the major academic and medical research centres in Toronto, including the University of Toronto, UHN, SickKids, Sinai Health System, St. Michael's Hospital, Sunnybrook Health Sciences Centre, and the Centre for Addiction and Mental Health, the majority of which are clinical partners of Avicanna.
Sustainable from the ground, up
Avicanna's R&D and cultivation activities are focused on the development of four key products – plant-derived cannabinoid pharmaceuticals, phyto-therapeutics, derma-cosmetics, and extracts – with a goal of eventually having its products manufactured and distributed through various markets including Canada, USA, Colombia, Mexico and the EU.
Sativa Nativa and Aurum, Avicanna's two majority-owned subsidiaries in Colombia, are both focused on low-cost, sustainable and commercial cannabis cultivation. Both companies are located in Santa Marta, Colombia, in the foothills of the Sierra Nevada mountains. The location offers 12 hours of daily sunlight year-round, while the tropical weather of Santa Marta and a unique micro-climate in the Sierra Nevada mountains provide optimal conditions for the cultivation of a diverse range of cannabis genetics.
A vow of responsibility
In addition to Avicanna's positioning as a strictly medical cannabis company with a dedication to scientific vigor and research, its operations related to supply chain and cultivation are also revolutionary to the cannabis industry. Dedicated to environmental preservation, Avicanna's cultivation projects cultivate 100% sun-grown, sustainable cannabis, free of harmful pesticides and herbicides. Implementing best industrial cultivation and manufacturing practices such as GAP and GMP, Avicanna promotes a living soil so its plants grow happy and healthy.
Naturally cultivating cannabis outdoors reduces its environmental impact by minimising the use of electricity, which releases 25 times less carbon into the atmosphere than does indoor growing. The use of electricity when compared to indoor cultivation projects, which typically utilise 1,000-watt, high-pressure, sodium bulbs, can have a larger environmental impact than growing other crops. And that impact could multiply as the industry emerges. Over the next five years, legal and illegal growers are expected to increase their energy consumption by as much as 162%, generating 1.8 million tons of carbon emissions annually.2
Additionally, the use of harmful pesticides and herbicides required for indoor cultivation projects in less-than-ideal climates offers additional negative impact on the plant and for the consumers. SC Labs, a California cannabis testing company, finds three to four in ten samples examined contain traces of pesticides that shouldn't be used on marijuana. Lab president Josh Wurzer told Bloomberg News that one of these even transforms into a poisonous gas when ignited. This allows for more weed to grow bigger and quicker. States have been slow to catch up – even California, which has had a medical cannabis programme in place for two decades, is only now planning to regulate pot growers' pesticide use.3
In contrast, both of Avicanna's operations, Sativa Nativa and Aurum, are federally licensed and operating under GAP standards. Sativa Nativa is focused on harnessing the optimal weather conditions of Colombia to operate an economical, environmentally sustainable, and socially responsible cultivation project, while Aurum enjoys all of the same benefits for low-cost cultivation and intends to operate an economic, environmentally sustainable, organic and socially responsible cultivation project.
Access to cost-efficient energy sources and construction labour allow for affordable expansion and production. Both companies also have easy access to the local Santa Marta port which is expected to provide low-cost shipping for export. Vertical integration has been a key milestone in ensuring sustainable practices are maintained and that the most environmentally friendly, sustainable and safe materials are involved in the production of Avicanna products.
Avicanna's mandate
Environmental sustainability
Sun-grown, organic cultivation utilising natural condition
Free of harmful pesticides, herbicides and harsh chemicals
Biodiversity conservation: strong opposition to deforestation and support for natural wildlife and aquatic ecosystem preservation.
Education
• Hosting international medical symposia and events
• Accredited continuing medical education
• Patient education and counselling tools.
Regulation
• Federally licensed by the Colombian Government to cultivate cannabis
• R&D and clinical development programme with federal approval from the Canadian Government.
Corporate citizenship
• Community and infrastructure and development programmes in Colombia, including co-operative farming, micro-financing and training programmes.
The need for data-driven products
Derma-cosmetics
With the potential to become one of the fastest-growing segments, the cannabis industry is rapidly evolving. Companies are launching products every day and skincare is no exception.
With skin being the largest organ in the human body, its upkeep is one of the first steps in maintaining its overall wellbeing. As a first line of defence, the skin exists as a layered system with the outermost layer serving as a protective barrier and port for recognising sensations such as pain, itch and temperature. Exposure to the elements can cause dullness, dryness, itching and ageing where CBD has a profound role to play.
It all started when Avicanna's R&D team realised that CBD had great potential to naturally improve the integrity of the skin. Through extensive research they discovered that CBD optimises natural cell function and provides regenerative and anti-ageing effects. Pura Earth products are formulated with 100% organic cannabis which is naturally sun-grown in the Sierra Nevada region of Colombia, under organic, sustainable and responsible conditions with the support of the local artisan farmers. With a mission to integrate skincare into our generation's ideal of health and wellness, Avicanna believes it is imperative to nourish and nurture the skin as one would their body.
Pura Earth's R&D team was focused on high-end cosmetics with formulations that are supported by research data as a way to differentiate the product line from those of its future competitors. It is a novel skincare product line utilising a combination of natural CBD, hemp oil and other key natural ingredients designed to provide an overall regulatory effect, nourishment and rejuvenation for healthier and more radiant skin.
These products are formulated to maintain and improve the health and beauty of the skin and will be marketed as beauty treatments, moisture and protection products, and specialised care. Pura Earth will be available in retail markets in 2019, with expected brand launch in Colombia in the second quarter of 2019, Mexico and the EU in the third quarter of 2019 and other international markets by the end of 2019.
Bridging the gap between the consumer and education
Phyto-therapeutics
Currently, several countries and many states in the United States have legalised cannabis for medical purposes and allow products such as oil tinctures, creams, capsules and patches in various ratios of THC and CBD. In these jurisdictions, patients must get approval from healthcare professionals to use cannabis for medical purposes.
These approvals from the healthcare professionals are not prescriptions in the traditional sense where the products have been approved and are regulated as medicinal drugs, but rather the healthcare professionals are giving authorisation to the patients to use cannabis for medical purposes in certain circumstances. Some jurisdictions have an approved list of conditions for which healthcare professionals must assess the patient before granting their authorisation for the patient's access to cannabis.
Pura Elements was created in the belief that all people deserve an opportunity to live a life of health and wellness. Cannabinoids have been used, by many cultures, in the treatment of a variety of conditions for thousands of years. The rest of the world is finally recognising what these cultures have long known in terms of harnessing the natural benefits of cannabinoids as a means of improving health and wellness.
The line offers several delivery mechanisms including transdermal patches, topical creams, gels, oral tablets, oral capsules and sublingual sprays all designed for different uptake and delivery. The products are also offered in various THC and or CBD ratios and doses, providing consumers tailored and consistent delivery of cannabinoids.
Additionally, the product line has been formulated and optimised in collaboration with Avicanna's scientists, who have utilised in vitro and in vivo testing to optimise delivery and dosing. This in turn has elevated Pura Elements to being perhaps the most advanced general cannabinoid lines available globally.
With Pura Elements, Avicanna believes in using nature's elements and complementing them through scientific acumen for targeted and specific utility. Utilising advanced R&D capabilities allows the team to collect evidence on cannabinoids through rigorous scientific testing and data accumulation. The objective is to ensure maximum efficacy, safety and consistency within our most innovative and advanced drug delivery mechanisms.
Avicanna's dedication to science represents a benchmark of the highest quality, setting an unprecedented cannabis industry gold standard. Through the calmness, relief and primordial purity of lotus petals, Pura Elements brings you back to yourself.
Dedicated to indication-specific naturally derived pharmaceuticals
Here, Avicanna's focus is evidence-based and indication-specific pharmaceutical products designated for FDA and Health Canada-approved drug identification numbers (DINs).
With the belief that healthcare professionals are the gatekeepers of the new medical solution and their support will be the key to providing naturally derived cannabinoid solutions to the public, Avicanna's team has dedicated the last three years to R&D and product development of indication-specific pharmaceutical products backed by scientific acumen and clinical data.
The team further recognised that for a product to be considered a therapy and to be recommended by healthcare professionals, it would be important to provide data collected and analysed from well-run clinical studies to all relevant stakeholders – patients, healthcare professionals, payers and regulators.
Those two understandings form the basis of Avicanna's foundational concept – the development of novel cannabinoid therapeutic products backed by clinical research data. A strict dedication to medical products and the leadership positioning in the medical cannabis industry in Canada allowed Avicanna to attract key skilled personnel and collaborators who have assisted the company in developing its mandate. These personnel include scientists, clinicians, strategic business advisors, and biopharmaceutical industry senior managers. This positioning also attracted interest from respected academic and clinical research institutions looking to partner with Avicanna on clinical and research development initiatives.
Fostering key partnerships
University Health Network: The largest such research organisation in Canada and North America, ranking first in Canada for total research funding, It was named Canada's top research hospital by Research Infosource in 2015, 2016 and 2017.4,5 UHN researchers provide services pertaining to the analyses of certain product formulations, including membrane permeability studies and analytical testing on up to five products comprising of transdermal patches and topical creams. The products are being analysed for THC, CBD and their acids.
University of Toronto Faculty of Pharmacy: The birthplace of insulin and stem cell research, U of T is commonly ranked as the best Canadian university, according to various major publications.6
Projects are performed out of the Christine Allen Research Group (CARG) with direct oversight by Dr Christine Allen herself, who has recently joined Avicanna's team as chief scientific officer. Her work, among many various projects, includes physicochemical characterisation and analysis of our processes and of our products containing various concentrations of THC and/or CBD and laboratory services to optimise and improve their performance. These services help us improve and optimise a number of aspects of our products and processes.
The Hospital for Sick Children (SickKids): Affiliated with the University of Toronto, SickKids is Canada's most research-intensive hospital and the largest centre dedicated to improving children's health in the country. As innovators in child health, SickKids improves the health of children by integrating care, research and teaching.7 Phase II and III clinical studies to explore the safety, tolerability and efficacy of our topical product containing a pharmaceutical formulation of CBD on patients with a rare dermatological indication.
References
Halperin A, Growth Industry, 'Cannabis could change the way we grow everything' Oct 2018
Livni E, Gardening Tips, 'Organic cannabis growers solve the problem of poisonous pot with compost'. Aug 2017
https://www.uhn.ca/corporate/News/Pages/UHN_ranked_No1_in_Canada_Top_40_Research_Hospitals_for_2017.aspx
Jens Kramer
VP Europe Operations
Avicanna Inc.
c/o Factory Works GmbH
Lohmühlenstraße 65
12435 Berlin
+49 176 420 75 436
jens.kramer@avicanna.com
Please note, this article will appear in issue 8 of Health Europa Quarterly, which is available to read now.