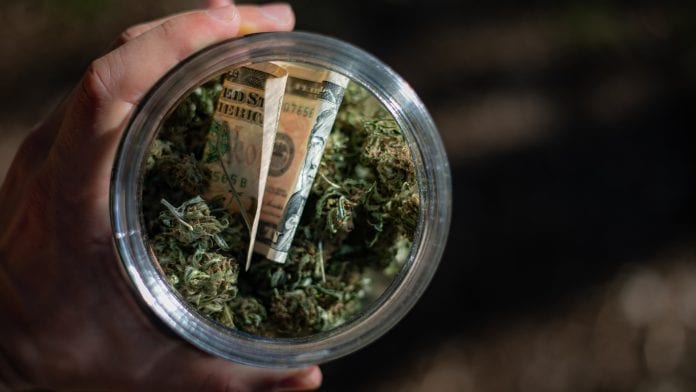 While it may appear very enticing to jump in on the legalisation of cannabis by investing in the sector, leading reviewers are coming out strong against putting your money in cannabis stocks.
In the past several months, cannabis stocks have been taking a beating – the recent implosion of cannabis stocks has put many cannabis companies into red alert situations. Most are having extreme difficulty to raise any capital to keep the lights on.
The cannabis industry is currently growing at a phenomenal rate thanks to the decriminalisation of cannabis for medical or recreational use in various jurisdictions. For years, it has been illegal to grow, sell and process cannabis in the USA; due to its status as a 'Schedule 1' drug, on the same prohibitive list as heroin.
However, as the laws have changed – Canada, for instance, has legalised recreational cannabis use – a number of US states, including California, have followed suit. There is hope among proponents of marijuana that the drug will become legal at the federal level as more legislators have been advocating for the substance in recent times.
Pressure to perform
Cannabis is a commodity regardless of how or where it is grown. Proponents of cannabis will argue that different varieties give a different feeling when consumed. They will highlight the presence of THC and CBD and its medicinal significance – however, it still has to deal with market dynamics.
In the last three years, cannabis prices have been reduced by more than half as competition intensifies. Growing competition is what cannabis companies have to contend with. In Oregon, which was among the first US states to legalise cannabis for recreational use in a 2014 ballot measure which came into force in 2015, the small concentration of growers at the time of legalisation enjoyed high prices.
Competition in the cannabis industry is now intense and more companies are flooding the market. The industry is staring at major price compression, which could result in most cannabis stocks falling apart.
Industry segments might present opportunities going forward, but growing competition means that the margins will be diminished.
Closing the gap
The widening gap between licensed producers and consumer demand has continued to grow since Canada fully legalised cannabis back in late 2018.
Cultivators are struggling to meet demand because of government-imposed regulations, which have curtailed retail operating hours as well as the number of licences provided. Supply shortages have severely impacted brick-and-mortar retailers in Canadian provinces such as Ontario, Quebec, and Newfoundland; and ultimately caused some to shut down.
Despite the limited supply, Brock University Professor Michael Armstrong argues that supply will eventually catch up with demand if regulatory complications can be resolved. Armstrong cites data from 2017, comparing it to current production rates and highlighting that producers are growing at a faster rate.
Moreover, Armstrong says that not only were producers stockpiling their inventory, but stocks were growing exponentially month-on-month. Consequently, Armstrong believes that supply can catch up to demand by the end of 2019, when Health Canada projects that the demand for total cannabis consumption is expected to reach a million kilogrammes per year.
Furthermore, following Canada's recent passage of the 'second legalisation', which enabled cannabis-based products such as edibles, extracts, and topicals to be commercialised, consumer demand is expected to grow.
While demand is outpacing supply, eventually cultivators can meet the demand; and in return, drive higher revenue margins and profitability.
While the US is the largest global market in the cannabis industry, due to the full legalisation of cannabis in select states, federal regulations still deem cannabis a controlled substance. However, many operators are interested in Canada because cannabis is fully legalised in all its provinces.
Despite the US being the largest market, the majority of the largest cannabis corporations are headquartered in Canada, primarily because of legality matters. Nonetheless, most of the largest operators have expanded their businesses into the US and other legal markets around the world. However, the development of the industry is also causing consumer preferences to change.
According to a study conducted by researchers at Columbia University's Mailman School of Public Health, American adults have been found to increasingly use cannabis on a daily basis since 2007. The statistics show that, while more and more users are entering the marketplace, it is also retaining existing users. And while new users may prefer a more subtle product, long term users are beginning to demand more potent and natural products.
However, large licensed producers are unable to meet the demands of avid consumers. Generally, large-scale producers aim towards growing wholesale cannabis, which usually results in lacklustre qualities of strains. As a result, 'craft cannabis producers have come into the spotlight because of the unique and potent strains they produce.
Craft cannabis is known as an artisanal profession, similar to craft beer or craft coffee, where producers take immense pride in their work and strive to produce the best quality product. Craft cultivators typically engage in a meticulous and intense process to ensure their products are up to the highest standards. For instance, large licensed producers typically have automated farms to speed up efficiency. On the other hand, craft cultivators usually operate small-scale grow houses, which allow them to tend each individual plant to ensure high quality end results.