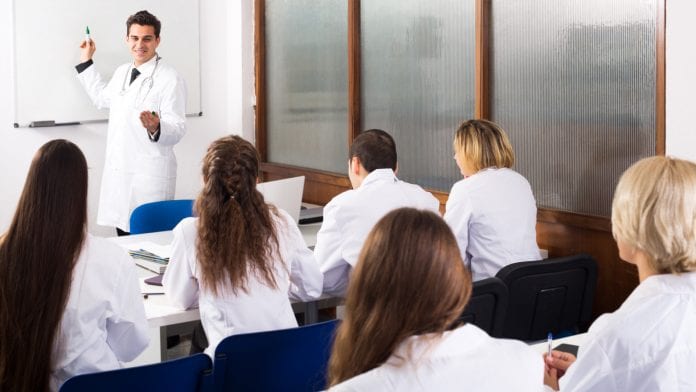 Professor Michael Barnes tells Medical Cannabis Network about the challenges facing the UK's current medical cannabis landscape and the medical cannabis supply chain.
MCN attended the Hub on 4 and 5 December 2019 in London, UK, where we had the opportunity to speak with consultant neurologist and medical cannabis expert Professor Michael Barnes about the challenges facing the UK's current medical cannabis landscape.
Medical Cannabis Network is proud to act as media partner to the Cannabiz Innovation Hub, a pioneering conference for cannabis industry stakeholders.
Professor Michael Barnes, what can you tell me about your plans to establish medical cannabis clinics in the UK?
The model is twofold. January 2020 will see a clinic open in London – it is currently awaiting Care Quality Commission (CQC) approval – and we have a sister clinic in Birmingham which has already received this.
I have trained 31 doctors now and while they don't all have to work for us, of course, we hope around 12 or 15 will go on to work in the clinics. Because of the geography, we are also supporting doctors who have been trained and then want to go and work in their own areas. Nevertheless, we will still have them under a medical cannabis clinics umbrella and organise the referrals for them, help them and support them through the process and the prescriptions and everything else. So, there are two models: the 'go to your own place' model and the option to work from our brick and mortar central location.
As soon as we get another doctor trained up locally we will reopen the Manchester clinic (which closed due to illness): the principle is still absolutely there and the first prescriptions were written from there by the pain consultant who has some 40 patients. This means that he has written something like 120 to 150 prescriptions, because you have to rewrite them every month.
The total number of patients prescribed medical cannabis in the UK is now approximately 80, which translates to around 200 or 300 prescriptions. Those patients are all private; there are none on the National Health Service, despite what the government says because they are counting prescriptions for nabilone and Sativex, but there have been no full extract product prescriptions written since 1 November last year on the NHS.
How involved are you in consulting with NHS bodies in order to try to make medical cannabis prescriptions work?
I'm not directly involved. But I do things like today's event and engage with the media, saying not only how awful the situation is at the moment but hopefully being more positive and saying what we can do about it. So we set up the Academy of Medical Cannabis, a training programme; and we set up the Medical Cannabis Clinicians Society which is now supporting about 120 clinicians who are interested in cannabis – though not all of them can prescribe, because we opened it up to GPs and interested health professionals.
I'm more into the lobbying side, running direct negotiated approaches to the National Health Service; because I know that the answer from the NHS senior hierarchy is: the law's changed, it's now down to the individual doctors, it's not the government's fault, it's the doctors' fault for being far too cautious and conservative. In a sense they are right, because the NHS can't force a doctor to prescribe; so my view is that the absolute priority is to train doctors and then they will start prescribing, and then the problems like the supply chain will begin to fall away.
You have told us previously that your priority is to educate doctors. Are you beginning to see any progress with this? Do you believe that, as doctors' education surrounding this issue increases, this will put more pressure on NHS leadership to reform their policies?
Doctors are understandably and quite rightly reluctant to prescribe products they don't know anything about. Once they understand this actually isn't too complicated, it's not too difficult – particularly given the limited products we can prescribe at the moment. And there will be pressure from the patients and from the parents of the children. Hopefully, doctors who now won't prescribe because they don't understand it will come to understand it and go on to prescribe. Things will change.
The parents can come with evidence from a double blind placebo controlled clinical trial and say: my child has been on this product privately, look at the difference it's made, will you now prescribe? That's the pressure we need to put on the NHS leadership. Are there other people doing it? I hope so, because it shouldn't be all down to me and the Academy and the Society.
The big thing which I'm not anything to do with is the Twenty21 project. This is a brilliant idea and very ambitious – and it should be ambitious – but I think the limitation won't be getting 20,000 patients (that should be relatively easy); it is going to be getting enough doctors. Again, we come back to the same question of the number of doctors trained and willing to prescribe for 20,000 patients; you need more. At the moment in the UK, five doctors have written cannabis prescriptions; and you need a lot more than that to prescribe for 20,000. It's a great project and I wish them all the best; but we've got to prioritise doctors' education.
The supply chain in the UK is particularly cumbersome which results in extortionate cost to the patient. Which country's model do you feel works best in addressing this issue and producing enough supply to keep costs affordable?
Firstly, you're absolutely right: the supply chain is appallingly cumbersome and ridiculously expensive. The government can't influence doctors, but what it can do is get the supply chain better and allow bulk import. At the moment we are prescribing for one patient for one month's supply.
It takes four to six weeks for that to arrive in the country at a ridiculous cost – the parents are spending £2,000 a month for it. Not many people in this country can afford that. If you think about the supply chain delivery, you've got to write the second prescription before you fill the first one. That's bad medicine; you've got to guess what the response might be like. The whole supply system at the moment is just appalling.
Can we learn from other countries?
Yes, I think they've got it better in other countries. Germany is a little bit skewed as it is mainly a flower market. I am very impressed with New Zealand, it's not enacted as yet in big volume but I think they're going to get that right; and Australia have got it reasonably well looked at. There are countries, not just in terms of the supply chain but also in the way they've looked at the evidence, where they've set up something offering a medicinal cannabis equivalent like Holland has done.
There are 50 countries where medicinal cannabis is legal now; and what we really ought to do – and it's not difficult to do – is learn from all of those countries. I think every country's got something wrong, but most of those countries have got quite a lot right; so we should learn from all that and get it right ourselves. Sadly, we might not do this; we might want to do it the 'British' way and not learn from other countries. I hope that's not the case; and I hope we learn from those countries and get it right first time, and quickly.
Guidelines that the government come out with, such as the NICE (National Institute for Health and Care Excellence) guidelines are, for the moment, holding us back, which is very unfortunate. However, let's hope that we don't have to wait four or five years for double blind placebo controlled studies to be the be-all and end-all, because they're not in this space. And let's hope it's done quickly and efficiently.
Professor Mike Barnes
Medical Cannabis Clinicians Society
The Academy of Medical Cannabis
www.ukmccs.org
taomc.org
www.profmichaelbarnes.co.uk
Please note, this article appeared in issue 11 of Health Europa Quarterly, which is available to read now.