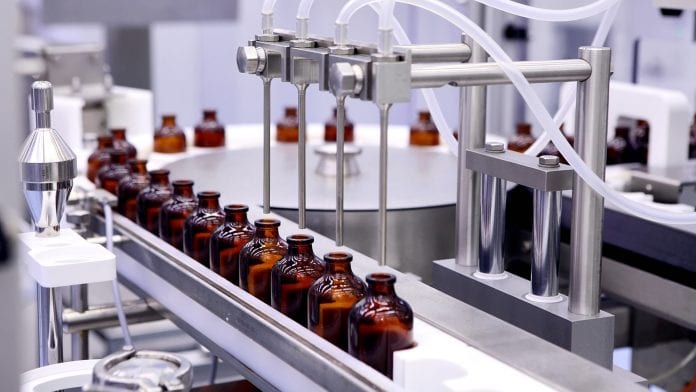 "Canngea is Australia's only medical cannabis contract manufacturing organisation, using proven indoor grow technology to make consistent high-quality products at a competitive price".
Australian startup, Canngea, is ready to take the lead as the country's largest medical cannabis contract manufacturing organisation by constructing a first of its kind pharmaceutical grade facility to grow and manufacture medical cannabis products.
Australia stands on the cusp of a green revolution. In 2016, the Australian federal government introduced regulations to establish a licence and permit scheme for the legal production and manufacture of medical cannabis for both the domestic and export markets.
However, with the growing legalisation and adoption of medical cannabis, a huge shortage has emerged. Suppliers and cultivators can't meet the demand or high quality needed by consumers.
Canngea is vying to address this global shortage of medical cannabis by setting up Australia's largest pharmaceutical grade indoor facility to grow and manufacture high quality cannabis products.
A licensed B2B operator, Canngea will serve other companies in the medical cannabis industry that want to develop products to sell to domestic and international consumers. The first facility of its kind in Australia, it will be equipped to provide an end to end solution to clients – growing, harvesting, extracting, packaging, labelling and distributing client's branded products, with industry leading technology.
The world-class, GMP-certified facility, to be established in the Hunter Valley region in New South Wales, will also house an on-site analytical laboratory, capable of extraction, tissue culture and formulation for cannabis products, as well as automated packaging, compliant labelling, logistics and distribution. It is on track to start construction in 2020.
Canngea Chief Commercial Officer, Martin Bryden, said the new facility would help to solve the problem of low quality and inconsistent cannabis products within the market.
"Canngea is Australia's only medical cannabis contract manufacturing organisation, using proven indoor grow technology to make consistent high-quality products at a competitive price," Bryden said.
"With the growing legalisation and adoption of medical cannabis around the world, a huge shortage has emerged – suppliers and cultivators can't meet the demand from consumers.
"What's more, many licensed producers have set up using low cost grow methods, such as soil and greenhouses, which impact on the quality and consistency of cannabis products.
"Our pharmaceutical grade indoor grow and manufacturing environment, will reduce risk, increase crop yields and ensure product quality and consistency.
"With this, we will be able to undercut the wholesale market, offering products at a much lower cost per unit than the average price in the US market."
Established in September 2017 Canngea was granted a federal medical cannabis and manufacturing licence in 2019 followed by development approval for its pioneering pharmaceutical grade indoor grow facility in July 2019.
"We are equipped to provide an end to end solution. We will utilise automatic aeroponic or 'soilless' technology and industry leading grow methods and operations to fulfil manufacturing contracts.
"As a wholesale manufacturer we are not limited to any one brand or type of product and can produce highly specified product to order," Bryden concluded.
So what are the elements of their end to end solution?
Cultivation and sourcing of raw cannabis
Indoor cultivation can produce between four to six crops per year due to the full control of every critical growth parameter. Lead times of 16 weeks can be expected compared to seven months for greenhouse/outdoor cultivation. This method also allows for the highest level of security with all operations occurring within one secure facility. Canngea will not use any herbicides, pesticides or alkaloids in the growing and manufacturing process.
Within the indoor facility, there are individual grow rooms which house approximately 62 plant tubs per room. This allows for different growth stages to be accommodated for with regards to lighting requirements, nutrient requirements, etc. Canngea believes indoor cultivation is the best option to meet the requirement of consistently producing the best quality medical cannabis with defined characteristics.
Canngea also has the capability to source high quality raw cannabis flower from other growers who are able to produce pharmaceutical grade GACP cannabis flower and biomass to supplement our clients' needs. By upholding strong ongoing relationships throughout the supply chain, Canngea can ensure products are produced safely and sustainably.
Manufacturing
Canngea's onsite analytical laboratory, capable of extraction, tissue culture and formulation will help to solve the problem of low quality and inconsistent medical cannabis products entering the market.
Packaging and Labelling
Cannabis shares regulations akin to herbal, pharmaceutical, and food products. It can be packaged as a medicine or as a supplement, or very shortly, as an additive to food. As Canngea is focused on the retail medical cannabis market, the primary method of dispensing cannabis is either as a capsule or as a tincture vial. Regulations require that such packaging be done to a pharmaceutical/food grade/herbal grade quality standard. In order to ensure high quality and low cost of packaging, Canngea will be using semi-automated robotic packaging equipment.
Automated and computer controlled packaging and labelling will ensure accuracy in dosage and capture critical packaging data to avoid any irregularities.
Waste and disposal
The disposal of cannabis and cannabis waste is highly regulated in the Australian market. Canngea will use Bokashicycle technology as a low cost, regulatory compliant, space conscious and easy waste disposal source.
The Bokashicycle technology is a chemical free, environmentally friendly aerobic fermentation system specifically designed to completely destroy cannabis plant waste material. It renders the cannabis as inert, pathogen free cellulose that can be easily disposed of using regular disposal methods. What is left is high nutrient-rich water that can be recycled back into the aeroponic system or applied to grass as fertiliser.
Power & green energy
Sustainability – both business and environmental – is at the heart of Canngea. The design of the facility includes a strong focus on renewable energy and minimises water usage to significantly reduce production costs and their environmental impact.
Canngea has plans to build the largest commercial battery in NSW, 10% the size of the Tesla big battery (Hornsdale Power Reserve).
This, coupled with water recycling technology, will significantly reduce operation costs, maximise return to shareholders and allow them to re sell solar power back to the grid for further revenue generation.
Solar solution
Canngea aims to be powered by 100% renewable energy, through their solar and battery solution. The use of a renewable energy solution makes an indoor grow environment competitive with outdoor and large scale greenhouse grow methods by removing the large operating cost of buying electricity in Australia.
The facility's design and the fully controlled environmental conditions within each grow room will ensure a higher quality and more consistent product, which is required for patients with conditions that are susceptible to impurities.
Legislation in Australia
Australia legalised medical cannabis in 2016 and in January this year Health Minister Greg Hunt said he wanted the country to become the world's leading supplier of the drug. The Australian medical cannabis market is expected to be worth $5.5bn (~€3.4bn)1 by 2025, while the global market will total $66.3bn.2
Bryden said Canngea was well placed to grow its market share and capture global as well as domestic consumers thanks to Australia's strict standards.
"Australia is the only jurisdiction that treats medical cannabis as a purely pharmaceutical product, unlike other countries where cannabis may also be treated as a 'natural' or herbal product or supplement," he said. "Because Australian standards are very stringent, it means products we manufacture will be in compliance with the requirements of major global markets, such as Canada and the European Union, and their manufacturing and packaging guidelines.
Canngea is among the first organisations to be granted an Australian licence to manufacture.
"The use of industry leading technology combined with our fully integrated indoor grow facility will allow us to provide products at a lower cost per unit than the average price in the US market. It will also result in a competitive return on investment of approximately 129% in five years," Bryden concluded.
Their world-class, GMP certified, 11,000 sqm facility is scheduled for completion in May 2021.
Canngea's mission
Canngea strives to bridge the gap between ancient and contemporary medicine for a better quality of life. The cannabis plant has been used for medicinal purposes for millennia in cultures throughout the world.
With an ageing population and an increase in incidents of chronic disease there is a great need for better and safer treatments. Medical cannabis is quickly being seen to revolutionise the treatment of many diseases and alleviate the sometimes-debilitating side effects of conventional medicines.
Canngea is ready to take the lead in Australia as the country's largest medical cannabis contract manufacturing organisation using proven indoor grow technology to make consistent high-quality products at a competitive price.
Canngea's ecosystem
Canngea has a very clear strategy which incorporates the full value and supply chain to create a harmonious ecosystem through strategic partnerships from seed to sale. Bryden said the value of the supply chain is structured so that every partner involved is part of this ecosystem.
"This secures a sustainable business model in order to future proof the supply chain and ensures that these businesses can scale together as our global market share grows," he said.
Values, community and impact
Technology, collaboration, innovation, honesty, people, community engagement, responsibility and corporate governance are all pillars that Canngea measures itself against. Building a sustainable and long term supply chain to ensure maximum value for customers is predicated on strong relationships with suppliers, clients and other stakeholders.
Canngea believes the success of any business, but particularly one within health and wellbeing, should be based on ensuring that its operations are continually making a positive and lasting difference to the world.
"Beyond ensuring that our products are safe, compliant and of the highest quality, we also believe in doing things sustainably and responsibly," Bryden said.
"Canngea achieves partnerships through corporate responsibility, community integration and common goals. This in turn creates value for our clients and provides them with the confidence that their products are ethically and responsibly made.
"As a contract manufacturer, Canngea is entrusted by our clients with ensuring their product does not fall short of their customers' expectations. Our approach includes offtake agreements with cultivators, long-term contracts with suppliers and collaboration with our partners in order to have a clear common vision to achieve our common goals over the long term.
"Canngea also has a strong view on community integration and corporate responsibility within those communities in which we operate. We want to make a direct and impactful reinvestment into the community we operate in, both locally and internationally, especially as we grow together with the community," Bryden said.
A perfect example of this is the coming together and collaboration between CanbiGold from South Africa and Lesotho, Koomo Capital from America and Canngea from Australia at the recent CannaTech conference in Cape Town.
"This groundbreaking collaboration and agreement is extremely important for the supply chain as this secures the product demand, cultivation of flower, manufacture of product, packaging & labelling, export and the distribution lines for patient ready products; while at the same time ensures that there is a clear growth strategy for the future with a focus on community benefits over the long term," Bryden said.
Industry standards
Canngea has strong connections to industry including as a participant in the Medical Cannabis Council of Australia round table group.
The round table group represents the MCCA at government level with the Therapeutic Goods Administration (TGA), the Office of Drug Control and the Department of Health. Bodies like the MCCA allow Canngea to have an extensive network and develop partnerships for manufacturing contracts and clinical trials.
As a Member of the Medical Cannabis Council, Canngea represents the industry on a public level both nationally and internationally. Bryden said this places them in a position of trust, and requires standards of behaviour that reflect community, industry, scientific and government expectations.
"In order to maintain integrity and respect, and achieve our objectives, Canngea are committed to compliance with Australian and international laws, rules and regulations. We are committed to the highest ethical standards in all business transactions and will comply with local and federal laws, regulations and codes while working fairly and honestly with government officials and others in the community.
"Our communication with our customers or potential customers will be truthful and accurate and will be substantiated. The supply of safe, scientifically proven products to patients in need is one of our main objectives and is reflected in the high quality and consistency of our patient ready products," he said.
Canngea's guiding principles
Safety
Canngea's number one core value is placing the greatest importance on the safety and wellbeing of patients as well as people, clients and stakeholders. As a manufacturer of medical products, Canngea takes its responsibility for the safety of staff and those who will use their products very seriously.
Integrity
Integrity is the foundation on which relationships are built. Canngea values its relationships with co-workers, clients, and stakeholders and will seek to build these relationships through respect, honesty and trust.
Accountability
At the core of accountability is reliability and personal responsibility. Canngea values the ability of its people and organisation to honour their commitments to clients, patients, healthcare professionals and to each other.
Collaboration
Canngea will work collaboratively with clients, stakeholders and people by engaging in meaningful, honest, open and healthy dialogue to find the best solutions.
Innovation
Canngea believes that to stay relevant and highly competitive as a business they must create a culture of continual improvement by challenging conventional concepts and by adopting leading edge technologies to deliver efficient, superior performance.
Sustainability
A sustainable business understands that long-term profitability and efficiency are fundamentally integrated with the preservation of the environment and resources will be managed with ethical and social responsibility.
References
1 New Frontier Ocean Cannabis Report 2018 https://newfrontierdata.com/product/oceania-report-2018/
2 Legal Marijuana Market worth US$66.3 billion by 2025 | CAGR: 23.9% according to Grand View Research latest prediction May 2019. https://www.grandviewresearch.com/press-release/global-legal-marijuana-market
Martin Bryden
Chief Commercial Officer
Canngea Pty Ltd
info@canngea.com.au
Tweet @canngea
www.canngea.com.au
This article will appear in the first issue of Medical Cannabis Network which will be out in January. Click here to subscribe.