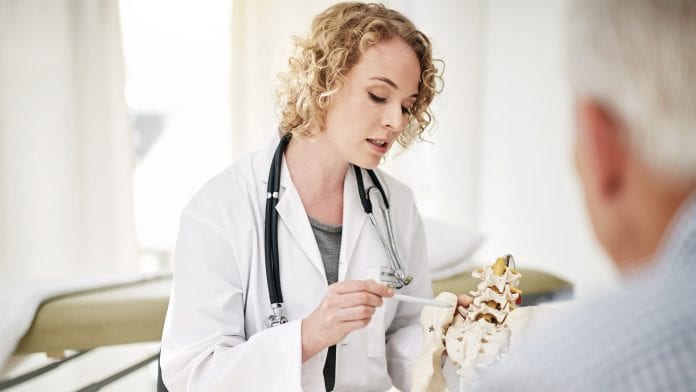 UCB Amgen has today announced a collaboration with the International Osteoporosis Foundation (IOF) to support its Capture the Fracture® programme.
The Capture the Fracture® programme aims to reduce hip and vertebral fractures by 25% by 2025. Currently, it is estimated that more than 200 million people worldwide suffer from osteoporosis, resulting in an osteoporosis-related fracture every three seconds.
Osteoporosis is a serious chronic condition that weakens bones over time, making them thinner and more likely to break, but there are steps patients and healthcare providers can take to reduce fracture risk.
Capture the Fracture
Capture the Fracture, an  International Osteoporosis Foundation (IOF) initiative, now supported by Amgen and UCB in collaboration with the University of Oxford, is a global programme that helps to proactively implement post-fracture care (PFC) co-ordination programmes in hospitals and healthcare systems to help patients prevent subsequent fractures due to osteoporosis. Even after an osteoporosis-related fracture, approximately 80% of individuals at high risk are still not identified or treated.
Darryl Sleep, MD, senior vice president of Global Medical and chief medical officer at Amgen, said:  "Osteoporosis remains a global concern, resulting in 9 million fractures in a single year and a previous fracture increases the risk of another osteoporosis-related fracture by 86%. Early intervention through improved post-fracture identification, diagnosis and treatment in appropriate patients can help improve outcomes while also lessening the cost burden on healthcare systems.
"Supporting Capture the Fracture represents our proactive approach to care designed to predict and help prevent potentially life-altering fractures before they happen."
"We are currently witnessing a significant disease burden. As the worldwide aging population steadily increases, it has never been more important to address the impact that osteoporosis and associated fractures can have on individuals," said Professor Cyrus Cooper, president of the International Osteoporosis Foundation and Professor of Musculoskeletal Science at the University of Oxford.
IOF chief executive officer, Dr Philippe Halbout, added: "We know post-fracture coordinated care implementation is the most effective and efficient intervention to close the secondary fracture prevention gap, so I'm delighted that Amgen, UCB and the University of Oxford will support our Capture the Fracture program as we embark on a mission to improve outcomes for patients."
Supporting osteoporosis care
Osteoporosis is treated by multiple specialties, underscoring the need for co-ordinated care to support patients with the disease. At the core of the Capture the Fracture model is a care co-ordinator who can help patients with an osteoporosis-related fracture be identified, screened, diagnosed, and appropriately treated to reduce their future fracture risk.
Post-fracture care co-ordination programs have been shown to improve diagnosis and treatment rates. This partnership aims to double the 390 existing Capture the Fracture programmes by the end of 2022, and will focus on key regions including Asia Pacific, Latin America, the Middle East, and Europe.
Professor Dr Iris Loew-Friedrich, chief medical officer and executive vice president, UCB, said: "The introduction of the post-fracture care model is recognised as a progressive milestone in the management of osteoporosis and osteoporotic fractures and remains a profound example of what good looks like in co-ordination of care among multiple disconnected players.
"Collaboration and cross-learning are necessary if we are to face the challenges of the future and find a way to lessen the burden faced by healthcare systems and people living with osteoporosis. This global partnership supports UCB's ambition of connected healthcare, finding ways to deliver more for the patient and transforming the lives of people with severe diseases."
Collaboration with existing prevention coalitions
This partnership also welcomes collaboration from existing fracture prevention coalitions on international, national, and regional levels to drive fracture prevention policy change and prioritisation.
Additional elements of the partnership include developing and implementing efficiencies and best practice sharing across PFC program sites, creating a digital tool that documents and communicates PFC effectiveness, and providing virtual and in-person mentorship and learning opportunities for healthcare providers.
"Capture the Fracture is an incredible opportunity to take the academic skills and expertise from the university to deliver real improvements inpatient care for osteoporosis," said Dr Kassim Javaid, Associate Professor, the Nuffield Department of Orthopaedics, Rheumatology and Musculoskeletal Sciences (NDORMS), University of Oxford.
Dr Javaid, along with Dr Rafael Pinedo-Villanueva, will be responsible for the mentorship programme and for developing a benefits calculator for the PFC program. He said: "We hope that through this programme millions of lives will be changed, and we look forward to working with national and international colleagues to deliver this vision."
For more information about Capture the Fracture, please visit www.capturethefracture.org.