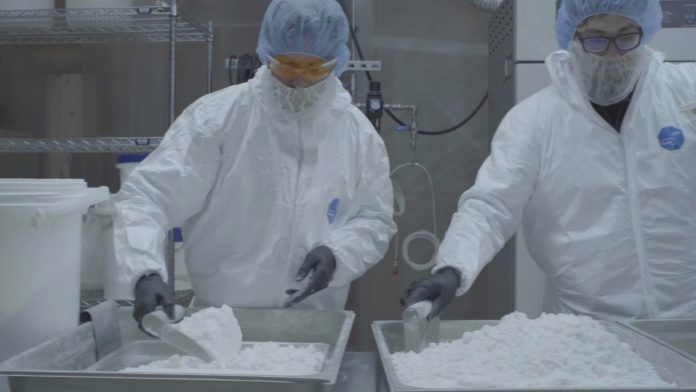 Discover how Mile High Labs, the CBD logistics company with the vision of building the most advanced CBD extraction platform, develops trust in an underregulated market.
The future of CBD will be determined not so much by what this mighty molecule does, but by the logistics and supply chains that get that molecule from fields of hemp to the shelves of your corner store. That's right: CBD logistics. This long-established industry of getting materials from point A to point B may very well be the X-factor that determines whether CBD becomes a household name in Asia-Pacific (APAC) and Europe or the answer to a '21st century fads' trivia question at your local pub quiz.
In America, where CBD has already taken root, industry leaders have recognised that transparency, safety and compliance are paramount to success, and that these can only be achieved through an emphasis on chain of custody.
"CBD is a very safe product but it needs to be treated with care to ensure quality," said Jason Roth, CEO of Mile High Labs. "The only way we'll earn consumer confidence is by ensuring that we have kept a watchful eye on the entire production process."
What is CBD?
CBD is short for cannabidiol. It's a cousin of THC, the psychoactive ingredient found in cannabis. Although they look the same, their properties are very different. Simply put, CBD doesn't get you high.
The process of making CBD is relatively simple. Hemp is harvested and processed to extract the cannabinoids, of which CBD is one of many.
At Mile High Labs, they refine the CBD one step further by separating it from the other cannabinoids. The finished product is called 'isolate,' a white, almost odourless and flavourless powder that resembles corn starch and is greater than 98 percent pure CBD.
"Isolate is the ideal CBD ingredient for the global market," said Andrew Jeffery, managing director of Mile High Labs' APAC region. "Because we're isolating the CBD molecule, our product contains no THC. It's legal, safe and highly versatile. We can qualify its purity and cannabinoid content, allowing us to confidently ship it to open markets across the world."
A new industry embraces a new technology
CBD isolate is a significantly refined, highly concentrated premium product. Protecting the integrity of the product is important to companies like Mile High Labs.
To ensure the chain of custody, the company uses blockchain technology to track the isolate from field to sale. The blockchain creates a digital paper trail of every human interaction with the product. The resulting data is unalterable and serves as the isolate's pedigree.
"Blockchain technology helps us aggregate data from all of the systems within our supply chain to ensure no information gets lost or altered as the product moves from farm to lab and ultimately into the hands of the customer," said Sébastien Pasquali, head of information technology at Mile High Labs.
Not only does blockchain technology help ensure quality for customers, it also helps CBD companies self-regulate in an underregulated market.
Hemp production was legalised in the United States under the Agricultural Improvement Act of 2018 (commonly known as the Farm Bill) but there were no measures put in place to regulate products derived from that plant. While guidance from the U.S. Food and Drug Administration is expected over the summer, companies from Kentucky to California have been rushing products to market largely without oversight from any government agency. Similar regulatory ambiguity exists worldwide.
While other companies chose to cut corners and sacrifice quality in the name of higher profits, Mile High Labs took a more responsible approach and implemented quality assurance and control processes that are drawn from the pharmaceutical industry.
"Quality doesn't just happen naturally. You need to have measurement systems in place with data collection processes that ensure accuracy every time," said Wendi Young, director of regulatory and compliance at Mile High Labs. "Although our quality is our advantage, we hope the FDA will pass strong standards to force our competitors to raise their game and improve their quality and consistency. It's the only way to grow the industry and earn the public's trust."
The perfect package
Beyond the blockchain, Mile High Labs offers an extra layer of security via the Mile High Labs Client Portal—a web based platform that allows customer access to important documentation for their CBD ingredients.
A QR code is printed on each of Mile High Labs pharmaceutical-grade aluminium containers. Upon scanning the code, customers can instantly retrieve important documentation surrounding their order. Certificates of analysis, safety data sheets, harvest information and more are all readily available and safely encrypted.
As an added layer of security, a tiny sensor is embedded in every container that provides real-time detection of light, temperature, humidity and even g-force to detect if the container was dropped. The devices are a small investment to protect these valuable shipments and serve to further increase customer and regulator confidence.
Each container is wrapped in a tamper-evident seal to ensure that any unwanted modifications to the product are apparent upon arrival. If a customer receives a shipment with a broken seal, they can contact Mile High Labs immediately to report it.
These measures also help to build the trust of customs and border protection agents around the world, specifically in APAC markets where CBD is beginning to gain significant recognition.
Preparing for incoming regulation
As Roth notes, the measures Mile High Labs is taking ultimately protect the longevity of the CBD industry as a whole.
"Mile High Labs is providing concrete, factual answers to some of the most common questions that CBD consumers have: Where does my CBD come from? Has it been tampered with? Can I trust the source?" adds Roth. "In an ever-evolving regulatory landscape, our advanced supply chain protects the integrity of our brand and products. We want to ensure that our customers are getting exactly what they depend on – genuine, high-quality Mile High Labs CBD."
With new CBD legislation on the horizon and substantial growth in the international trade of CBD, delivering compliance, transparency and regulation requires innovation on all fronts, including logistics and operations.
It's becoming increasingly clear that the supply chain Mile High Labs operates to internationally distribute CBD is just as important as the proprietary equipment and processes they're developing to extract it.
"What we're building at Mile High Labs alongside the world's largest CBD extraction platform is global trust in CBD as an effective and safe ingredient," said Jeffery. "Not only customer and consumer trust, but the trust of the regulatory officials that oversee the import and export of CBD ingredients and products.
Charting the future of CBD
CBD may have its roots in America, but its future will certainly be in APAC and Europe. As local entrepreneurs realise the immense opportunity to be found in the industry, they should look to Mile High Labs as a model for what a CBD ingredient should be.
If we all focus on CBD logistics, quality and commit to self-regulation, there may be no limit to what we can do with this mighty molecule.
Andrew Jeffery
Mile High Labs
+64 21 313 590
a.jeffery@milehighlabs.com
Please note, this article will appear in issue 10 of Health Europa Quarterly, which will be available to read in July 2019.