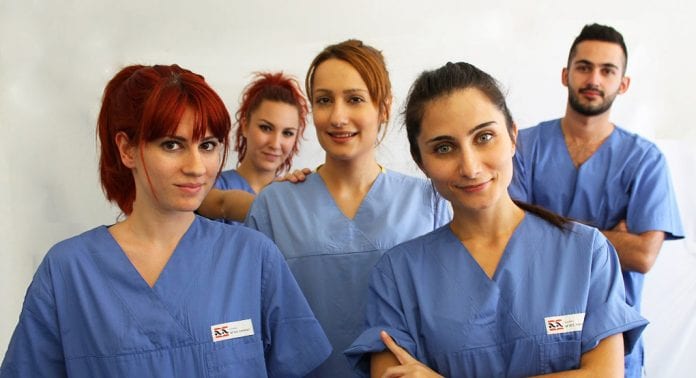 Health Europa celebrates nurses, looking at their work and the challenges they face in their job.
In recognition of 2020 as the International Year of the Nurse and the Midwife, HEQ asked nursing staff around Europe about their work, the challenges they face and how their roles and burdens have changed in recent months.
Asija Delalic, Croatian infection control nurse working in the UK
Here's my story.
I work in a district hospital in England as Infection Prevention and Control nurse. We started preparations for the COVID-19 outbreak in late February, when it was obvious that the outbreak was taking its toll in Italy and increased spread of deadly virus was witnessed in Spain.
The workload for my team has increased. Besides our regular work there have been lots of meetings, teaching sessions, ward visits. We had to start working on weekends. The workflow in the Critical Care had to be reorganised. In the early stages our main concerns were the capacity and the staffing in the critical care, number of ventilators, safe and secure patient flow, isolation of COVID-19 patients and PPE reserves.
We have faced lots of changes since then. The hospital has been completely transformed with cancellations of all surgical cases and non-urgent care. Medical teams were reorganised, all teams have become COVID-19 teams.
The nursing staff was deployed in different areas, with scrub nurses working in critical care, anaesthetic nurses providing care for COVID-19 patients on ventilators, staff from elderly care working in medical COVID-19 wards, staff from surgical wards working in the COVID-19 assessment area. In general, nurses are multi-skilled; but for many nurses these circumstances were highly stressful. They were working in totally new teams in different wards, with new team leaders. Time was too short to adopt all the necessary nursing skills. They were stretched to perform in new roles.
It is difficult to say in the simplest way how the workload has changed – simply because suddenly everything has changed!
The fear from the virus is not surreal – it is the fear of unknown. The fear is hidden behind the masks and feeling hot under all these layers. We are living in the times of palpable uncertainty. Under the masks and visors and long sleeved impermeable gowns are beating hearts of the nurses who are giving their best to provide safe care to the patients.
These hearts are heavy from burden of the responsibility and mixed emotions. Feeling worried for their life as they have witnessed how many lives were taken. In UK 110 healthcare workers died of COVID-19 in just one month. Many elderly patients have died in the hospital without the physical contact or presence of their family members. So many nurses have witnessed the last minutes of their lives gasping for air. Witnessing such death. The phone calls – family members inquiries, anxiety, bad news.
Some nurses were having difficulties organising care for their children. Some had to provide homeschooling for their children after coming home from work. For some everyday travelling has become a challenge. There is widespread fear of contracting or spreading the virus.
And here it is. Last Thursday I was tested for coronavirus. I have received a phone call today reporting that my test was positive. I couldn't recall when I have contracted the virus. My concern was – what about my colleagues? Who were my contacts? Are they going to catch it from me?
If I had a family here, I would have concerns for everyone. It is unpredictable of how serious the illness will be. Today it's me – tomorrow it can be you. So, I let you be with that. This is how it is to be a nurse in the time of coronavirus.
Paola Obbia, Italian community care nurse
I am an 'old nurse' working part time in a Family Health Clinic. Usually I work six hours a day, then I have to take care of the Italian family and community nurses' association. This is a voluntary activity that takes a lot of my spare time.
As we are a preventive service, most of our activities have been suspended. The clinic where I work is near the local hospital which has become a COVID-19 treatment centre, so we have had to relocate in other locations. Our activities shifted from front office meetings with people to telephone and video contacts: we had to learn fast how to use the safe media provided by the local health unit to try to get in touch with pregnant women and new mothers dealing with babies in this difficult time. But vulnerable women and families are more difficult to reach, and we missed a lot of cases during the lockdown. Our contacts with the other services have been increased to reinforce the network. We are calling all the new mums to assess their needs: we are still trying to help foster a healthy beginning of life.
We have to improve the primary care organisation. At present every activity is based on the general practitioners' role as gatekeepers and first actors. We need to give a stronger role to the nurses, let them be independent in care planning, including the prescriptions of drugs, medications and e-health delivery. Our National Federation of Nurses is trying to lobby the Italian government to introduce the Family and Community Nurse as a new and proactive role. At present the nurses working in primary care are mainly working to provide the care prescribed by the GPs. We miss a lot of preventive interventions.
In Italy we have a strong health system, but the organisation which manages the delivery of care exerts a number of limits on the ability of employees to act. Organisations have become 'egosystems', with small powers and complex bureaucracy to deal with. When we have to face an emergency like the present pandemic, we need a strong ecosystem to enable its professionals to network together, to find new solutions, to be safe, and to respond to the needs of people fast.
We need the full co-operation of the people living in our communities, but we need to help them to be safe. The level of health literacy in Italy is poor; and there is a lot of fake news and misinformation. We need the public to recognise that nurses are keen to help, not only in the hospitals but also in primary care; and that they should request the ability to get in touch with nurses, not only with doctors, as first point of contacts with healthcare services.
This article is from issue 13 of Health Europa. Click here to get your free subscription today.