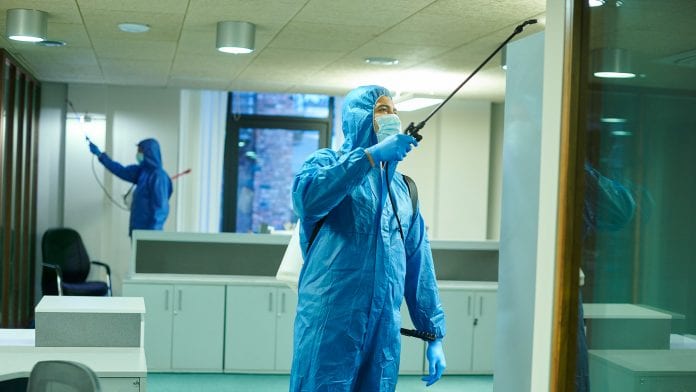 British Cleaning Council Chairman Paul Thrupp tells Health Europa Quarterly about priorities and challenges in the cleaning and hygiene sector.
Cleaning and disinfection are essential and integral aspects in the wider drive to prevent and control the spread of infection, particularly with regards to ongoing efforts to combat COVID-19; and high-touch surfaces – including but not limited to doorknobs, light switches, computer keyboards, desks and bedside tables, taps and sinks – have long been identified as a key vector in the spread of infection. Paul Thrupp, Chairman of the British Cleaning Council, tells Health Europa Quarterly about the role of the cleaning and hygiene industry in combating the COVID-19 pandemic.
What is the role of the BCC within the UK's cleaning and hygiene sector?
The British Cleaning Council (BCC) is the voice of the UK's cleaning, hygiene and waste management industries. The council's membership is made up of 21 trade and membership associations which all represent different industry sub-sectors, from contract cleaning to waste management, pest control to housekeeping, training providers to machine manufacturers, chemical suppliers, wheelie-bin washers, healthcare, carpet and window cleaning. The BCC co-ordinates, campaigns for and supports the affairs of the sector as a whole.
Key priorities for the BCC and its membership include:
Campaigning for recognition of the size and scale of the industry and the vital work done by cleaning and hygiene operatives. The sector is worth over £54bn per year to the economy and employs over 1.6 million people. It provides essential cleaning and hygiene products and services and is focused on the wellbeing of people, health and safety, as well as the protection of the environment. The cleaning and hygiene sector is at the forefront of the fight against COVID-19 and is playing a vital role in our national recovery;
Calling for cleaning and hygiene operatives be recognised as key and essential workers, in recognition of the vital work they are doing and the risks they are running during the current pandemic;
Promoting a uniform, recognised and accredited system of cleaning and hygiene qualifications;
We are a real Living Wage employer and promote its introduction across the sector; and
Lobbying to highlight the impact of changes to UK immigration rules on the sector.
We have sponsored an All-Party Parliamentary Group for Cleaning and Hygiene to raise awareness of these issues.
Can you give me some examples of good practice in clinical infection prevention and cleaning protocols? What are the most effective methods of surface disinfection?
The BCC and its members publish some great examples and procedures through their websites with links to training providers who can support cleaning, sanitisation, and disinfecting protocols.
Since the pandemic began, the BCC has received many enquiries about cleaning applications, processes and procedures from a variety of organisations that are reopening premises or seeking to design cleaning regimes that will ensure staff, visitors and the public stay safe and well. The BCC has consulted member organisations from across the sector in order to compile an agreed guide to ensure informed decisions are made, good standards are reached, and people are reassured when it comes to cleaning and hygiene in the current environment; and to help the UK economy reopen safely following the latest lockdown.
Key advice from the BCC includes:
When cleaning within the healthcare sector, standard operating procedures should be referenced in conjunction with the latest advice from Public Health England (PHE) and the World Health Organization (WHO);
A two-stage process is needed when employing methods such as 'fogging', 'misting', 'spraying', 'fumigation' and 'bug-bombing' – cleaning to remove the soil is essential before disinfecting to remove pathogenic microorganisms;
When employing a contractor or planning a cleaning and hygiene regime, it is essential that a current, robust risk assessment is designed acknowledging the various environmental factors that may be encountered; and
When engaging external providers to carry out specialist cleaning and disinfecting activity it is important to review their credentials in terms of:
o          Reputation and credibility;
o          Operator training;
o          Credibility of the product intended for use – ideally products should have undergone efficacy testing and have a unique EN number; and
o          Result evaluation process – how is the outcome measured?
This guide can be found at britishcleaningcouncil.org.
What is the significance of regular, thorough cleaning and disinfection protocols in preventing the spread of infection?
The British Cleaning Council (BCC) urged the public to follow the rules in January, as most of the UK entered another COVID-19 lockdown. The resurgence of the COVID-19 pandemic has again emphasised the important role of the cleaning and hygiene industry in ensuring the UK recovers from COVID-19. The BCC continually urges people to respect the rules, protect themselves, and others and help the country to recover from this terrible pandemic. We advise that people only leave home for essential reasons, and when around others the 'Hands, Face, Space' guidance (which encourages people to wash their hands, cover their face and keep space between themselves and others) is more important than ever.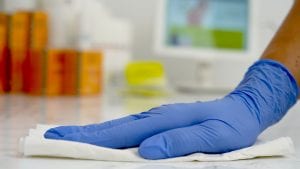 Outside the cleaning and hygiene industry, there is some confusion about what is needed in terms of cleaning and disinfecting to ensure people stay safe and well in light of the risk posed by COVID-19. This has been aggravated by entities which have sprung up, aiming to capitalise on the public's fears by offering cleaning products and services which may not do all that they claim.
In response to many enquiries regarding cleaning applications, processes, and procedures, the British Cleaning Council has compiled an industry-approved guide to cleaning terms to ensure informed decisions are made when cleaning in COVID-19 situations or preparing to return to safe spaces and healthy environments.
Social media, publications and indeed the grapevine are fascinated with the term 'decontamination'; although this term is being linked to numerous other terms, such as 'fogging', 'misting', 'spraying', 'fumigation' and 'bug-bombing', with insufficient attention to the clear need to engage a two-stage process which is cleaning and disinfecting. In order for surface decontamination to be achieved the first stage is for the soil to be removed – known as cleaning – and the second stage is for the pathogenic microorganisms to be removed, which is known as disinfecting.
When cleaning within healthcare establishments, process and product guidance will be detailed in the cleaning and disinfecting policy. Standard operating procedures should be referenced in conjunction with information from PHE and the WHO. It must also be noted that several other cleaning terms not covered in this guidance are used in healthcare environments.
Cleaning services in commercial environments are led by customer requirements, usually by means of a cleaning specification. Cleaning specifications are broadly divided into two types: input cleaning specifications and output cleaning specifications. The requirements of each are frequency-driven in different ways. Neither type specifies the cleaning requirements in terms of chemicals, materials or equipment, as the assumption of the client is that the cleaning organisation will deploy the most economical and efficient methods available. This obviously is not always the case – the old adage of 'buyer beware' tends to be put to one side until there is a service delivery problem.
Without exception, it is essential that a current robust risk assessment is designed acknowledging the various environmental factors that may be encountered. However, the risk must be monitored frequently in line with emerging guidance, changing landscapes and trends, enabling the required adaptions to be integrated into existing risk protocols.
How has the COVID-19 pandemic impacted the cleaning and hygiene sector? What effect has this had on staff wellbeing?
The impact has been huge, though it has been different in each sector and even different in different businesses. For example, the healthcare cleaning sector, cleaning and hygiene operatives serving other essential sectors, and the manufacturers of products such as hand and hard surface sanitiser, plastic sacks, aprons and soft tissues have all seen demand for their services surge.
Other parts of the sector, such as some of the contract cleaning industry along with cleaning services for the catering, hospitality, leisure and retail sectors; have been badly hit by the lockdowns; so staff have been furloughed or laid off. It has been a difficult and challenging year for most cleaning and hygiene colleagues in different ways.
During this time, many cleaning and hygiene operatives have been on the frontline in the battle against the virus, putting themselves at risk to protect the health and safety of others, and have had to adopt longer working longer hours, extra responsibilities and new standards and practices to prevent COVID-19 contamination.
I can't praise the bravery and dedication of cleaning and hygiene colleagues enough: they have done an amazing job.
Paul Thrupp
Chairman
British Cleaning Council
https://britishcleaningcouncil.org/
This article is from issue 17 of Health Europa. Click here to get your free subscription today.
Recommended Related Articles