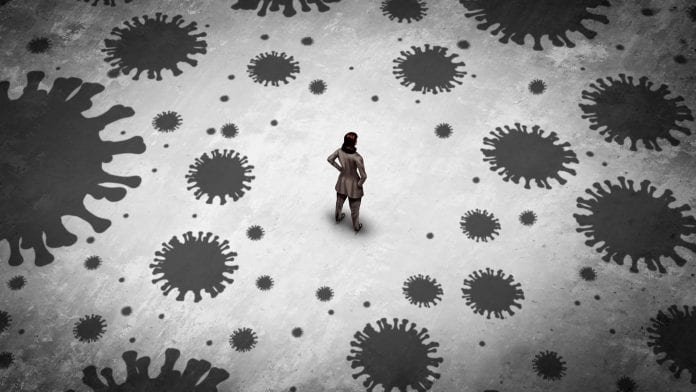 The Scottish government's Clear Your Head campaign aims to provide help and support for people whose mental health has been affected by the COVID-19 pandemic.
Jonny Jarron, interview by Rosemary Lobley.
As the impact of the COVID-19 pandemic on the mental health of people around the world becomes more and more pressing, there is a growing need for broader, more comprehensive therapies for people in distress.
HEQ speaks with Jonny Jarron of the Scottish government's mental health strategy and co-ordination unit about the Clear Your Head campaign, which aims to provide help and support for people whose mental health has been affected.
How and when did the Clear Your Head campaign come to be launched? What are the goals of the campaign?
Clear Your Head (CYH) is a national campaign launched on 21 April 2020 to help people cope during the coronavirus (COVID-19) pandemic. The CYH campaign and website highlights the practical things people can do to help them feel better and cope with the restrictions during the coronavirus outbreak, acknowledging these are worrying and uncertain times for many.
So far, the campaign has run in three phases to help people cope with changing restrictions focusing on: staying at home; coping with loneliness and intense emotions; going outside more; adjusting to services and businesses reopening; and keeping up good habits. The third phase ran until Thursday 10 September 2020 across TV, digital and radio.
Over half our audience (54%), equating to around 2.3 million people, have taken positive action as a result of seeing the campaign. Actions include realising 'it is OK not to be OK', which is the first step in psychological first aid; people have also reported being kinder to themselves, greeting others when outside and noticing nature.
The campaign has reached 69% of all adults an average of nine times (this equates to roughly three million people). Independent campaign evaluation found that 78% of people understood that the campaign gave them tips to improve their mental health and 76% felt that the campaign was supportive in this situation.
As part of the COVID-19 Mental Health Transition and Recovery Plan, we have committed to updating and refreshing the Clearyourhead.scot website to reflect the changing nature of the pandemic, and how ongoing restrictions are affecting how people feel. This is an early priority and forms part of Scottish government messages over this winter.
While the COVID-19 pandemic has had a significant effect on the mental health and wellbeing of the public as a whole, are any specific demographics more at risk?
The Scottish Government Mental Health Transition and Recovery Plan outlines our response to the mental health impacts of COVID-19. The plan uses a strong evidence base, was prepared in close collaboration with stakeholders and identifies 18 groups:
1)         Whole population mental health
2)         Employment
3)         Ensuring equity and equality
4)         Socioeconomic inequalities
5)         Relationships
6)         Children, young people and families
7)         Women and girls' mental health
8)         People with long-term physical health conditions and disabilities
9)         Older people
10) People who have suffered bereavement and loss
11) Distress interventions
12) Suicide prevention
13) Clinical rehabilitation and recovery from COVID-19 infection
14) A long-term, trauma-informed approach to recovery
15) Digital innovations
16) Mental health services
17) Forensic mental health services
18) Mental health law
The first of four waves of the SCOVID Mental Health Tracker Study surveyed a sample of the Scottish population between 28 May and 21 June. Survey questions covered a number of health areas and particular subgroups including women, young adults, individuals with pre-existing conditions and individuals from a BAME background all reported elevated symptoms.
What key measures do Scottish authorities intend to take to address the mental health crisis associated with the pandemic?
The Mental Health Transition and Recovery Plan outlines the Scottish government's response to the mental health effects of the COVID-19 pandemic, and is comprehensive, containing over 100 key actions which we will take forward at pace. Examples include updating the Clear Your Head Campaign and convening an expert equalities group. In addition to promoting good mental health and wellbeing, the plan prioritises rapid and easily accessible support for those in distress and ensures safe, effective treatment and care of people living with mental illness. It also covers the mental health impacts on people living with long-term physical health conditions or disabilities. A tailored programme of work will help individual NHS Boards respond effectively to the anticipated increase in demand in the months ahead. We are now working with key stakeholders to focus on the Plan's implementation; and will put comprehensive governance in place.
With growing numbers of healthcare practitioners reporting long-term stress and burnout, what can be done at a policy level to shore up support for the welfare of clinical and hospital staff? How can the wellbeing of doctors and nurses be prioritised without jeopardising patient care?
We are deeply grateful for the hard work, commitment and professionalism of those working in health and social care at this time of unprecedented challenge. We have asked our NHS and social care staff to work in unfamiliar settings. Many have been asked to learn new skills and work in new roles. Many have been personally impacted by the COVID-19 virus. Some have had to care for their own families alongside work. This is no small ask.
We have launched and expanded a broad range of psychological and wellbeing support for the workforce, including our National Wellbeing Hub (www.Promis.Scot) and 24-hour National Helpline (0800 111 4191). The Hub signposts health and social care (HSC) staff, unpaid carers, volunteers and their families to relevant services, as well as providing a range of self-care and wellbeing resources designed to support the workforce as they respond to the impact of COVID-19. The helpline, based in NHS 24, is open 24 hours a day, seven days a week to HSC staff who need further psychological support, including in light of the coronavirus crisis.
The Hub and helpline are part of a wider programme of work to support the workforce; other activity includes:
Expansion of local support from territorial boards
Workforce Wellbeing Champions' network
Digital resources and treatments
Online coaching support
More information is available at www.Promis.Scot.
Could telehealth and remote treatment be more widely deployed to address the issue of mental health in the wake of the pandemic?
Digital therapy is now an integral part of service delivery across Scotland; and is uniquely placed to deliver evidence-based therapy. The value of digital therapy during our COVID-19 response, in enabling services to continue in spite of physical restrictions, has been clear. As with all fields of healthcare, mental health services had to adapt quickly to delivering support and care in different ways. Many Health Boards have moved parts of their services online, and provided less urgent care digitally using Near-Me, an online video consulting service. Our Transition and Recovery Plan outlines some of the key achievements during the pandemic that we want to build on:
Rollout of computerised cognitive behavioural therapy, which will support a minimum of a further 10,000 people
Video-enabled therapy: we will embed and develop video-enabled therapy and additional remote consultation technologies such as Near-Me, to support the ongoing delivery of one-to-one and group therapy clinical services
Rural communities: we will support efforts by NHS Boards to promote the use of digital services, in particular to maximise the benefits for rural communities
Digital inclusion: we will build on wider efforts to promote digital inclusion, including with the Connecting Scotland programme, which has been set up in response to coronavirus to develop digital skills for people who are digitally excluded and on low incomes
NHS Inform: we are working with NHS 24 to continue to develop and publish online self-help materials and resources onto the NHS Inform platform. These will cover a range of topics prioritised around the needs the population
It is important that we continue to evaluate our activity; and we will work with external partners to explore a nationally co-ordinated approach to the ongoing evaluation of digital mental health services. This will be used to develop a greater understanding of the impact of digital services while providing insights around service improvement and application of appropriate technologies within mental health. This work will also consider the reasons why people may choose not to use digital technology.
We will also work with the Digital Health and Care Institute, CivTech and other innovation partners to explore the use of an innovation hub model to encourage the development and evaluation of technologies focused on the identified needs of the population. Innovation hubs help support individuals, organisations and commercial companies to work together and develop innovative digital solutions while being guided by expertise within the mental health field.
Jonny Jarron
Mental Health Strategy and Co-ordination Unit
The Scottish Government
clearyourhead.scot
This article is from issue 16 of Health Europa. Click here to get your free subscription today.